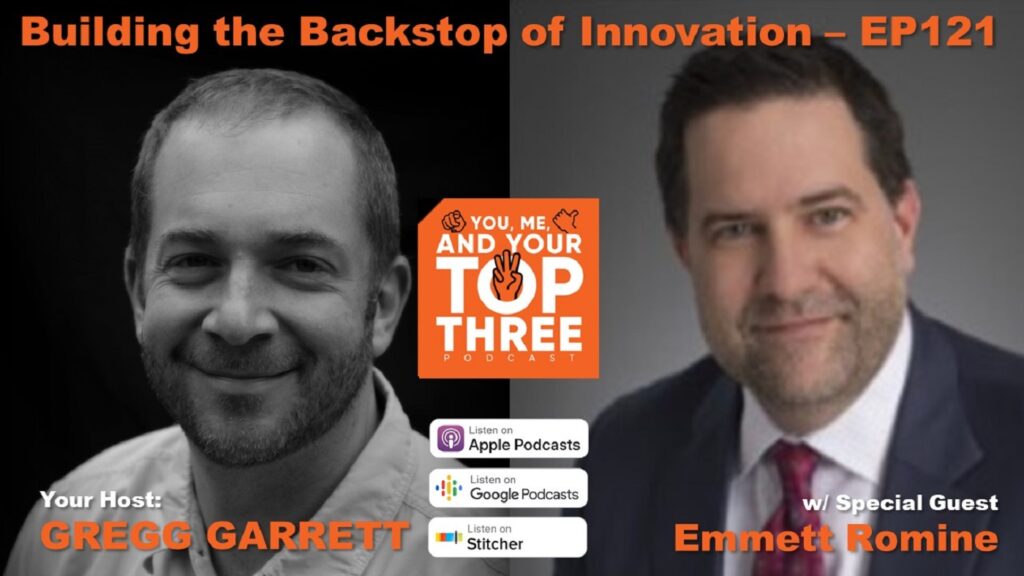 Building the Backstop of Innovation | Emmett Romine, VP, Customer Solutions & Innovation at Xcel Energy, joins host Gregg Garrett for a discussion on customer and channel innovation in the energy industry. Of course, Emmett shares his Top Three who include an executive who pushed him to create and be true to his personal brand, to a marketing industry executive who helped him to respect and grow the brand promise, to the vice chairman of a publicly traded company who made space for him to succeed in innovation. And you have to hear what Emmett has to say about coupling persistence with patience to be a better, braver leader.
Emmett Romine is the Vice President of Customer Solutions & Innovation at Xcel Energy. In his role Emmet leads corporate economic development, energy efficiency and the creation of innovative solutions that exceed the unique needs of residential and commercial customers.
Before joining Xcel Energy in 2019 Emmett previously held a leadership role at Powerley, a technology company that provides utilities with solutions aimed at bridging the smart grid to the smart home. He has 20 years of utility industry experience with 13 years at DTE Energy working in areas including distribution operations, continuous improvement, finance and energy efficiency.
Emmett holds a master's degree in Finance from the Olin Business School at Washington University, St. Louis and a Bachelor of Science in Mechanical Engineering from Washington University. He also attended the Executive Education Program with a focus on organic growth and innovation from the Kellogg School of Management at Northwestern University.
Show Highlights
During this episode:
Fighting the antibodies that sunt innovation success [1:05]
A key to innovation success: the sponsor of innovation role [3:05]
Welcoming our guest, Emmett Romine [4:15]
The "Top Three"
Ron May: create and be true to your personal brand [10:34]
Emmett's brand: creating new thing and value propositions in the energy space [13:11]
Terry Oprea: respect and grow the brand promise [17:20]
The importance of trust to a brand [20:18]
Dave Meador: created a backstop for innovation [23:17]
Testing the resiliency of the backstop [26:43]
Transformation & Disruption
The convergence of the automotive and energy industries [30:11]
The multi-directional flow of energy [34:59]
Customer-centric, channel innovation [36:43]
Building a channel to the customer [43:12]
The future of work at Xcel Energy [45:22]
You have to hear this…
Stay in touch with Emmett via email Emmett.R.Romine@xcelenergy.com [47: 49]
Persistence coupled with patience is a key to success [48:20]
Additional Information
Contact Emmett Romine:
Contact Gregg Garrett:
Contact CGS Advisors:
Subscribe: