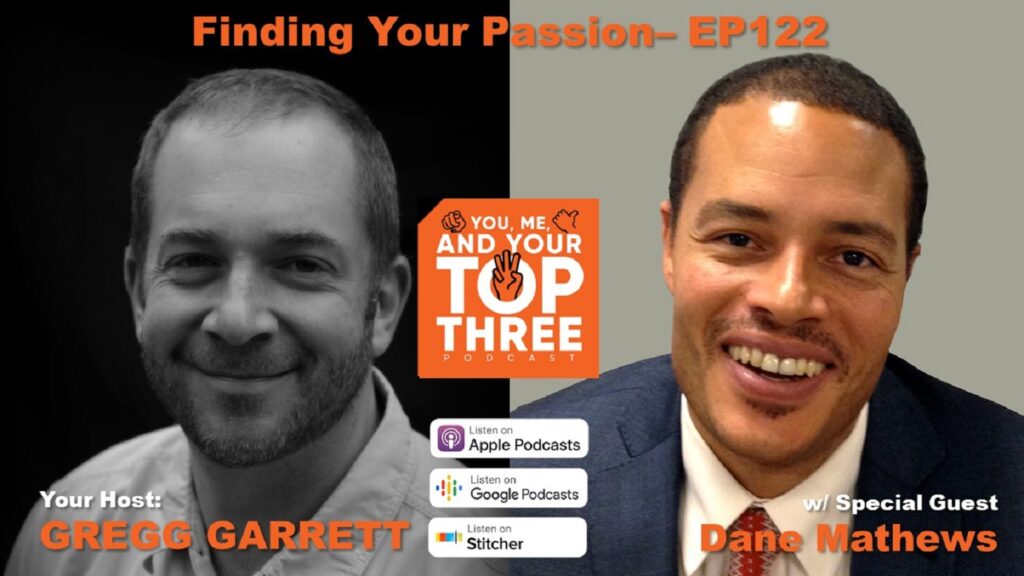 Finding Your Passion | Dane Mathews, Vice President of Precision Marketing at Conagra Brands, joins host Gregg Garrett for a discussion on transforming organizations and brands. Of course, Dane shares his Top Three who include his wife and children who have been core to establishing a professional shift in his approach, a former Amazon executive who taught him how to work backward, a former boss who helped him change his perspective to accomplish goals, and a former podcast guest who helped him humanize leadership. And you have to hear what he has to say about the democratization of leadership.
Dane Mathews is Vice President of Precision Marketing at Conagra Brands. He leads Conagra's marketing transformation leveraging enterprise agility, personalization, technological enablement, and advanced analytics. With a focus on the digital consumer experience, Dane is responsible for enterprise consumer marketing efforts including brand design, media & advertising, eCommerce, CRM, and direct-to-consumer (DTC) strategy.
Dane has 15 years of marketing experience and has led the development and scale of transformative consumer experiences at some of the most well-known brands including, Caesars Entertainment, Target, and McDonald's. Dane received his BS in Electrical & Computer Engineering from Carnegie Mellon University and his MBA from The University of Michigan's Ross School of Business.
Dane resides in Oak Park, IL with his wife Marlene, their 3 sons, Dane, Miles, and Jaden, and their Goldendoodle Frida.
Show Highlights
During this episode:
The only thing constant is change. [1:06]
Operationalizing transformation [2:53]
Welcoming our guest, Dane Matthews [5:20]
Discovering passion – simplifying the complex and making it relatable [12:24]
The "Top Three"
Marlene Aponte-Mathews and their children: make change management fun and remember that development is best done in public [17:17]
Developing in public and bringing others in [23:23]
Atif Rafiq: start with the end and work backward [29:56]
Lisa Roath: getting help – "who can help me do this?" [36:20]
DeLu Jackson: humanizing leadership and change management [42:25]
"Nudging the positives" [46:50]
You have to hear this…
Democratization of leadership [51:10]
Stay in touch with Dane via LinkedIn [54:27]
Additional Information
Contact Dane Mathews:
Contact Gregg Garrett:
Contact CGS Advisors:
Subscribe: