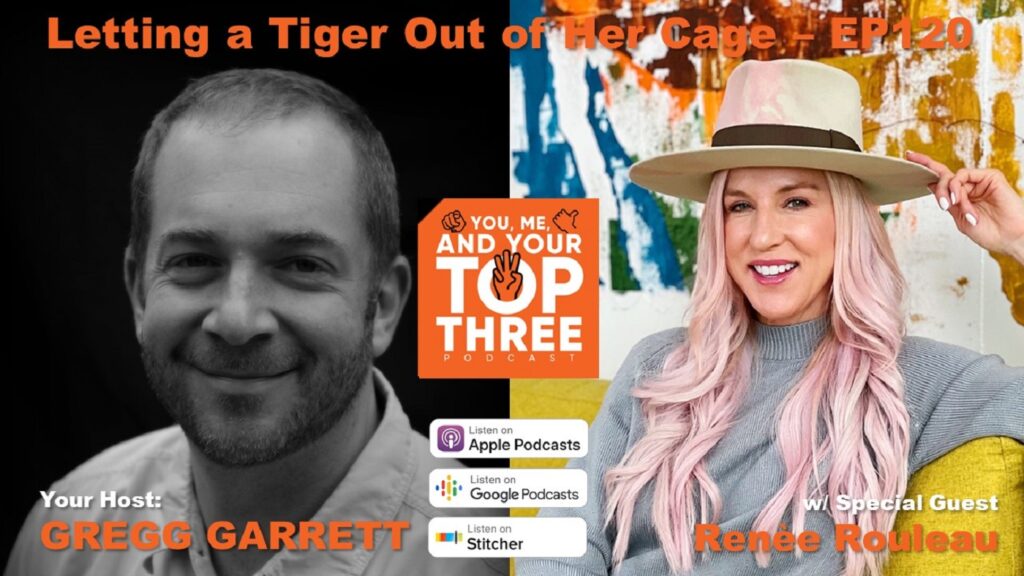 Letting a Tiger Out of Her Cage: Renée Rouleau, CEO and President of Renee Rouleau Skin Care, joins host Gregg Garrett for a discussion on successfully pivoting and scaling a company from a brick-and-mortar service model to a direct-to-consumer product delivery model. Of course, she speaks about her top three including her late husband who she learned business and life lessons from before and after his passing, a daredevil who challenges her to enjoy the fruits of her labor, her EO buddy who helps her reflect on decision making, and her COO who helps her solve complex problems. And you have to hear what she has to say about scrutinizing every opportunity and her "3am test".
Beauty entrepreneur, Renée Rouleau established her namesake brand 25 years ago as an extension to her lifelong passion for skin care. From her early days starting as a celebrity esthetician, up to today where she leads the Austin-based, 100% Founder-owned Renée Rouleau Skin Care brand, Renée has always had an exceptional way of connecting with her clients.
As the creative force behind Renée Rouleau Skin Care, Renée is quoted throughout top national media outlets, has created several award-winning skin care formulas based on her philosophy of "nine different skin types" and is a favorite brand of beauty editors and celebrities. Her popular blog offers tips on every skin care topic and is the go-to for skincare enthusiasts seeking healthy, beautiful skin. Renée has prioritized responsible business practices throughout her career and is a well-respected leader for how to run a thriving organization. Today, she is extremely proud of her brand's recent acknowledgment as "A Best Place to Work" by Austin Business Journal in 2020.
Show Highlights
During this episode:
Finding your path to the end customer [0:56]
Welcome guest, Renée Rouleau [3:20]
The "Top Three"
Her Late Husband: Brought business and life lessons from a different perspective [5:52]
The importance of trust [11:47]
Who will answer your call at 3am? Those are the key people [12:24]
Her friend, Nik Zoylinos: The daredevil who pushes her to continue to be brave [13:58]
The art of being a bravery catalyst – letting the tiger out of her cage [17:59]
Amy Power: Practicality in decision-making [24:21]
The shift from brick-and-mortar to direct-to-consumer [27:49]
Curtis Schuttinger: Keeping her focused on the important items [35:29]
Transformation & Disruption
Tying personality to successful roles [41:32]
The differentiator of Renée Rouleau – the importance of personalization [47:39]
Celebrating recent successes (Inc Magazine article) [52:26]
You have to hear this…
Scrutinize every opportunity before saying yes [53:23]
Follow Renée's blog, Instagram, and the company's Instagram [56:08]
Additional Information
Contact Renée Rouleau:
Contact Gregg Garrett:
Contact CGS Advisors:
Subscribe: