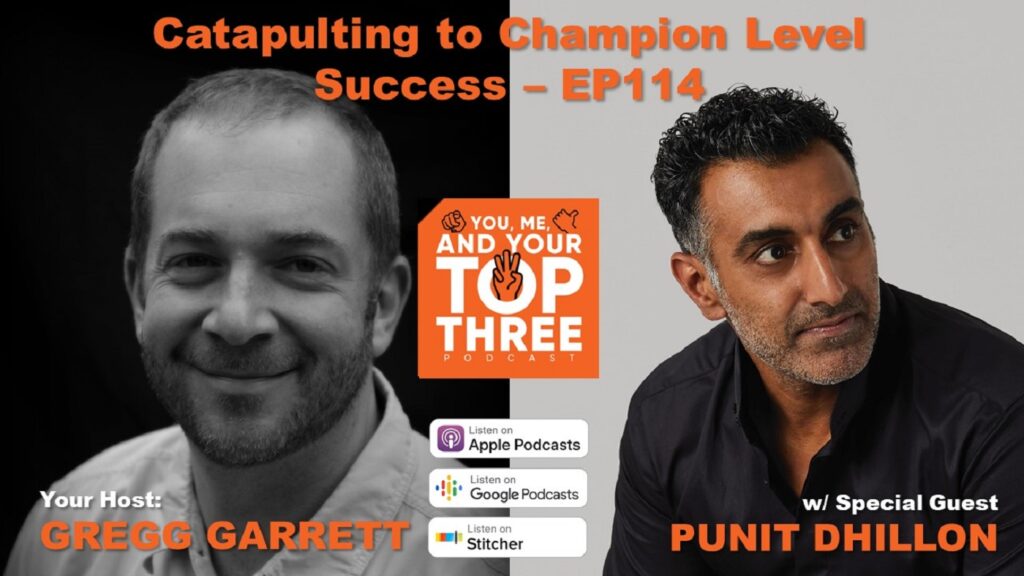 The 40-year trajectory for your career: Punit Dhillon, executive, investor, and new author, joins host Gregg Garrett for a discussion on being an effective corporate athlete and catapulting your career. He of course shares his Top Three who include his wife who acts as the yin to his yang, a mentor who Punit has followed through his 20-year career, a business partner who backstops him every step of the way, and an executive coach who helped him to re-realize the importance of the coaching relationship in achieving excellence. And you have to hear what he says about making a routine around the first hour of your day.
About Punit Dhillon
Punit Dhillon is the Chair and CEO of Skye Bioscience Inc., a public pharmaceutical company. He is the Co-founder, former President, and CEO of OncoSec, a biotechnology company pioneering new technologies to fight cancer, and the Co-founder of the registered charity, YELL Canada.
Punit has been recognized as one of PharmaVOICE 100's top CEOs and as a finalist for the EY Entrepreneur of the Year ™. He lives in San Diego with his wife, Nina, and their two daughters.
About "Catapult: How to think like a corporate athlete to strengthen your resilience"
Punit Dhillon was nine when he almost drowned in a swimming pool. Twenty years later, her became a competitive swimmer and completed his first of several Ironman Triathlons. Punit lives by the philosophy of using adversity as fuel to exceed all expectations.
At thirty, Punit was one of the youngest biotech CEOs in the life sciences industry, and just five years later, he became a NASDAQ CEO for a publicly traded biotech company. Punit's pioneering tenacity is shared by other extreme athletes and high-achieving corporate professionals who understand that we never truly know what we can accomplish until we push our limits.
In Catapult, Punit gives you an insider's look at the lessons we learn by turning obstacles into opportunities. Taking you through his twenty years of global business experience, Punit shares ten principles for a purpose-driven life and career, linking together the athletic strengths that will help you succeed in the business world.
With the right training and mindset, adversity becomes your motivation. This book will show you how to challenge the status quo, leave your legacy, and truly change the world.
Show Highlights
During this episode:
14,600 days or 480 months or 40 years: The standard career trajectory [1:05]
Honest current headlines [4:00]
Welcome guest, Punit Dhillon [5:44]
The "Top Three"
Nina Dhillon: Punit's wife who is the ying to his yang [15:23]
Avtar Dhillon: Punit's uncle and mentor he has followed throughout his career [23:12]
Tu Diep: Punit's business partner who backstops him every step of the way [37:12]
Judy Brooks: Punit's executive coach who highlights the importance of the coach relationship in achieving excellence [45:04]
Transformation & Disruption
Punit's Book: Catapult: How to think like a corporate athlete to strengthen your resilience [51:52]
You have to hear this…
Punit's Tip: Make a routine around the first hour of your day [1:00:58]
Additional Information
Contact Punit Dhillon:
Contact Gregg Garrett:
Contact CGS Advisors:
Subscribe: