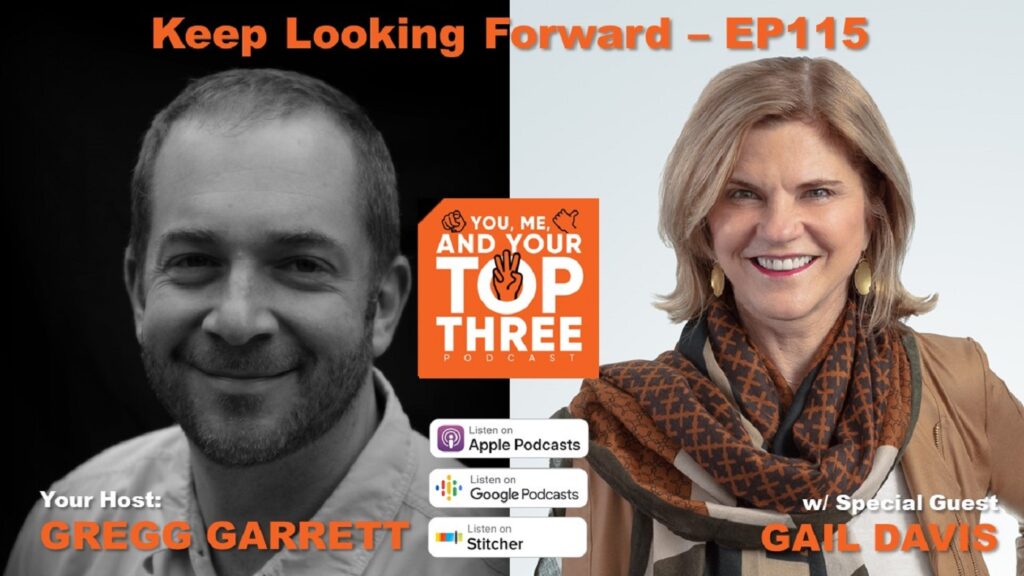 Power of Disruption: Gail Davis, a leader in the international keynote speaker industry, joins host Gregg Garrett for a discussion on the changes occurring in her industry as well as how she's driven her firm to emerge as a stable leader post-COVID. She of course shares her Top Three who include individuals that help her not sweat the small stuff, remind her that clear is kind, how to manage tension between work and other facets of life, and those who help to fill a capability void. And you have to hear what she has to say about keeping focused on the future as "it only gets better."
Gil Gur Arie is Chief Data and Analytics Officer, Ford Motor Company. In this position he leads the Ford team through the digital revolution by developing Ford's big-data, connected vehicle data and AI strategies in the coming years.
Davis' decades of corporate marketing and events management were the launch pad for GDA in 1999. Before founding the company, she spent two decades with the global technology conglomerate Electronic Data Systems (EDS, which became part of Hewlett Packard Enterprise and now operates as MicroFocus and DXC Technology) in Dallas. While at EDS, she discovered Nando Parrado, a heroic survivor of the 1972 Andes plane crash that took the lives of many rugby players. Parrado was the keynote speaker for the company's marquee event.
Based on the success of those early corporate events, Parrado signed an exclusive agreement with Davis, as it was her efforts that convinced him to share his story after so many years. It was the partnership with Parrado that eventually anchored the creation of GDA.
Today, Davis continues to discover new talent and take the professional speaking industry by storm. She is credited with bringing Parrado's harrowing experience to life in the New York Times best-selling book, Miracle in the Andes. It is written as a first-person account of the Andes plane crash. Most recently, at her encouragement, Parrado lent his personal account to the acclaimed new documentary, "I am Alive," featured on The History Channel
Under her passionate leadership, GDA Speakers has vetted and curated a number of highly qualified speakers who they trust and deliver with confidence. In the first 17 years, they assembled a database of over 5,000 speakers. Then in order to add more value to their clients they cut the list in half. Only featuring and working with the top speakers in each of the many categories sought by their clients.
Her successful business approach and passion have also impacted the industry. Davis was the 2011-2012 President of the International Association of Speakers Bureaus (IASB). Previously, she served as an IASB Governor where she developed new education programs for members worldwide and drew increased investment in the industry.
Davis is a member of the Entrepreneur Organization. She is also a supporter of numerous community organizations. She was named to the University of Oklahoma Gaylord College Board of Visitors in 2014. She was the co-chair of the 2014 Soup's On! Luncheon, which is the major fundraising force of The Stewpot Alliance benefiting the programs of The Stewpot in Dallas. The 2014 Luncheon was the most successful luncheon to date. In 2011, the Dallas Business Journal honored her as one of Dallas' Top 25 Women in Business.
Davis recently hiked the Grand Canyon Rim to Rim as a part of a fundraiser for Project Athena. She is a graduate of the Gaylord College at the University of Oklahoma where she was honored as a Distinguished Alumni in 2018. A native of Oklahoma, Davis resides in Dallas.
Show Highlights
During this episode:
Defining Disruption: Sentiment is in the eye of the beholder [1:09]
Gregg's challenge to you, the listener [3:00]
Welcome guest, Gail Davis [3:28]
The "Top Three"
Nando Parrado: Helps Gail to not sweat the small stuff [9:11]
Brené Brown: Reminds Gail that "Clear is Kind" [14:40]
Alicia Marie: Coached Gail to manage the tension between work and other facets of life [18:36]
Julie Lancaster: Helped Gail to fill a capability void [23:54]
Groups that Support Gail: professional organizations (EO Dallas, IASB), family, friends, etc. [24:30]
Transformation & Disruption
Lessons Learned: Advice for entrepreneurs [26:40]
Navigating disruption in the speaking industry [31:44]
Where the speaking industry is headed [42:23]
You have to hear this…
Focus on the Future: "it only gets better." [53:44]
Additional Information
Contact Gail Davis:
Contact Gregg Garrett:
Contact CGS Advisors:
Subscribe: