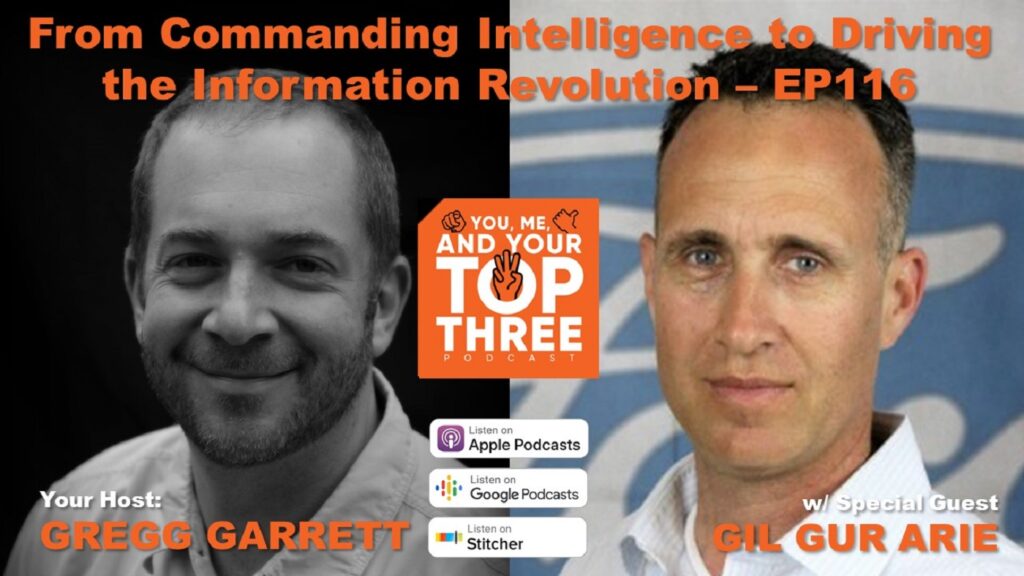 Industries blurring in the talent war: Gil Gur Arie, Chief Data and Analytics Officer at Ford Motor Company, joins host Gregg Garrett for a discussion on his career journey including his life before Ford as a commanding officer in the Israeli Intelligence Agency. He highlights how the mission of an organization (no matter if it is public or private) is at the heart of motivating employees, and how communication and trust is the absolute lynchpin of success. All the while he comments on the future of data as the underpinning capability for the information revolution. And of course, he shares his Top Three who include a fellow ex-Colonel in the Israeli armed forces who was his communication refinement partner, his deputy who could "complete his sentences", and his humble mentor who helped him shape his own empathetic bravery. And you have to hear what Gil says about double clicking deep into the language your team uses to guarantee proper interpretation and building the "virtual and living glossary."
Gil Gur Arie is Chief Data and Analytics Officer, Ford Motor Company. In this position he leads the Ford team through the digital revolution by developing Ford's big-data, connected vehicle data and AI strategies in the coming years.
Gur Arie will capitalize on the enterprise's data sources and advance analytics talent to enhance operational fitness, develop connected vehicle business opportunities and steer better decision making throughout the company. Global Data Insight & Analytics (GDI&A) has grown into a team of 1,000+ data scientists globally that focus on key company priorities, including helping speed development of the mobility, electrification, connectivity and autonomous driving innovations that will improve people's lives.
A native of Israel, Gur Arie is a retired colonel in the Israeli Military Intelligence Corps, unit 8200 (Israeli Siginit National Unit). He is a technological leader with more than two decades of experience in data science, research and development, cyber and intelligent technologies management. While serving in the Corps, he established a Tech unit with more than 1,000 employees, delivering hundreds of innovative products and solutions for the Corps and the intelligence community at large. He also was appointed as Data Science representative, establishing the profession of Data Engineer within the IDF.
In addition, he served as a strategic consultant to a variety of large companies in Israel, where he assisted in Big Data strategy, artificial intelligence and cyber security design.
Gur Arie received his Bachelor of Science in electrical engineering from the Israel Institute of Technology and his Master of Business Administration from Tel Aviv University. He received the Israel Defense Award in 2018; the award is given annually by the President of the state of Israel to people and organizations for technological breakthroughs that have made a significant contribution to the defense of the nation.
Show Highlights
During this episode:
The blurring of industry lines: Impacting the war on talent [1:26]
Blurring of the industry executive [4:07]
Welcome guest, Gil Gur Arie [7:08]
The "Top Three"
Some of Gil's insight: Ford, data, and analytics [12:07]
Ariel Parnes: Gil's fellow ex-colonel in the Israeli armed forces who was his communication refinement partner [16:17]
Tzahi Daveti: Gil's deputy who could "complete his sentences" [28:04]
Dr. Eli Plotnik: his humble mentor who helped him shape his own empathetic bravery [37:19]
Transformation & Disruption
Ford+: The role of data in the strategy [49:14]
"Selling Data": Changes and challenges [54:19]
Blurring of Industries: Additional information to pay attention to [58:05]
You have to hear this…
"Double clicking deep into the language your team uses to guarantee proper interpretation, and the building of a 'virtual and living glossary'." [1:01.32]
Additional Information
Contact Gil Gur Arie:
Contact Gregg Garrett:
Contact CGS Advisors:
Subscribe: