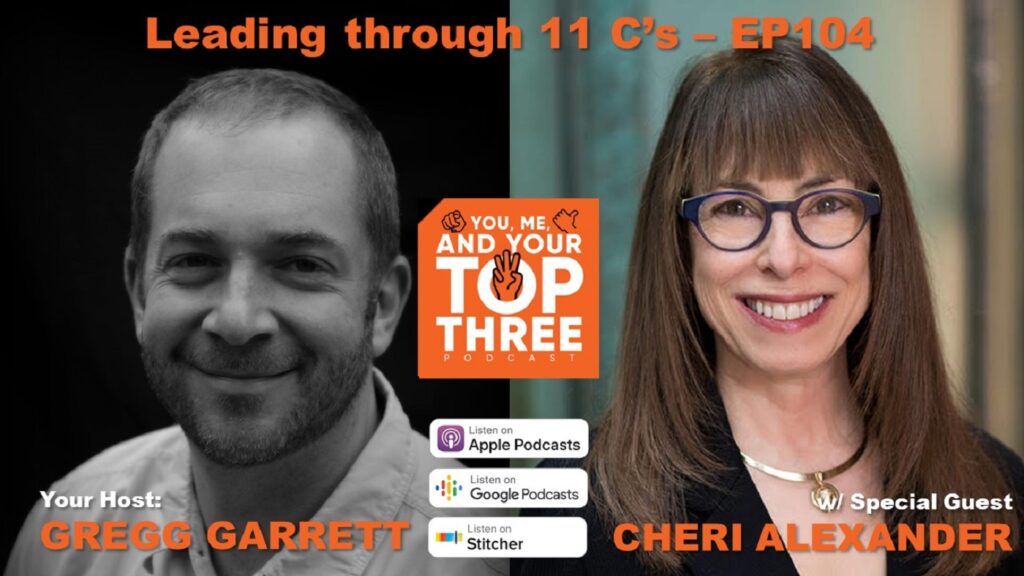 A machine on your advisory board? Host Gregg Garrett is joined by Cheri Alexander, a professor at the University of Michigan, Ross School of Business, for a discussion on machines joining virtual boards, lessons learned through Cheri's 30+ years as a leader of a Fortune 50 company as well as over a decade of educating one of the world's top business schools. Cheri also shares her Top Three ranging from her husband who taught her to challenge herself to colleagues who reinforced surrounding yourself with people who know more than you to an aspirational mentor turned colleague who taught her about positive leadership. And you have to hear what she says about the 11 C's of Leadership.
About Cheri Alexander
Cheri Alexander teaches Leadership and Managing Human Capital in the Bachelors and Masters Programs at the University of Michigan, Ross School of Business. In addition, she teaches assorted leadership and HR topics for Ross Execution Education. Prior to January 2021, she was the Chief Innovation Officer-Corporate Learning in the Ross Executive Education Department. Before her time at Ross, she was with General Motors (GM), where prior to retirement, she was the President of the General Motors University and Executive Director Global HR. In that position, she was the Chief Learning Officer of the company overseeing Global Learning & Performance. Alexander was also part of the company's Global Integration Team that oversaw Global HR Implementation, focusing on the emerging markets.
Alexander had thirty-three years with GM which included successful International Human Resource Management and Labor Relations experiences. She has HR expertise in Mergers and Acquisitions, JV formation and execution, talent management, succession planning, leadership development, corporate universities, security, crisis management, safety, industrial health engineering, and business process outsourcing. She was nominated several times and twice received the prestigious Chairman's Award for her work. Since joining the University of Michigan in 2008, she has continued her positive leadership practices.
In addition to working in the Human Capital space, Alexander had assignments in Plant Management, Quality, and Engineering. She lived and worked in 4 countries on 3 continents and was responsible for all HR outside of North America, as the Vice President of HR for International Operations, overseeing and visiting operations in 51 countries.
A native of Detroit, Michigan, Alexander received her Bachelor's Degree from the University of Michigan, as well as her first Masters in Industrial Health Engineering. She was selected as an Alfred P. Sloan Fellow and completed her Masters of Science in Management at the Massachusetts Institute of Technology (MIT). She is also a Certified Executive Leadership Coach.
Alexander has published word on Noise Induced Hearing Loss and completed her thesis on the Relocation of Dislocated Automobile Workers. Her work is cited in three books, United We Stand, by Wilbur and Weakley,Successful Mergers, Acquisitions, and Strategic Alliances by Gancel, Rodgers, and Raynaud, and Road to Power, by Colby.Along with Professors Sytch and DeRue, she teaches Managing Talent in the highly successful Coursera MOOC, Leading People and Teams.
In addition to her work, Alexander is on the Boards of Inforum Center for Leadership and debunk-it, LTD, a European consultancy. She is dedicated to global education and often speaks on her favorite topics, "Being International" and "Global Superficial Homogenization – White it Means to be Global."
Show Highlights
During this episode:
Building your virtual board: When will a machine be added? [0:59]
Thought: AI holds the first spot of your advisory board; is this the right answer? [6:18]
Welcome human-centric guest, Cheri Alexander [7:02]
The "Top Three"
Dr. Richard Redding: Cheri's husband who teaches her to challenge herself [13:38]
Cheri's 11 C's of Leadership [16:12]
Holger Kimmes: Colleague who reinforced surrounding yourself with others who know more than you [27:37]
Dr. Robert Quinn: An aspirational mentor turned colleague who taught her about positive leadership [41:50]
A bonus Top Three member: Cheri's daughter, Dr. Alexis Redding [46:32]
Transformation & Disruption
Innovation in education [48:00]
Machines vs Humans: How competition moves forward [51:27]
You have to hear this…
Write down three things you're grateful for everyday [54:27]
Additional Information
Contact Cheri Alexander:
Contact Gregg Garrett:
Contact CGS Advisors:
Subscribe: