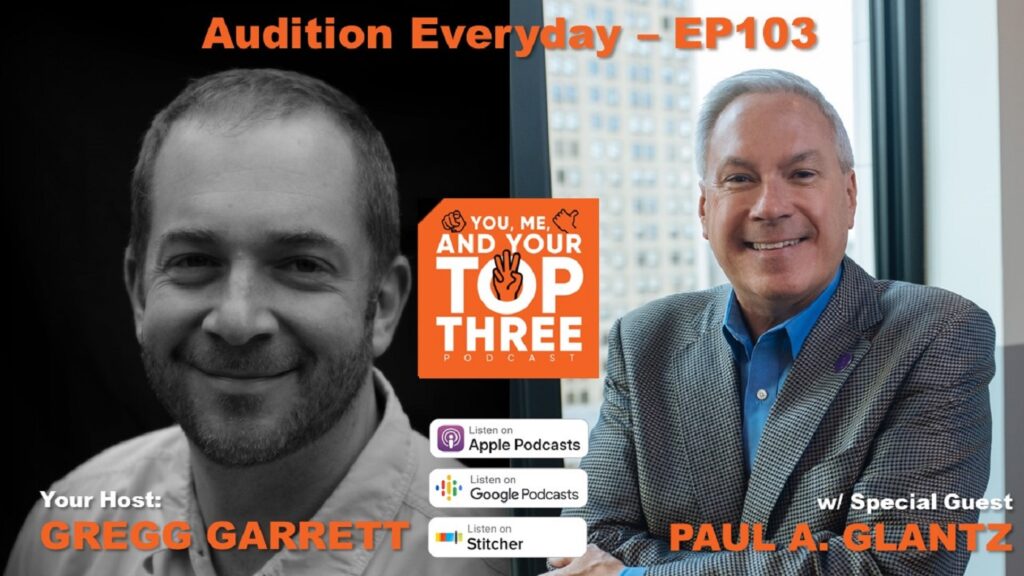 Giving passionate side hustles the main stage: Host Gregg Garrett is joined by Paul A. Glantz, Co-Founder and Chairman of Emagine Entertainment, for a discussion on turning his side hustle into a full-time chairman role; as well as the shifting entertainment industry, lessons learned from previous disruptions and of course, his Top Three. And you have to hear what Paul says about needing to be a person of character as you audition everyday!
About Paul A. Glantz
Paul A. Glantz is the Co-Founder and Chairman of Troy, Michigan-based theatre chain Emagine Entertainment, Inc.
Glantz has raised over $150 million in capital to develop 12 world-class entertainment venues and in doing so has brought his concept of an exemplary entertainment experience to reality. Glantz is regarded as an expert in the cinematic exhibition industry. He has been at the forefront of technological change in the theatre industry by leading the transition to high-definition digital presentation, being among the first to deploy "4K" digital projectors, opening Michigan's first all-laser projection theatre, by introducing Dolby's revolutionary Atmos™ sound systems to the Michigan marketplace, and by building some of the nation's largest premium large format movie screens: Emagine's Super EMAX auditoriums.
Glantz holds a Bachelor of Science Degree in Business Administration with high distinction from Wayne State University and a Master of Science degree in taxation from Walsh College. He has been recognized by Wayne State's Business School which awarded him its Distinguished Alumnus Award, by Wayne State's Irvin D. Reid Honors College which named him its first ever "Pillar Award" recipient, by Ernst & Young as a Michigan and Northwest Ohio Entrepreneur of the Year, and by Walsh College with its Distinguished Alumnus Award.
Show Highlights
During this episode:
Article celebrates the importance of finding happiness, passion in your career [1:07]
The why behind Gregg's "Be Brave" [2:40]
No exact science to success but passion can play a large part [4:45]
Celebrating Paul Glantz who never gave up on his 'side hustle' [8:55]
The "Top Three"
Jim Hahn & Dale Hole: Original angel capital investors, served as cornerstone of Emagine [14:58]
Brian Brizard: A colleague turned investor [19:16]
Hank and Sharron Crawford: Bring not only capital, but sage wisdom to the table [24:09]
Paul's Advice: Turning a side-hustle into a full-time gig [25:00]
Additional advisors to celebrate: Brian Ford, Dirk Kjolhede, and Anthony Laverde [31:33]
Transformation & Disruption
State of the Entertainment Industry [33:52]
Moving forward in a post-COVID world: Importance of a theatrical release [36:02]
Looking forward: Niche markets and personalization [37:28]
You have to hear this…
"Auditioning Everyday": The importance of empathy [43:33]
Additional Information
Contact Gregg Garrett:
Contact CGS Advisors:
Subscribe: