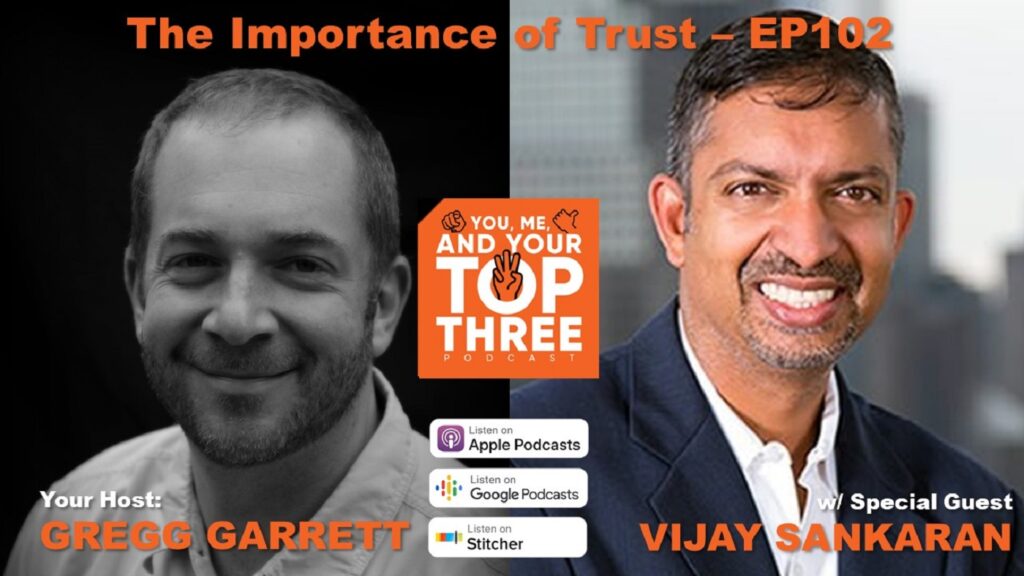 The Importance of Trust in Leadership: Host Gregg Garrett is joined by Vijay Sankaran, technology executive who was most recently CIO at TD Ameritrade, who discusses the importance of trust in leadership and the role it played in shaping his career. Vijay shares his Top Three who range from a colleague who used trust to be his daily 360 check in to a former boss-turned-friend who taught him how to use trust to build world class organizations. And you have to hear what he says about focusing on your daily top three!
About Vijay Sankaran
Vijay Sankaran is a forward-thinking software engineering leader and technology executive who was most recently Chief Information Officer at TD Ameritrade. He led a team of 2,000 employees with responsibility for digital strategy, software engineering, technology operations, cybersecurity, data and innovation.
Prior to joining TD Ameritrade, Vijay held several senior leadership roles at Ford including: Direction, Application Development where he was responsible for software development, and delivery of major programs and projects with a global organization of 4,500 people; Director, Infrastructure Operations where his responsibilities included operational support for infrastructure and Ford's largest data centers in North America.
Prior to joining Ford, Vijay was a consultant with both Ernst & Young (EY) and Headstrong where he focused heavily on analytical systems. Vijay holds a B.S. in Computer Science from the Massachusetts Institute of Technology and an M.B.A. from Duke University's Fuqua School of Business.
Show Highlights
During this episode:
Concept of Trust: Wise words from Warren Buffet, Abraham Lincoln and more [1:04]
Trust is critical at macro and micro level [6:20]
Welcome guest, Vijay Sankaran, with a storied career [6:56]
The "Top Three"
Terri Ann Beckford: The partner who became his daily 360 check in [12:05]
Michael Emerson: His financial advisor who he views more as the COO of his family [21:28]
Marcy Klevorn: A former boss-turned-friend who taught him how to build world class organizations [30:30]
Transformation & Disruption
An insight into Vijay's perspective on trust [39:54]
Moving from a product industry to financial services industry [45:43]
Digital Transformation: It's not just change management, it's a transformative movement [49:10]
Celebrating Vijay's bravery [57:28]
You have to hear this…
"Focus on your daily top 3": Be deliberate on where you spend your energy [1:04:50]
Additional Information
Contact Vijay Sankaran:
Contact Gregg Garrett:
Contact CGS Advisors:
Subscribe: