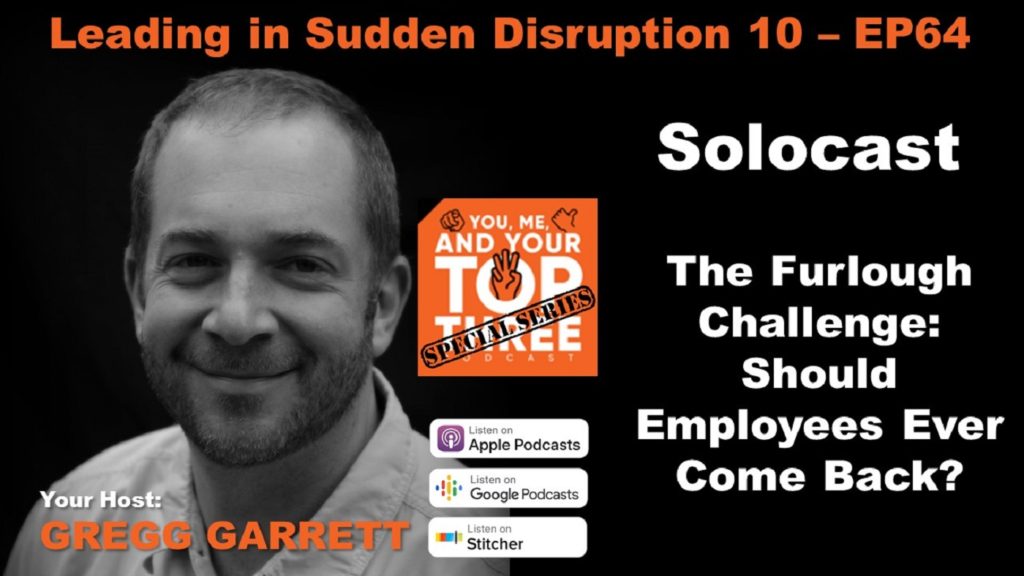 During this mini episode, You, Me, and Your Top Three host and CGS Advisors CEO, Gregg Garrett, does a solo-cast to explore how the country and business leaders deal with the highest unemployment rate of all time due to the COVID-19 pandemic. Specifically, Gregg discusses how to bring employees back, how it ties to innovation and how to capture the entrepreneurial spirit in order to open up the economy and work to make your business stronger than it was prior to the pandemic.
About Gregg Garrett
Greggory R. Garrett is the CEO and Managing Director of CGS Advisors, a boutique strategy and innovation advisory firm that works with senior leaders at public companies and select private organizations. He is a dynamic and experienced international keynote speaker, an adjunct professor of business and engineering, the host of the "You, Me, and Your Top Three" podcast, and author of the best-selling business leadership book, Competing in the Connecting World. Having addressed audiences from 20 to upwards of 1500 people in public and private/corporate events, Gregg is at his best when he can focus on industry shaping & transformational topics.
Prior to launching CGS Advisors, Gregg was the Chief Strategy Officer for IT & Innovation at Volkswagen Group of America. Before his time with VW, Gregg led corporate strategy & marketing for a division of Deutsche Telekom and was part of Ernst & Young's Management Consulting practice. He is a visionary leader who prides himself in recognizing commonsense solutions for complex problems and supports "Corporate Bravery" by motivating teams to reach well beyond the typical boundaries to achieve greatness.
Show Highlights
1:31 COVID-19s impact on business disruption and therefore the effects of that business disruption on transformation of employment
2:58 Don't bring employees back to unleash the potential silver lining of major disruption
4:10 How were innovation and entrepreneurship impacted during last few major disruptions?
5:54 Clear Vision + Available Resources = how to make innovation work post-war, post-disruption
8:34 "People are amazing. We're a resilient creature"
9:02 "57% of FORTUNE500 companies were started in a recession or in major down years"
9:33 Should people really ever come back from furlough?
10:40 A two-phase "Return to Work Plan"
12:03 Turning on the "Corporate Innovation Function"
Additional Information
Contact Gregg Garrett:
Contact CGS Advisors:
Subscribe: