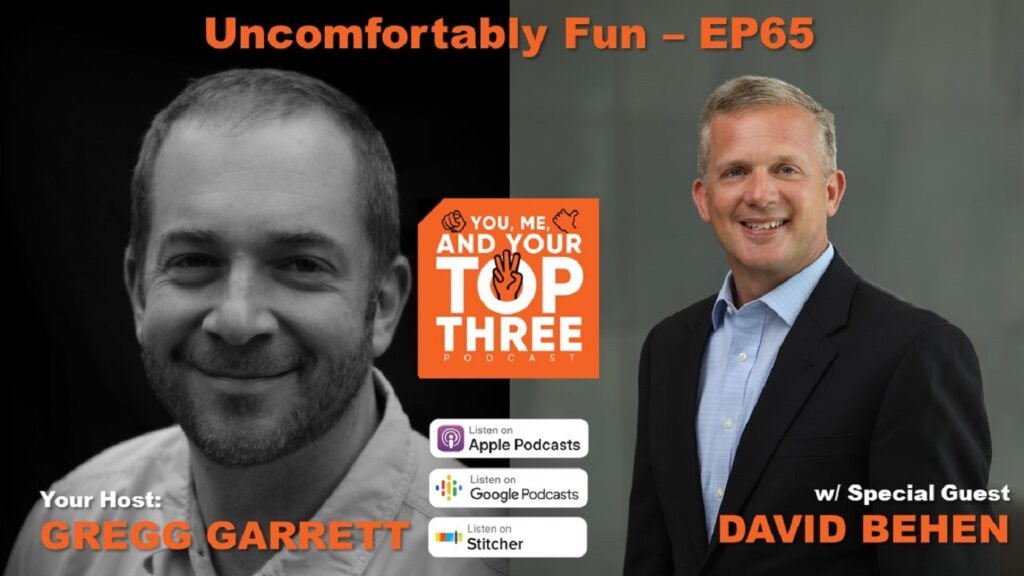 During this episode, You Me and Your Top Three host, Gregg Garrett, speaks with David Behen, CIO of the iconic brand, La-Z-Boy. He discusses the power of being brave enough to ask and how being brave can make all the difference in a mentorship relationship. Behen highlights his closest virtual advisors from his life partner to day-to-day business partners to experienced IT and investment advisors to the former governor of Michigan. Additionally, he shares must-hear advise on keeping things uncomfortably fun.
About David Behen
David Behen has served as Vice President and Chief Information Officer (CIO) at La-Z-Boy, Inc. since June 2017. In this role, he leads the information technology (IT) function across the enterprise, aligning technology with the La-Z-Boy business objectives. Behen works to ensure optimal technology performance and cybersecurity for the company in support of La-Z-Boy's future growth and success across manufacturing and retail operations. His responsibilities include IT strategy, cybersecurity, enterprise architecture, enterprise resource planning (ERP) deployment, network optimization and procuring new technologies.
Prior to joining La-Z-Boy, Behen spent over six years as a Cabinet Member for Governor Rick Snyder as the Director of Department of Technology, Management and Budget and Chief Information Officer for the State of Michigan. There, he led a department that employed 2,800 associates with an annual operating budget of $1.4 billion. Under Behen's direction, Michigan established itself as a national leader in the IT arena, delivering a portfolio of high-impact and innovative initiatives aimed at improving government through technology.
Earlier, Behen founded a software company, InfoReady, and served as a vice president and CIO of its parent company. He also worked as CIO and Deputy County Administrator of Washtenaw County, Mich. Behen holds a number of board and committee positions in professional and technology organizations. He is currently a member of the Western Michigan University Board of Trustees. In addition, he is a co- chair of the governing body for the Detroit CIO Executive Summit and is a member of the National Retail Federation CIO Executive Council, as well as the Cybersecurity Council.
Behen frequently serves as a keynote speaker, expert panelist, and moderator for national and international audiences providing expertise on information technology, cybersecurity, data management and leadership.
Behen earned his Master of Public Administration degree and Bachelor of Science degree from Eastern Michigan University.
Show Highlights
Segment 1: Overview
1:06 Building meaningful relationships starts with being brave enough to ask
3:38 David Behen's willingness to just ask created a first of its kind Kitchen Cabinet of Advisors
Segment 2: The "Top Three"
6:12 A career full of leadership roles with help from mentorships and coaching
7:50 Behen's "Top Three" starts with his wife, life partner who keeps him humble
12:00 Behen's "Top Three" continues with a provider of great practical advice, Doug Wiescinski
14:57 How to operationalize your network
17:05 Behen's "Top Three" builds with a mentor/ mentee relationship with James McFarlane who challenges him
21:10 How to make yourself vulnerable to learn something from the people who report to you
23:06 Similarities between a sports team and a team in the workplace
27:34 Behen's "Top Three" grows with Chris Rizik who is an outstanding soundboard
33:40 Behen's "Top Three" concludes with former Michigan Governor, Rick Snyder
38:47 Be brave enough to ask for the mentorship
42:03 "Great leaders make things simple, don't they?"
Segment 3: Impact of Disruption & Technology on Manufacturing and Home Furnishing Industries
42:41 "What are the big things people in technology should be paying attention to for these industries?"
44:57 The impact of technology in retail
46:00 "The evolution of people buying furniture online will still continue but there will still be a need of a presence of a store."
46:35 The need to talk about the continuation of automation in every business
47:00 Long-term impacts on buying and shopping habits from COVID-19
48:45 "How are you going to digitalize your business to be pandemic proof moving forward?"
Segment 4: Wrapping Up
51:21 Tips for being a better, braver leader
52:24 How to follow up with David on his great advise
Additional Information
Contact David Behen:
Contact Gregg Garrett:
Contact CGS Advisors:
Subscribe: