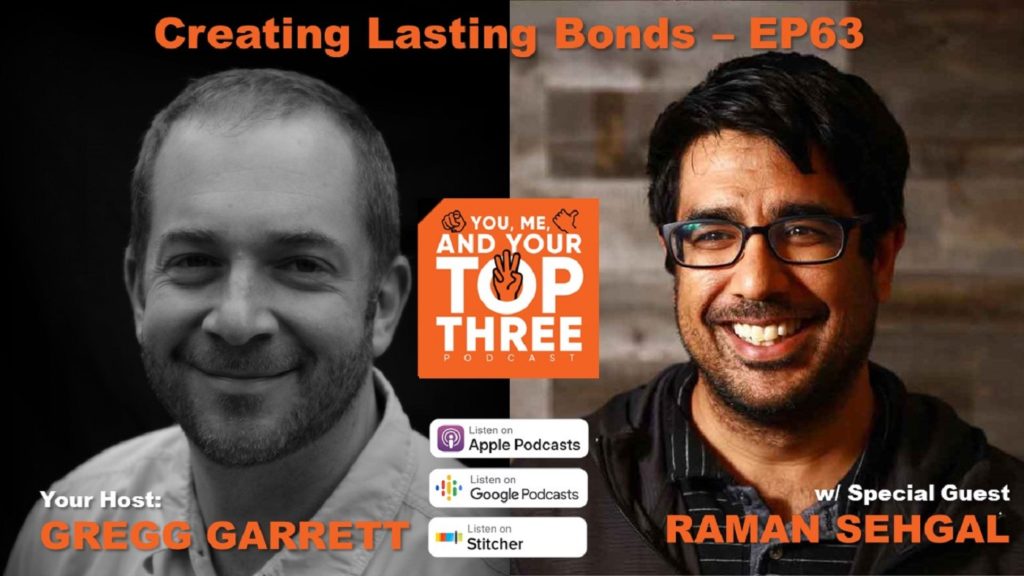 During this episode, You, Me, and Your Top Three host and CGS Advisors CEO, Gregg Garrett, speaks about how a company's culture, combined with where you work early in your career, can have a huge impact on the trajectory of your career. Gregg then speaks with Raman Sehgal, the founder of 20 Nickels, a serial entrepreneur, and a P&G alumnus. Raman discusses P&G's corporate culture, his podcast experience, and lessons learned along the way. Of course, he speaks about his 'Top Three' from a past colleague at P&G, to a former colleague and mentor at a startup, to a former employee. And, you have to hear what Raman's mentor said about controlling the narrative.
About Raman Sehgal
Raman Sehgal is a recovering marketer and emerging podcaster. Having worked on big brands (P&G, Dannon), built startups (Ahalogy, TVision), and been around the world, Raman's brings his unique perspective to life across his 3 podcasts: "the P&G Alumni Podcast," "Model Minorities," and "Quarantined Comics." These shows share candid conversations that aspire to provide mentorship, solve racism, and debate Superman's management style, respectively. Raman's from Alabama, lives on the NY border, and has been on all 7 continents.
Show Highlights
Segment 1: Overview
1:57 The importance of your first job – how the culture of your first workplace affects your entire career.
5:10 Gregg's Advice: Where should you work first?
6:37 Introducing Raman Sehgal.
8:19 Adjusting a career path and the lessons learned.
Segment 2: The "Top Three"
12:08 Raman's 'Top Three': Bob Gilbreath – leadership and learning how to get your foot in the door.
14:02 Sharing the P&G culture.
16:57 Starting Ahalogy with Bob.
18:00 Seeing "the matrix" and controlling the narrative.
19:04 Raman's 'Top Three': Bob Arnold – fighting in the trenches; learning how to conquer the corporate jungle.
20:58 Climbing the corporate ladder and making relationships
24:10 Raman's 'Top Three': Jonathan Kriner– Making connections with P&G's network
Segment 3: Career lessons, observations, and others who helped along the way
28:28 Being a servant leader.
30:48 Doing the harder "right" thing vs. the easy "wrong" thing.
31:17 Lessons from two other significant people in Raman's life.
35:10 Learnings from Leaders: the P&G Alumni Podcast (PGalums.com/podcast).
36:15 The strength of the P&G network.
40:38 The importance of 'people who care'.
Segment 4: The Future of Raising Leaders
43:45 The future of mentorship.
46:07 Doing it right: having diversity discussions.
48:05 Learning from other perspectives.
50:05 Seeking to understand others, not to necessarily agree.
Segment 5: Closing Thoughts
51:00 Advice to young leaders: talk and listen – especially with someone you don't understand.
53:30 Stay safe and re-center.
Additional Information
Contact Raman Sehgal:
Contact Gregg Garrett:
Contact CGS Advisors:
Subscribe: