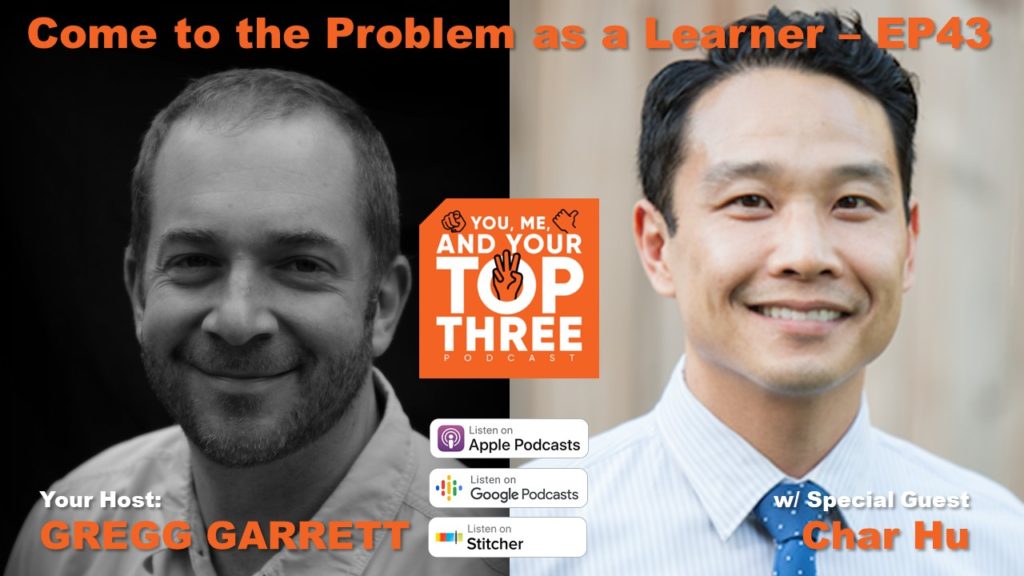 During this episode, You, Me, and Your Top Three host and CGS Advisors CEO, Gregg Garrett, speaks with Char Hu, CEO for The Helper Bees. Char and Gregg talk about The Helper Bee's focus of tacking inefficiencies in the home healthcare market. Char speaks about how this problem is both very personal to him due to an elderly family member and how the United States' aging population is forcing new approaches to support the 'aging in place' concept. Char speaks about his 'Top Three' – from his hard-working, immigrant parents, to his cofounding team of experts, to the Austin-based company that helps push him even further. And, you have to hear what he has to say about always tackling problems as a learner.
About Char Hu
Char received his Doctorate in molecular biophysics from Baylor College of Medicine where he researched the underlying mechanisms for diseases like Alzheimer's. He went on to co-found Georgetown Living, a certified Alzheimer's and dementia facility known for its evidence-based design building and pet therapy ranch animals. Following this, he founded a Medicare-accredited home health agency who uses skilled services to keep older adults independent at home. Dr. Hu also founded and is CEO of The Helper Bees, an insure-tech company that uses data and technology to improve home care delivery. In 2018 he was awarded the SXSW Global Community Service Award and was appointed by Lt. Governor Dan Patrick to the Texas Council on Alzheimer's Disease and Related Disorders.
Show Highlights
Segment 1: Overview
1:05 The aging journey and aging in place.
4:22 Helper Bees – one-stop shop for aging well in place.
5:44 Char Hu – a 'recovering scientists': from science research to entrepreneurship.
Segment 2: The "Top Three"
8:19 Char's 'Top Three': His Parents – humbleness and grit.
15:56 Char's 'Top Three': Danny Lynch & Eric Corum – the safe space in the entrepreneurial journey.
21:27 Char's 'Top Three': Amos Schwartzfarb and Monica Landers – The battle of being a CEO.
24:45 Finding an energy giver.
27:14 Char's 'Top Three': Many more people – from his wife to colleagues, and beyond.
Segment 3: Industry Disruption & Transformation
28:33 The most significant demographic shift the world has ever seen.
30:04 Who is really afraid of the problem created by the demographic shift?
32:38 The experience of guiding the company through pivots.
38:26 The importance of finding early customers to act as advisors.
49:56 The importance of learning in the sales process.
Segment 4: Leadership & Wrapping Up
49:23 Are you a professional leader or are you something else?
50:28 "When is the last time that you talked to your key players?"
52:18 Helper Bees continues to grow!
53:11 Stay in touch with Char via LinkedIn or email: Char@TheHelperBees.com
Additional Information
Contact Char Hu:
Contact The Helper Bees:
Contact Gregg Garrett:
Contact CGS Advisors:
Subscribe