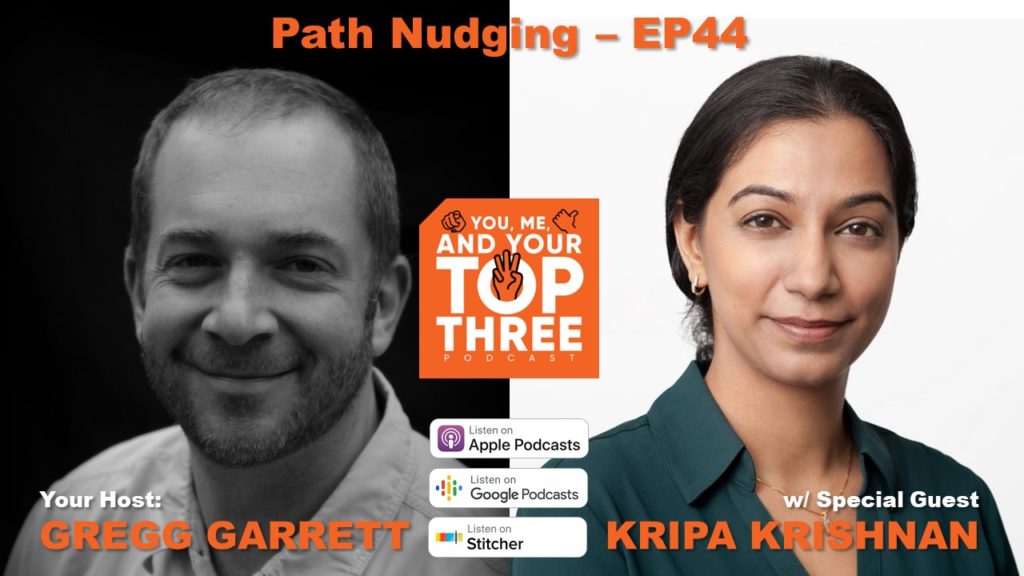 During this episode, You, Me, and Your Top Three host and CGS Advisors CEO, Gregg Garrett, speaks with Kripa Krishnan, Director, Cloud Product Operations at Google, Inc. Kripa speaks about her journey that took her from India and the Middle East to Silicon Valley. She reflects on her unique career that spans art, music, medicine, finance, and now technology. And, of course, she speaks about her 'Top Three' – from path-nudgers who helped her try new things even when she didn't see them, to reverse mentors who helped her recognize new patters, to friends who just listen. And, you have to hear what she has to say about having empathy as a leader.
About Kripa Krishnan
Kripa Krishnan was born in Chennai, India. Attending a university in India with the idea she would someday be a doctor, Krishnan changed course midstream and decided to follow her real passion — playing in a rock band. She moved on to theater and the performing arts, until she accidentally took a Computer Science course at the University of Massachusetts — which took her on a path to working in tech. She worked as a systems administrator for a while, and was a college lecturer. She built the foundations for a telemedicine network in Kosovo. Eventually, this path led her to Alphabet Inc.'s Google, where she has made her mark as senior director, technical program management, Google Cloud Platform. Krishnan is the first woman director in the SRE organization at Google, which is something she is very proud of. Something she's even more proud of is being a character in a children's book promoting STEM education. And for the record, she's the "Prolific Problem Solver" in the book "Ara the Star Engineer." Her community involvement has included the Board of Advisors, Department of Management Information Systems at the University of Arizona.
Show Highlights
Segment 1: Overview
1:02 Women making history in technology – Grace Hopper. Radia Perlman. Katherine Johnson.
5:04 Kripa Krishnan – Director, Cloud Product Operations at Google, Inc.
6:55 From medicine to art to finance to technology.
Segment 2: The "Top Three"
9:34 Kripa's 'Top Three': A Friend, a Professor, and Dr. Mohan Tanniru – A nudge to a path.
13:44 Komal Singh's "Ara the Star Engineer" – featuring Kripa Krishnan
17:32 "Everyone should have a lot of people they can go to."
18:16 Kripa's 'Top Three': Reverse mentors – You can also learn from those with less experience than you.
22:00 Kripa's 'Top Three': Friends – don't change just to change – "do anything stupid."
24:49 Kripa's 'Top Three': Great Managers – mentors, teachers, and holding the mirror to your face.
Segment 3: Industry Disruption & Transformation
25:39 Adapting what you learn to your leadership style.
28:19 What leaders should pay attention to in the technology space.
30:36 "The definition of technology itself is becoming harder to articulate."
32:24 The impact of technology at the industrial level.
35:55 Does society understand the critical role information is playing?
Segment 4: Leadership & Wrapping Up
40:25 Leaders: "are able to rally people to move toward an environment that is different from the one they started with."
41:51 The differences for women in technology leadership.
44:53 Advice: "It is really important to push past friction point. That is what will propel you."
46:34 Hack for leaders: Try to see something from another person's perspective and lead with empathy.
Additional Information
Contact Kripa Krishnan:
Contact Gregg Garrett:
Contact CGS Advisors:
Subscribe: