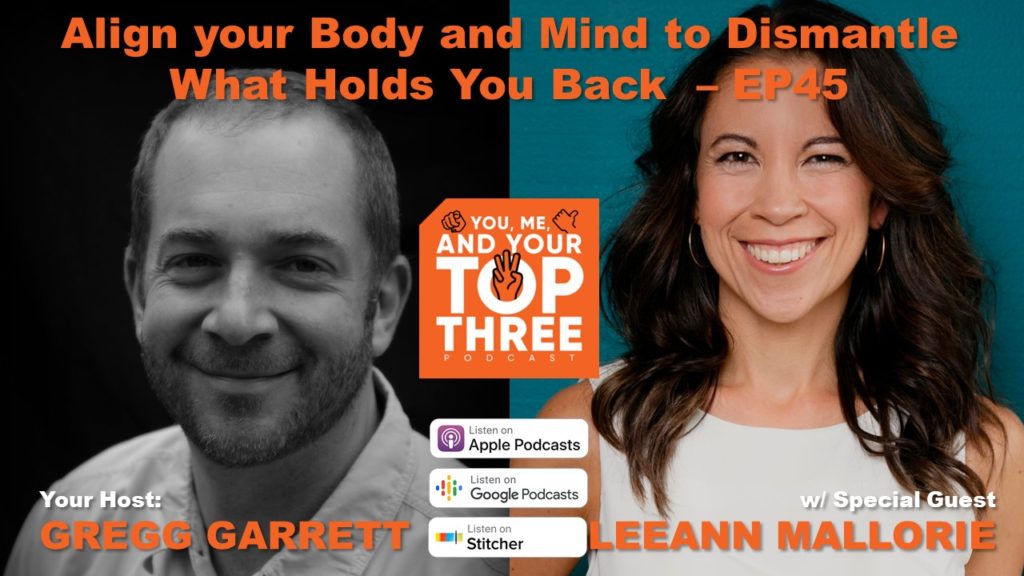 During this episode, You, Me, and Your Top Three host and CGS Advisors CEO, Gregg Garrett, speaks with LeeAnn Mallorie, Founder and CEO of Leading In Motion and Program Founder and Author of Guts & Grace. Through her work, LeeAnn helps leaders align their body, their mind, and their soul. She explains that her approach can apply to all leaders, but why she specifically finds it so critical for women to lean into the process. Of course, LeeAnn speaks about her top three – ranging from business coaches who have been there before, to spiritual leaders who align the soul, to here and now peers that help her be brave and break through all the normal patterns. And you have to hear what she says about dismantling the patriarchy or any system that holds you back.
About LeeAnn Mallorie
LeeAnn Mallorie, CEO of Leading in Motion, is a transformational leadership coach and facilitator over fifteen years of experience helping leaders and organizations achieve great results by truly walking their talk. Her background includes working with CEOs, VPs, directors and managers in diverse organizations from start-ups and non-profits to large publicly traded organizations. LeeAnn specializes in leadership embodiment and executive presence, supporting her clients to lead mission-critical new initiatives and steward organizational change. LeeAnn is also uniquely skilled at reducing burnout and cultivating emotional resilience –especially with female leaders. Her clients appreciate her keen ability to see right to the heart of the matter, help them clearly articulate visionary goals, and mirror their behavior –both liabilities and strengths –in real time. LeeAnn's new book Guts and Grace: A Woman's Guide to Full Bodied Leadership was published by Conscious Capitalism Press in January of 2020.
Show Highlights
Segment 1: Overview
1:03 Leading through disruption – the coronavirus impact on global markets, industries and our future leaders.
5:39 Women's History Month – celebrating women leaders in healthcare (Dr. Patricia Bath. Rachel Schneerson. Dr. Mary Guinan.)
8:17 LeeAnn Mallorie – specializes in working with female leaders who innovate.
10:29 The transformation of psychological change.
15:48 Bringing the body-based side together with the brain-based side. (Leading in Motion. Guts and Grace.)
Segment 2: The "Top Three"
19:15 LeeAnn's 'Top Three': Business Advisors – Phil Dyer – translating what a business leader really wants. (Angelique Rewers)
24:29 LeeAnn's 'Top Three': Spiritual Advisors – Nilima Bhat – leaning into your spiritual roots. (Shakti Leadership.)
27:59 The emergence of the spiritual aspect of business.
33:34 LeeAnn's 'Top Three': Entrepreneurial Advisors – Lise Melvin and Catherine Cassidy – the ups and downs of entrepreneurship (Better Cotton Initiative.)
Segment 3: Leadership
38:15 "Not a precedent for innovators today."
41:05 The truth about doubt.
45:24 Guts & Grace – bringing a woman's full self to leadership.
50:35 Do men need to lose in order for women to win in leadership?
Segment 4: Wrapping Up
54:30 A hint for leaders: a mindfulness practice of observing the practice of listening and doing or leading and following.
57:38 Connect with LeeAnn on LinkedIn. Guts & Grace. Leading in Motion.
Additional Information
Contact LeeAnn Mallorie:
Contact Gregg Garrett:
Contact CGS Advisors:
Subscribe: