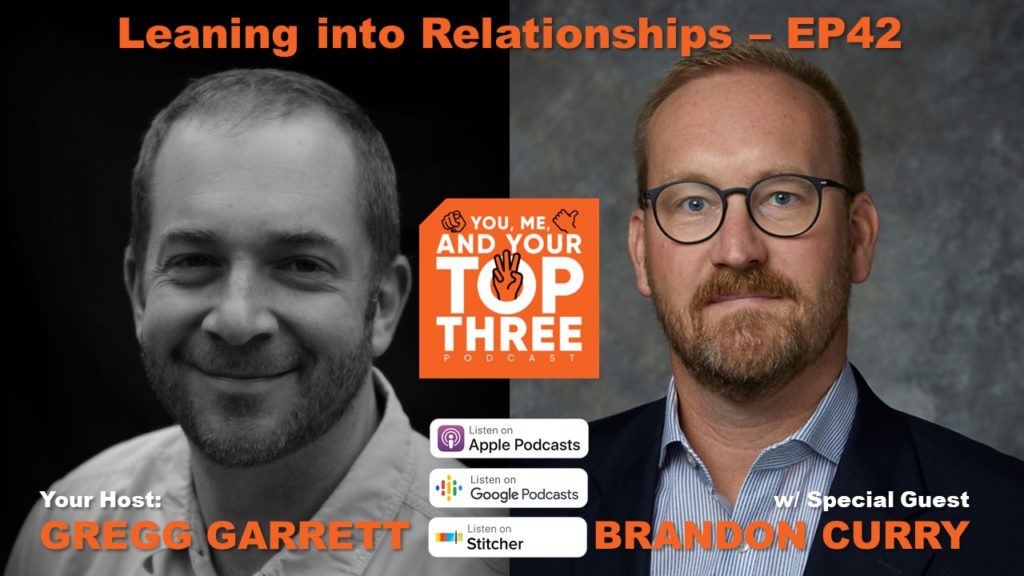 During this episode, You, Me, and Your Top Three host and CGS Advisors CEO, Gregg Garrett, speaks with Brandon Curry, Vice President of Human Resources for DRiV Incorporated. Brandon and Gregg talk about transformation techniques and discuss the major disruptions taking over the HR and mobility industries. Brandon's 'Top Three' gives us a glimpse into the origins of his "do something" attitude  – from his dad who instilled his inner drive, to his church community who helped him keep grounded in the 'why', to his c-level coworkers who let him fill the whitespace that he desperately needed. And you have to hear what Brandon has to say about how you have to learn to lean into relationships to drive forward and to lead.
About Brandon Curry
Brandon Curry is Vice President of Human Resources for DRiV Incorporated, a $6 billion division of Tenneco, expected to spin-off. Currently, he leads global HR for the DRiV Motorparts segment which sells and distributes a broad portfolio of products in the global vehicle aftermarkets including the brands -Monroe®, Walker®, Champion®, Fel-Pro®, MOOG®, Wagner®, Öhlins®, Rancho®, Thrush®, National®, and Sealed Power®. Brandon is passionate about helping individuals and organizations perform and function by purpose and design rather than default, building more engaged and effective organizations and talent. He has consulted internally and externally with organizations of diverse size, industry, sector, and scope. He's led global HR teams, departments, organizational processes and technology for talent acquisition, learning, organization development and talent management.
Brandon has served as a guest speaker at Talent Development and Talent Management conferences, panels and blogs. He has served on workforce development, start-up and product advisory committees in the talent management space and as a part-time faculty member in Oakland University's Department of Human Resource Development in Southeastern Michigan, where he resides with his wife and children. Curry earned a bachelor's degree and a master's degree in training and development from Oakland University in Rochester, Michigan.
Show Highlights
Segment 1: Overview
1:07 The importance of the question: should innovation be a centralized or decentralized capability?
4:06 Brandon Curry: being progressive in the HR industry.
6:14 DRiV: Driving advancements that help people get the most out of every vehicle, every ride, every race, every journey.
Segment 2: The "Top Three"
7:55 Brandon's 'Top Three' – family & specifically his dad – the importance of not living in fear and, instead, to live with confidence and take risks.
11:49 Brandon's 'Top Three' – church community – understanding what success looks like for you and what you are trying to achieve and understanding what kind of citizen to be and how to interact with neighbors.
16:16 Brandon's 'Top Three' – colleagues and mentors – individuals that have embraced his curiosity (Scott Pepin. Brad Norton.)
20:07 Bravery in 'packs'.
Segment 3: Industry Disruption & Transformation
27:04 How consolidation and various shortages are disrupting industries.
31:25 The consumerization of employment.
35:10 Critical capabilities: what does it take to run a company like DRiV today?
41:15 "Engage": Creating value within in your organization.
43:32 "Fear is the kryptonite for an organization."
45:55 How to drive a cultural shift within the organization.
Segment 4: Leadership & Wrapping Up
50:25 "Leadership is an influence process…what can somebody do to non-coercively bring a group of people to produce outcomes."
52:33 Hint for leaders: It is important how you handle the things that don't work out. Lean into those unexpected relationships and take a chance. Tell people they are doing great things. (Bob Walters.)
57:45 "Parts matters." Check out the DRiV website for information and job opportunities.
Additional Information
Contact Brandon Curry:
Contact DRiV:
Contact Gregg Garrett:
Contact CGS Advisors:
Subscribe: