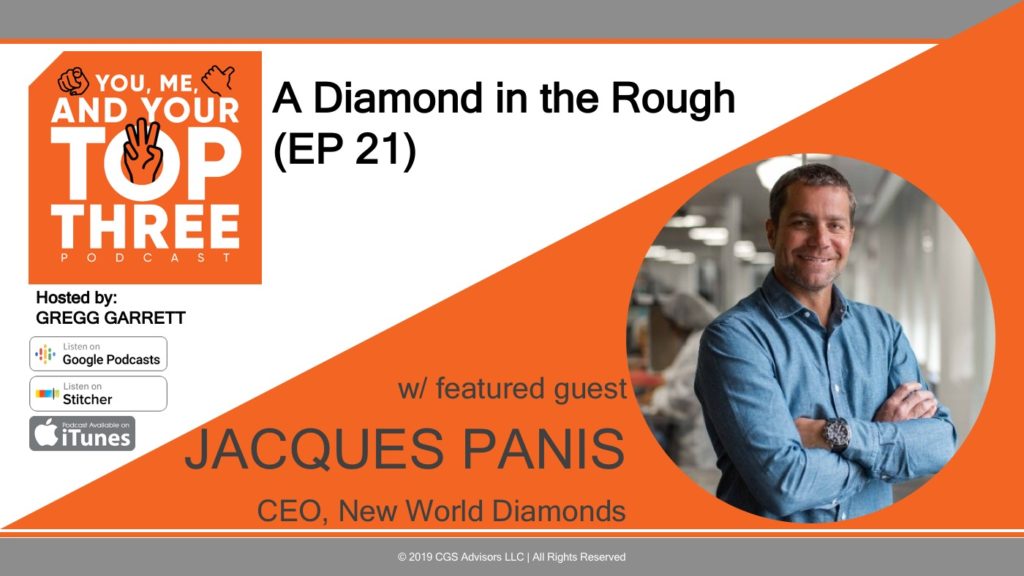 Jacques Panis, the accomplished global brand builder, joins Gregg Garrett in this week's episode of You, Me, and Your Top Three. Jacques transformed the Shinola brand from a defunct shoe polish brand brand into a globally recognized leader in the fashion and accessories industry. Jacques talks about the ups and downs of becoming an overnight success and specifically about the impact that can have on your closest relationships. Jacques gives insight into his current leadership adventure – leading the lab-grown diamond business New World Diamonds – and shares how he believes the industry is being completely disrupted by technology. Finally, Jacques shares his "Top Three" and talks about how everyone should look for pattern-disrupting opportunities during their career journeys.
About Jacques Panis
Jacques is an international brand builder and CEO of New World Diamonds. Prior to joining New World Diamonds in 2018, Jacques was the President of Shinola for six years during which time he led the company's product development and strategic brand direction. Jacques also prides himself on his entrepreneurial spirit which he showcased when he founded Webosaurus.com in 2007. Jacques has also been active in the communities in which he lived, servicing on the boards of the Detroit Institute of Art, Detroit Children's Fund, and the Empowerment Plan.
Show Highlights
Segment 1: Overview
1:00 Is the importance of 'the brand' going to be diminished moving forward?
4:29 Jacques Background: From small-town Virginia boy to CEO of New World Diamonds.
Segment 2: Brave Leadership & the "Top Three"
6:12 Jacques' "Top Three": "The guys who gave me a shot"
7:19 Jacques' "Top Three": Robert Fiveash and Danny Rosin – the importance of the human. (Brand Fuel.)
8:07 Focus on the human aspect when interviewing individuals for a job.
9:12 Jacques' "Top Three": Steve O'Brien (Reel FX Animation.)
10:34 "It is about the person, not the 'metrics' on paper."
13:38 The importance of scrappiness.
17:53 Jacques' "Top Three": Holly Jonnson Panis – being brave and how to 'be human'.
Segment 3: Industry Disruption & Transformation
20:12 "When you're on an epic adventure, you sometimes lose sight of what is important."
23:36 Industry disruption via lab-grown diamonds.
27:58 New World Diamonds: A smarter diamond for a smarter consumer in a smarter world.
34:40 "Look for something that is pattern disruptive."
37:23 The startup atmosphere: enabled to do what we need to do – just in 30 day sprints.
Segment 4: Wrapping Up
41:35 Advice #1: Whether a corporate or a startup – force the bootstrap.
44:54 Advice #2: "You're going to be told no a thousand times over in different ways. And I believe there is always a way to overcome the 'no'."
45:40 Advice #3: "Don't be discouraged by failure."
45:59 Advice #4: "Care for your people – go with an open heart, open ear, and open eyes and a willingness to trust in your people."
49:11 "Don't buy an earth-mind diamond. It's the craziest damn thing you've ever bought."
50:11 Follow Jacques on LinkedIn and New World Diamonds on social media platforms.
Additional Information
Contact Jacques Panis:
Contact New World Diamonds:
Contact Gregg Garrett:
Contact CGS Advisors:
Subscribe: