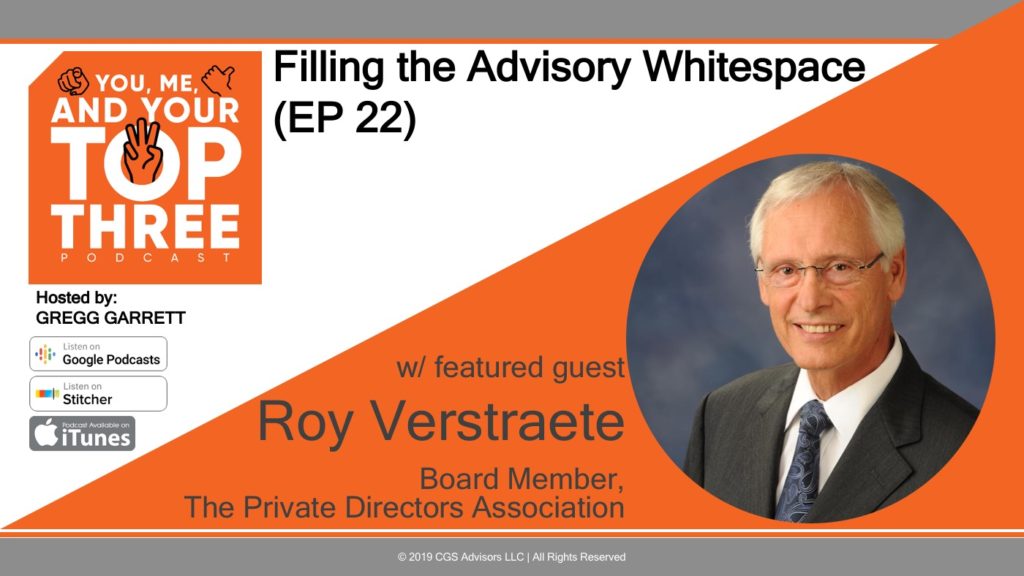 During this episode, You Me and Your Top Three host, Gregg Garrett, speaks with Roy Verstraete, a founding member of the Private Directors Association; a group helping to build advisory boards for private companies and owners.  Roy discusses the importance of an independent advisory network and the critical role of mentors and advisors in today's day and age. Specifically, Roy talks about his career leading manufacturing and product companies in Europe, North America, and South America. Additionally, he speaks about what it was like to work with iconic brands like Velcro and the excitement of working with founders and owners in these spaces. Finally, Roy shares his "Top Three" and talks about how when he was growing up in management, having mentors was actually a sign of weakness and how he turned to virtual mentors to help guide his career.
About Roy Verstraete
Roy is a corporate director, advisor, senior executive and internationalist with 30+ years of leadership experience. He is currently a Director for 4 Private manufacturing companies in the US, Canada, the UK and Germany. Roy has served on Boards of Directors and Advisory Boards for public, private and start-up companies as well as not-for-profit organizations. Also he is Past Chair of the Automotive Parts Manufacturers Association and the Private Directors Association.
Roy holds a degree in Chemical Engineering from McMaster University and earned an MBA from the Schulich School of Business. In addition, Roy completed "Making Corporate Boards More Effective"- a Certificate program, from the Harvard Business School.
Show Highlights
Segment 1: Overview
1:00 What is the role of a board in a successful career; both personally and professionally?
4:33 Roy Verstraete: A global citizen in manufacturing whose career also became his hobby.
Segment 2: Evolution of Mentorships & the "Top Three"
6:00 What made Roy, Roy? Learning to evolve from management to leadership in various cultures.(Velcro Corporation.)
9:33 Roy's "Top Three": A hunger for information & learning fed through attending conferences with key thinkers and leaders – Peter Drucker, Management Theory.
10:50 Roy's "Top Three": Evolution from management to leadership – Jim Collins (Good to Great), Clayton Christensen (The Innovator's Dilemma), Michael Porter
12:55 "Those were foundational pieces that came together to make something."
13:30 The importance of being vulnerable.
14:44 Attending conferences: what's the relationship makeup?
Segment 3: Becoming an Advisor, Mentor & Board Member
16:40 The journey of becoming an advisor, mentor and board member.
18:42 The Private Directors Association: Filling the whitespace of private companies.
22:54 The four pillars of PDA – private owners, private equity owners, ESOPs, and startups.
25:00 The evolution of the board in startups.
26:35 75% of the clients that he had would not have lost their business if they would have had an external advisor of two. – Bruce Goldstein.
27:44 Hints to management and board members.
Segment 4: Industries & Disruption
34:38 The greatest impact on industries: The geopolitical state and cyber security.
37:20 Current trends: consolidation and divestitures.
39:43 Evolutionary changes in manufacturing.
42:23 "All of our training, all of our education, was how to grow, how to push….nowhere was the training of how to handle a true, serious, heavy recession."
43:43 What to do now to prepare for a recession? "Preemptively look at what you don't need."
Segment 5: Wrapping Up
48:33 Best piece of advice he has received: "Being curious and remaining curious leads to continuous learning….but decide what direction you want to go and share that"
50:45 How to get started? "Rather than the morning, tonight write down what you want to do tomorrow. And tomorrow you start on it."
52:11 The Private Directors Association – 80 Detroit members. 4 major chapters. And growing.
55:11 For owners: the only environment where owners can come to a meeting and 'window shop'.
56:46 Contact Roy via LinkedIn or Email (Roy@RoyVerstraete.com!
Additional Information
Contact Roy Verstraete:
Contact The Private Directors Association:
Contact Gregg Garrett:
Contact CGS Advisors:
Subscribe: