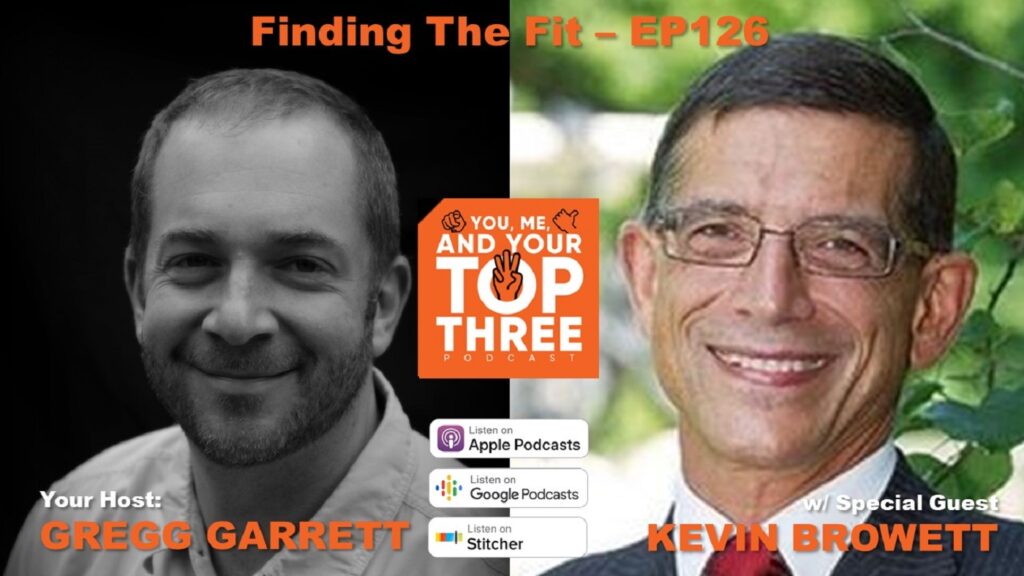 Finding the Fit | Kevin Browett, CEO of the Michigan Institute for Neurological Disorders, joins host Gregg Garrett to discuss his career journey from being a pharmacist to controlling over an $18 billion business at the largest retailer in the world, to a multi-time entrepreneur and scale-up leader, to CEO. Of course, Kevin speaks about his top three from the former CEO of CVS who helped him focus on the future, to the owner of the largest Dale Carnegie franchise who taught him to be brave, to a successful Silicon Valley entrepreneur who taught him to take the leap on new opportunities, to his grandfather who taught him the value of listening. And you have to hear what he has to say about the role of failure and what that means in driving to the next level.
About Kevin Browett
Kevin Browett is the Chief Executive Officer of The Michigan Institute for Neurological Disorders.
Browett has extensive operations and business development experience with a wide range of industry knowledge. He has led startups, Fortune 500s, and has been a change agent when it comes to the healthcare model.
In his role as CEO, Browett is responsible for multiple locations, 25+ providers, MIND's extensive neurology-based service lines including MRI, Infusion, Pain Management, Diagnostic testing, as well as numerous specialty centers dedicated to specific conditions like Multiple Sclerosis and Neuroimmunology Disorders, Parkinson's Disease and Movement Disorders, Alzheimer's Disease and Memory Disorders, and Migraine and Facial Pain conditions to name a few.
MIND is a leading neurology practice dedicated to providing the most comprehensive diagnostic, therapeutic, and supportive services to adult patients and their families affected with neurological conditions. In an effort to improve outcomes and quality of life, MIND is one of the few comprehensive private neurological facilities in the country focused on the betterment of our patients through the use of onsite, cutting-edge neuro-diagnostic technology, neuro-imaging, infusion services and medical education and research.
Browett sits on the Cranbrook Board of Trustees and serves as a board member for Duquesne University Business School and Oakland University.
Sample Career Achievements:
Strategic Vision: Evolved 77-year-old newspaper company into media group, restructuring product mix and transforming direction and profitability. Won Newspaper of Year award in 4 of 5 years.
Pioneering Startup: Founded successful pharmaceutical distribution company, pioneering enterprise-wide process automation, merchandise mix, staffing, and store layout later adopted by CVS/Aetna.
Business Development: Grew pharmacy startup from nothing to 17 stores, 300 staff, and $30M in sales within 24 months. Built entire Peoples Drugs pharmacy operation, setting foundation for acquisition by CVS.
Successful Turnarounds: Turned struggling Peoples home health care division into top ROI producer. Transformed Kmart pharmacy operations, growing sales from $700M to $1.6B in 18 months.
Innovative Product Development: Developed key strategic sourcing partnerships for Nutra Novus to create innovative, new products, driving sales from $17M to $32M.
M&A – Divestitures: Handled multiple mergers for CVS Pharmacy and Peoples Drugs, including acquisitions or divestitures of Rite Aid, and IMASCO.
Show Highlights
During this episode:
Transferring skills in the connecting world [1:20]
Welcoming, Kevin Browett [5:14]
The "Top Three"
Larry Merlo, who helped him stay focused on the future [11:52]
Systemic problem solving [17:05]
Kevin's Grandfather Joseph, who showcased how to listen to be a great leader [21:23]
Ralph Nichols, who taught him how to be brave [27:50]
Being mindful as a mentor [33:12]
Zaydoon Jawadi, who taught him to take risks on good people [38:26]
Michigan Institute of Neurological Disorders (MIND) [43:23]
Having a growth mindset for MIND [48:09]
You have to hear this…
The metaverse and impact of technology [52:45]
Join the MIND team! [55:45]
Failure drives big learnings [57:33]
Stay in touch with Kevin! [58:45]
Additional Information
Contact Kevin Browett:
Contact MIND:
Contact Gregg Garrett:
Contact CGS Advisors:
Subscribe: