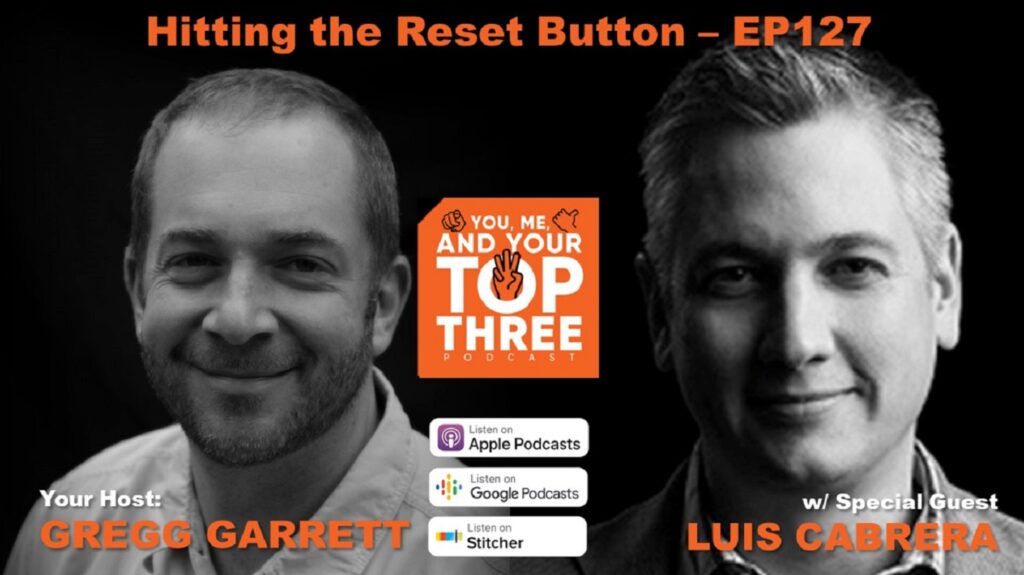 Hitting the Reset Button | Luis Cabrera, CEO of Budget Travel, joins host Gregg Garrett to discuss his storied career in digital across many industries. Luis highlights how he applies digital skills across senior roles, companies, and continents. Of course, Luis speaks about his Top 3, including Scott Galloway, a storied NYU professor, who helps him take a no-nonsense tone as he considers new opportunities, to Rich Lesser, the former CEO of BCG, who acts as his moral compass, to his wife who drives clarity in his life. And you have to hear what he has to say about having a cool head and hot feet.
About Luis Cabrera
Luis is an investor, operator, and consultant. He is currently CEO of Budget Travel and previously CEO of Lonely Planet, which he sold to Red Ventures in late 2020. His experience includes being a Partner at BCGDV, the Digital Ventures division at Boston Consulting Group, a co-founder of an enterprise mobility startup, and a Managing Director at WPP and other digital marketing companies. Luis was born and raised in Mexico City and has lived as south as Argentina and Australia; and has also lived in Miami, LA, San Francisco, NYC, Washington DC, and Nashville.
Show Highlights
During this episode:
The emergence of digital transformation programs [1:10]
The importance of understanding digital/connected in two ways [4:45]
Welcoming, Luis Cabrera [7:30]
Developing an enterprise mobility [11:15]
Turning around Lonely Planet [13:11]
The launch of Budget Travel [17:30]
The "Top Three"
His wife, who grounds him and drives clarity in his life [20:00)
Scott Galloway, who helps Luis take a no-nonsense approach as he considers new opportunities [26:15]
Rich Lesser, who is his virtual moral compass [35:55]
Refreshening up a legacy organization [39:30]
Where travel is going in the next 12 months. [42:33]
How autonomous vehicle will impact the travel industry [48:40]
The impact of AR/VR on travel [49:16]
You have to hear this…
Growing Budget Travel & some other exciting hobbies [53:36]
Mental Framework: You need to have a cool head and hot feet [57:39]
Stay in touch with Luis on LinkedIn!
Additional Information
Contact Luis Cabrera:
Contact Budget Travel:
Contact Gregg Garrett:
Contact CGS Advisors:
Subscribe: