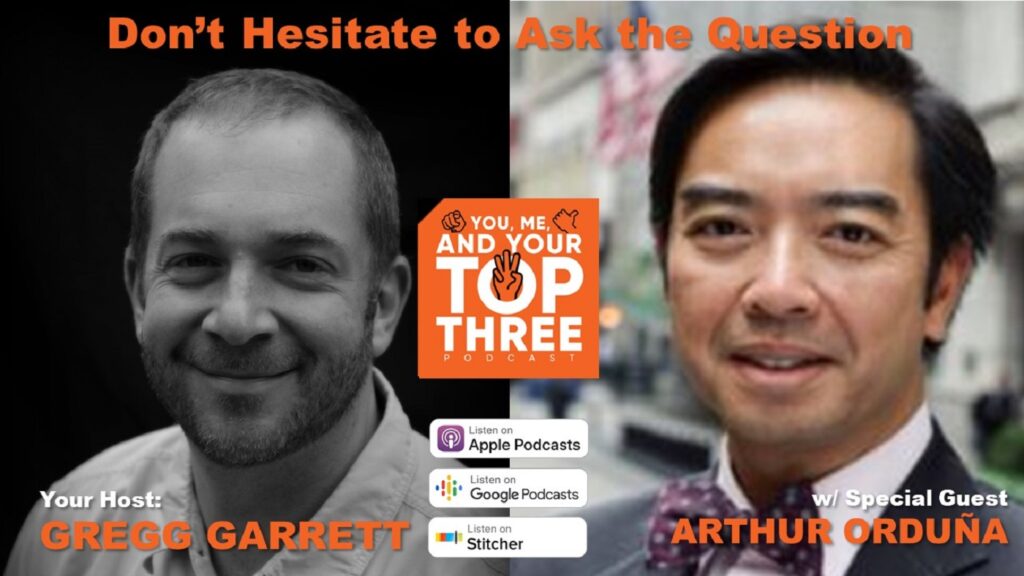 Launching an Enterprise Innovation Capability: Arthur Orduña, an enterprise innovator, joins host Gregg Garrett for a discussion on his experiences leading innovation initiatives at Avis and ADT. Arthur of course shares his Top Three who include his wife, an advisor to the board at Google, a screen writer, a former Fortune 500 CEO, and an entrepreneur. And you must hear what he says about the intersection of curiosity and creativity.
About Arthur Orduna
Arthur Orduña is an accomplished senior leader with a unique track record of launching innovative new products and technologies across diverse industries and developing and launching disruptive new businesses and partnerships for entities ranging from early-stage start-ups to Fortune 500 public companies. He has successfully led high-profile initiatives across the embedded real-time software, satellite television and cable broadband, broadcast and digital advertising, smart home security and automation, and global automotive and transportation mobility industries.
Since December 2020, he has become:
A network advisor to EQT, a leading Swedish private equity firm with €67 billion Euros of assets under management, supporting their services sector.
A senior advisor to Newlab, an award-winning disruptive technology accelerator in Brooklyn, NY, where he is helping with the creation and launch of new corporate innovation partnerships beginning with Ford Motor Company's mobility studio focusing on EV and next-generation commercial fleets.
A founding member of LG Electronics' Global Innovation Council, chaired by LG's President and CTO, and advising LG's product initiatives in mobility and transportation aimed at digital innovations for vehicle and driver safety.
The newest member of the Board of Trustees for Atlantic Health System, one of the largest health providers in the Northeast, with nearly $3B in revenue and more than 20,000 employees and affiliated physicians serving 5 million New Jersey residents across 11 counties.
A senior advisor to two early-stage mobility technology companies, one currently launched in four U.S. markets (Kyte) and the other still in stealth and pre-launch.
Prior to his advisory roles, he was Executive Vice President and Chief Innovation Officer of Avis Budget Group, a Fortune 500 global provider of mobility solutions, from 2016 until the end of 2020. In this role, he was responsible for leading global innovation, product, and technology for ABG's consumer and commercial fleets of more than 700,000 vehicles. He also led digital transformation for business and leisure customer cloud and mobile platforms across all of the Company's brands and regions. He also negotiated and managed new technology partnerships and investments to position ABG as a leader in new connected mobility and transportation.
Before joining Avid Budget Group, he served as Chief Innovation Officer for The ADT Corporation from 2012 until 2016, where he was responsible for architecting and building the strategic roadmap, delivery platform and products for residential and commercial customer solutions, leading digital business and customer transformation, and positioning ADT as a partner of choice for key technology companies. Prior to joining ADT, he was a founder of Canoe Ventures, LLC, a joint venture focused on interactive television and targeted advertising owned by the top six U.S. cable companies, where he served as Chief Technology Officer and then Chief Product Officer. Previous to Canoe, he was the SVP of Product & Technology for Bright House Networks, at the time the 6th largest MSO in the U.S. He was also VP of Product and Marketing for Canal+ Technologies U.S. as a part of Vivendi-Universal, and also held senior product management roles in the embedded software industry at Wind River Systems, ISI and Microwave Systems.
Prior to technology and media, he began his career as the Managing Editor of Cityview, the weekly alternative newspaper in Des Moines, Iowa.
Mr. Orduña has a Bachelor of Arts degree from Cornell University. He also attended the MFA Graduate Program for Dramatic Writing at New York University's Tisch School of the Arts.
Show Highlights
During this episode:
Chief Innovation Officer: The coolest job at a company [0:56]
Welcome guest, Arthur Orduña [5:07]
Breaking down the role of a Chief Innovation Officer [8:55]
The "Top Three"
Hilary Brown: Arthur's wife who is insightful, direct and a rock for him [16:12]
Frank Pugliese: Arthur's oldest friend who brings wonderful perspective and the creative lens [27:07]
Larry De Shon & Naren Gursahaney: Arthur's former bosses who he's proud to have worked for and have as a mentors and friends [36:50]
Transformation & Disruption
Newlab: A disruptive and pioneering technology accelerator [46:68]
Visit newlab.com in learn about openings and apply for the mobility studio [52:40]
A focus for Newlab on electrification and the challenges of it [53:20]
You have to hear this…
Arthur's tip: Identify the hardest thing for the next day and do it first [57:26]
Additional Information
Contact Arthur Orduña:
Contact Gregg Garrett:
Contact CGS Advisors:
Subscribe: