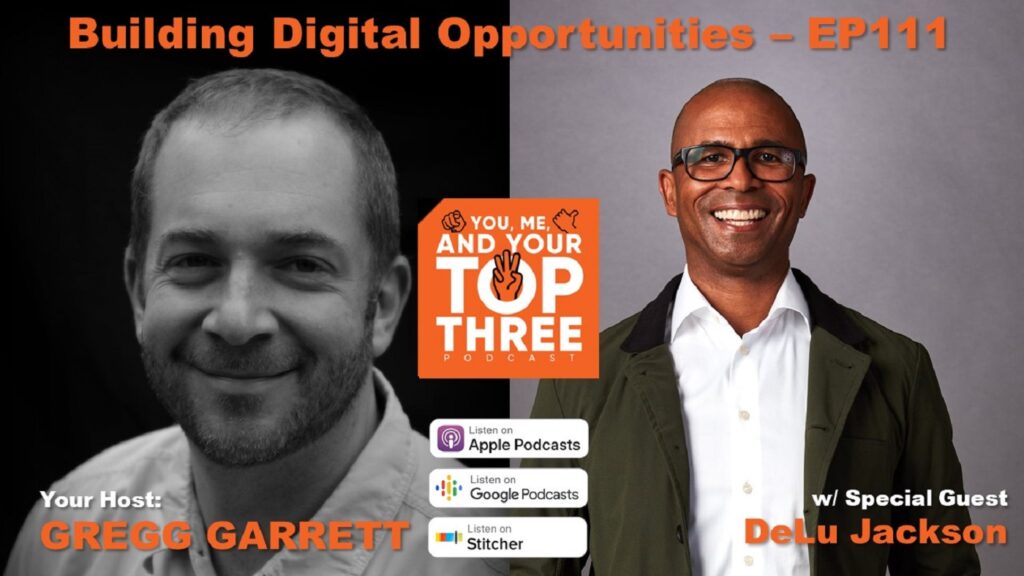 Looking backward to lead forward: DeLu Jackson, vice president of precision marketing for Conagra Brands, joins host Gregg Garrett for a discussion on precision marketing being the new frontier at Conagra. He of course shares his Top Three who include a childhood role models who gave him his model for mentorship, his wife who reminds him to lead with empathy and humility, a former boss who helped him understand what he would be great at, and a friendly sounding board for big decisions. And you must hear what he says about the daily standup!
About DeLu Jackson
DeLu Jackson currently serves as Conagra Brands Vice President of Precision Marketing. In this role, DeLu leads the company's marketing transformation and demand acceleration through increased data intelligence, agility, always-on content and dynamic measurement. He is responsible for various facets of integrated marketing for the organization, including design, advertising, media, e-commerce, agile content and consumer data.
DeLu has over 20 years of marketing experience with well–known consumer brands. Prior to joining Conagra Brands, he was vice president of digital acceleration for Kellogg Company and previously served as corporate vice president of global marketing at McDonald's Corporation where he led marketing, social media and customer engagement. DeLu has also served in leadership roles in marketing for Nissan, Audi, Subaru and Ford.
He grew up in Dallas and has lived in Princeton, NJ, St. Louis, Kansas City, New York City, Detroit, Philadelphia, Tokyo and now Chicago. He has been married to Anna for 15 years and has two daughters, Mia (13) and Harper (10), and one son, Nikko (6).
DeLu earned his bachelor's degree in politics from Princeton University and an MBA in marketing from New York University – Stern School of Business.
Show Highlights
During this episode:
Looking backward to move forward: Not wanting to close any doors to opportunities or people [0:59]
The importance of staying connected [4:01]
Welcome guest, DeLu Jackson [7:07]
The "Top Three"
Pat and Paul: DeLu's childhood role models who gave him his model for mentorship [11:58]
Anna Wodlinger Jackson: DeLu's wife who reminds him to lead with empathy and humility [21:34]
Kevin Mayer: DeLu's former boss who helped him understand what he would be good at [30:35]
Chris D'Alessandro: DeLu's friendly sounding board for big decisions [42:54]
Transformation & Disruption
What is "precision marketing"? [44:30]
Data: One type that makes DeLu giddy [47:50]
Looking into the future with data [51:33]
Some final thoughts from DeLu [57:08]
You have to hear this…
The daily standup [58:30]
Additional Information
Contact DeLu Jackson:
Contact Gregg Garrett:
Contact CGS Advisors:
Subscribe: