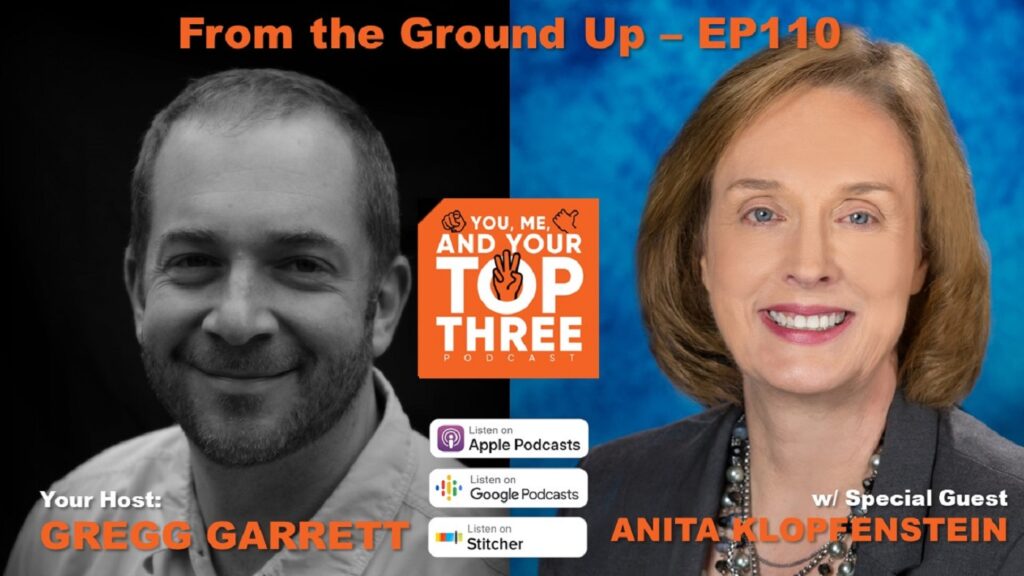 Exploring Frictionless Experiences: Anita Klopfenstein CIO at Little Caesars, joins host Gregg Garrett for a discussion on innovation in the fast-turn restaurant industry and what is on the horizon for the entertainment industry as COVID restrictions are lifted. She of course shares her Top Three ranging from her aunts and uncles who helped her get on the right path to her high school teacher who helped her find her voice and learn management skills to a former boss who awoke a desire to transform organizations to her husband who helps ground her as they raise 12 children. And don't miss what she has to say about gathering exactly five pieces of information before you act.
About Anita Klopfenstein
Anita Klopfenstein is the Chief Information Officer of Little Caesar Enterprises, Inc., where she is responsible for the overall strategic direction, development, deployment, and maintenance of technology across the organization.
Prior to Little Caesars, Klopfenstein was vice president, eCommerce and consumer systems at Panera Bread, where she oversaw consumer systems product development and commerce and marketing systems integration. With more than 25 years of successful experience managing profitable information technology departments in highly competitive markets, Klopfenstein is known for her track record of developing software products and leadership in internet, enterprise and manufacturing operations. She holds a B.S. in computer science and radio, TV, and film from Indiana State University and an MBA from Liberty University. In 2017, Klopfenstein was recognized as Top Innovator at the Women in Foodservice Technology Awards. In 2020, she was named a Top CTO by Industry Era.
Outside of work, Klopfenstein and her husband Lynn live with their 12 children. For more than 30 years, the couple has provided foster care, and they have been named foster parents of the year several times in Illinois. Klopfenstein plays the clarinet, enjoys martial arts, and has run more than 30 marathons.
Show Highlights
During this episode:
New Experience Modes: Reshaped consumer experiences from COVID [1:13]
Frictionless Experiences: Welcome to the Connecting World [2:05]
Welcome guest, Anita Klopfenstein [5:15]
The "Top Three"
Aunts and Uncles: Anita's family allowed her to get on the right path [13:51]
John Meister: Anita's former boss who awoke a desire to transform organizations [19:57]
Mr. Siefert: Anita's high school speech teacher who helped her find her voice and learn management skills [29:09]
Lynn Klopfenstein: Anita's husband who helps ground her as they raise 12 kids [34:49]
Transformation & Disruption
The Ilitch Companies: Supporting various types of business in diverse industries [41:33]
Safe Measures and Technology: Getting ready to re-open post-pandemic [43:33]
Partnership with Wayne State University Mike Ilitch School of Business [46:00]
Pizza is innovative [48:00]
You have to hear this…
Anita's Hack: Before you act, gather 5 pieces of information [54:25]
Additional Information
Contact Anita Klopfenstein:
Contact Gregg Garrett:
Contact CGS Advisors:
Subscribe: