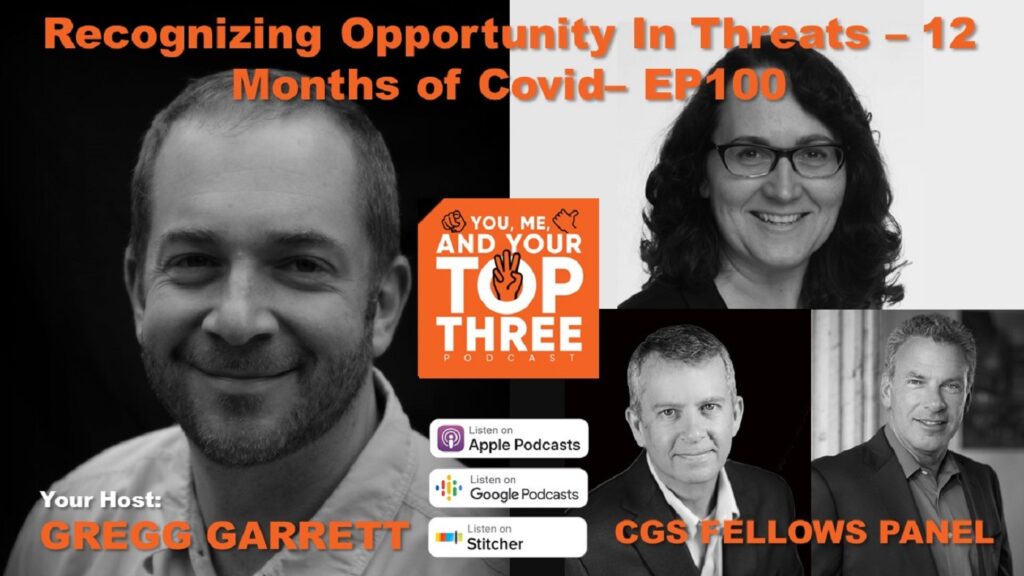 Recognizing Opportunity in Threats: Host Gregg Garrett is joined by a panel of CGS Advisors Fellows who are experts in technology and leadership, for a discussion on how the pandemic removed artificial barriers and how flexibility may be the key strategic capability needed to survive. Ty Beltramo, John Horn, and Angie Tuglus share their observations after one-year of leading through the disruption caused by COVID-19 and provide hints on when you can't predict, how leaders need to prepare.
About the CGS Fellows
Ty Beltramo is a critical member of the CGS Fellows Network. Ty is a hands-on technical leader with proven expertise in connected solutions and large enterprise integration projects. He has over 20 years of experience as the senior technology leader of large firms, including Fortune 50 companies, overseeing the design and development of complex enterprise systems. He deeply understands the solutions with many years of intense development experience, building connected applications and managing deployments. Under his leadership, companies have seen dramatic turnarounds, transformations, and growth.
Ty has served in senior leadership capacities as the Chief Innovation Officer, CTO, and Chief Architect. He has turned around failing product and technology teams, scaled technology from PoC to operations, and established R&D and Product Development departments from scratch. His teams have been responsible for defining product roadmaps, constructing all digital products, integrating them to existing systems, and everything in-between.
As the CTO of MapQuest, he was the head of a team of 60 and successfully completed a 3-year turnaround plan to modernize all aspects of infrastructure, core data, and products. As a partner and iOS application developer at Portable Hole Productions, he was the sole developer for General Motors OnStar MyLink application, which won the Popular Mechanics Editor's Choice Award. And as Chief Architect at General Motors OnStar, Ty led the evolution of OnStar's enterprise architecture to grow from 1 to 4 lines of business and support over 3-million subscribers, one-hundred-fold the amount of subscribers since he started.
Ty earned his BA in Humanities from William Tyndale College in Farmington Hills, Michigan.
– – – – – – – – – – – –
John Hornis a proven leader with nearly 30 years of experience in the telecom and wireless industries. He has developed a reputation as someone that builds successful teams and organizations that create game changing solutions specific to the IoT ecosystem. He has been recognized as an "Industry Pioneer", and "IoT Thought Leader", and most recently by INC. Magazine as s "Top 10 Speaker Who Will Wow Your Crowd."
John's broad-based executive leadership experience and subject-matter expertise make him one of the leading IoT advisors in North America. He has a keen ability to create strong brands and define clear messaging that resonates with consumers and shareholders alike. John understands how IoT technologies are disrupting established industries and has a proven track record of transforming businesses to compete in the Connecting World. He is an expert in building IoT-based platforms that create value and enable new business models.
Prior to joining the CGS Fellows Network, John served in many senior leadership positions including CEO, President, VP of Strategy, Vice President, and National Director in these roles, he has touched every aspect of growing and managing a business. As Founder and National Director of T-Mobile's M2M/IoT group, he led the team to over 100% year-over-year revenue growth for six straight years. As President of RACO Wireless, John built a diverse team of wireless and IoT experts responsible to design and build an industry leading IoT platform, resulting in the rapid growth of new and existing customers as well as RACO Wireless being recognized both nationally and globally as an IoT platform leader.
John earned his BA in Political Science from the University of California at Davis.
– – – – – – – – – – – –
Angie Tuglusjoins the CGS Fellows Network as an expert at successfully delivering large, cross-functional change initiatives, from concept creation through to delivery.
She loves collaborating to find ways to transform businesses, to innovate, to change culture, and to deliver sustainable results. As both a business strategist and tech nerd, she also enjoys diving into technological and social changes that are at the point of real applicability to business, and discussing how to build great leaders in an increasingly virtual, rapidly changing world.
She began her career in technology startups, building new businesses, and then later applied her passion for transformation in large corporations undergoing major change. At Ford Motor Company, she was hired into the IT Leadership Program, and delivered a variety of projects across global IT management, IT security and new product research.
At GMAC, which transformed into Ally Financial, Angie became CIO of International Insurance and led a global cross-functional team to replace multiple legacy systems across 25 countries with a single new platform: a new core transactional system, financial system, data warehouse, and the complementary organizational changes to jobs and processes.
She then became EVP of Product & Project Delivery, and led the creation and launch of the flagship Ally Premier Protection product and customer experience, the division's largest product line.
Following that success, she became COO of Ally Insurance, leading all core operational functions such as Contract Administration, Claims, Payments, Loss Control, and Collections. Upon inheriting a legacy culture that had not changed in decades, she drove a cultural transformation across the company, making innovation the new normal and establishing new businesses such as Fixed Operations Consulting and Direct to Consumer.
Working with cutting edge digital companies, she keeps close to her entrepreneurial roots by advising startups such as TRED, a Seattle-based digital auto disrupter, and AQN Strategies, a boutique financial services consultancy with strong data expertise. She holds a BS in Materials Engineering from Northwestern University and an MBA from Duke University.
Show Highlights
During this episode:
100th Episode! [0:58]
COVID-19: One-year after the disruption began to hit North America [1:12]
A time to celebrate: Removal of artificial barriers [3:02]
The CGS Fellows Panel
Meet the Panel of Fortune 500 Executives: Ty Beltramo, John Horn, & Angie Tuglus [6:30]
What are your biggest surprises? [8:25]
Who are leaders leaning on? [14:40]
What are the lasting effects from the past year? [21:05]
You have to hear this…
Prepare, don't predict: What advice would you give to leaders? [27:45]
Daily hack's proven to be helpful over the last year [34:35]
Additional Information
Contact the Fellows:
Contact Gregg Garrett:
Contact CGS Advisors:
Subscribe: