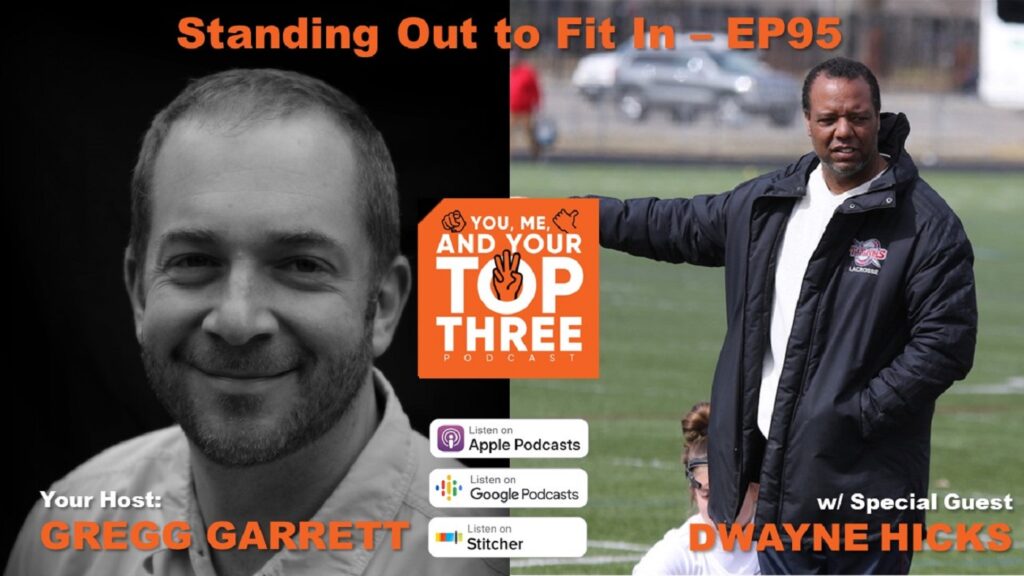 Getting uncomfortable can lead to breakthrough growth: Host Gregg Garrett is joined by Dwayne Hicks, NCAA division one coach who shares his non-traditional coaching journey and tackles one of today's most relevant leadership topics: race. His Top Three include his spouse, an Air Force Colonel, and a handful of coaches who share his passion on and off the field. And you have to hear what he has to say about how the secret to fitting in, might just be to work hard enough to stand out.
About Dwayne Hicks
Dwayne Hicks was named as the head coach of the Detroit Mercy Titans women's lacrosse team in May 2020. Prior to this, Hicks spent the last three seasons as an assistant coach on the men's lacrosse staff. He joined the men's lacrosse program in the fall of 2017 and in both of his full campaigns with the team, he helped coach back-to-back winning campaigns with a school-record nine wins in 2018 and a trip to the MAAC Championship game and another eight wins in 2019 and another bid to the postseason.
Hicks has more than 45 years of lacrosse in his background as a player and coach and has been one of the most instrumental individuals in helping spread the game in the state of Michigan. He has spent the last 15 years as the Director of Lacrosse at the Total Sports Complex in Wixom, Michigan. He was also the head coach and director of the Total Lacrosse's Train and Play program and Team total Lacrosse travel team. Hicks coached the Oakland University women's lacrosse program in four seasons, as the team qualified for four national championships, placing as high as third and winning three regional championships.
Hicks oversaw the Detroit Mercy men's lacrosse faceoff unit, which had been one of the best in the MAAC in the last two-plus years. Hicks has coached at both the high school and college level with teams at Freeport High School (NY), St. Joseph's High School (IN), and Seaholm (MI) as well as his alma mater Notre Dame, Oakland (men's and women's teams), Eastern Michigan and Michigan State.
Originally from Long Island, New York, Hicks was a standout lacrosse player and wrestler at Freeport High School. He is a graduate of the University of Notre Dame with a degree in Industrial Design with a concentration in automotive and product design. After his collegiate playing career at Notre Dame, Hicks played/ coached professional in the English Lacrosse Union in Manchester England. After two years, Hicks moved back to the United States where he worked as a creative writer for more than 20 years at many of the largest advertising agencies in Detroit before retiring to pursue his dream of being a Division I coach.
The above is an excerpt from the University of Detroit Mercy website. You can read more, including quotes from Dwayne Hicks, on the site.
Show Highlights
During this episode:
Have you ever been in a situation where you just don't feel like you fit in? [0:56]
Getting uncomfortable to give yourself a chance to grow as a coach [2:20]
Welcome guest, Dwayne Hicks [9:05]
The "Top Three"
Sharon Hicks: His rock and foundation [23:42]
Chris Cooper: A confidant and sounding board [30:15]
Kyle Hicks: His brother who is a retired Air Force Colonel and natural leader [39:03]
Towbey Kassa, Jeremy Napier, Chuck Lennon: Coaches who share his passion [46:18]
Transformation & Disruption
Advice for leaders on the topic of race [49:50]
You have to hear this…
The importance of following your passion [1:13:21]
Additional Information
Contact Dwayne Hicks:
Contact Gregg Garrett:
Contact CGS Advisors:
Subscribe: