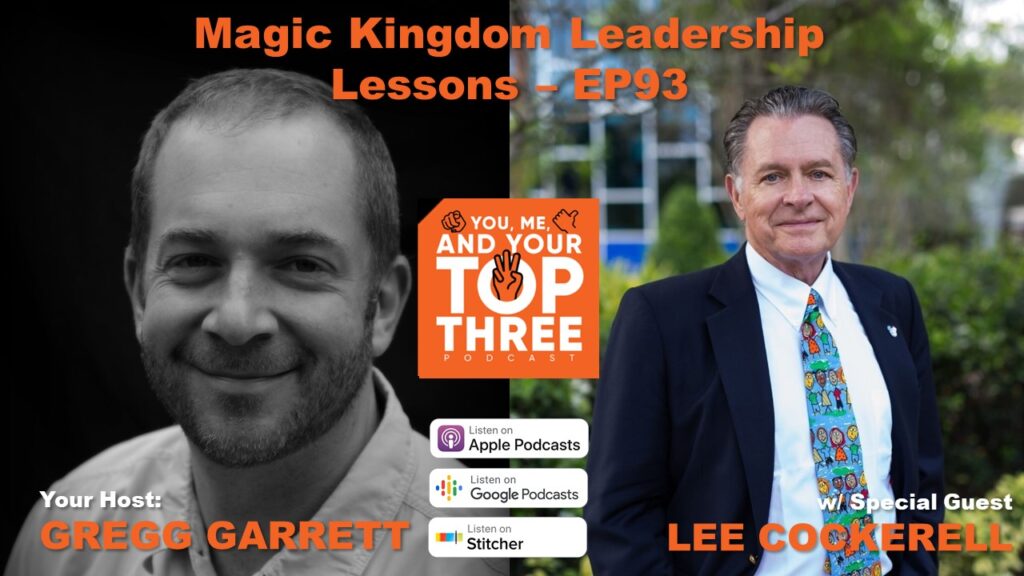 During this episode, You, Me, and Your Top Three host, Gregg Garrett, discusses the magic of customer-centricity. Gregg speaks with Lee Cockerell who threaded magic in all customer experiences in the Magic Kingdom, Disney, and who managed some of Disney's largest resorts and is a student of hospitality. Of course, Lee speaks about his top three from a boss who taught him how to be confident, to a mentor who showed him all the ways of being hospitable, to his grandmother who started him on the journey, and his wife of 52 plus years who kept him on it, and to the former president of Disney who helped him to learn, listen and manage experts. And you have to hear what he has to say about making the schedule of life's priorities part of your daily routine, all this and more!
About Lee Cockerell
Lee Cockerell is the former Executive Vice President of Operations for the Walt Disney World® Resort. "As the Senior Operating Executive for ten years Lee led a team of 40,000 Cast Members and was responsible for the operations of 20 resort hotels, 4 theme parks, 2 water parks, a shopping and entertainment village and the ESPN sports and recreation complex in addition to the ancillary operations which supported the number one vacation destination in the world."
One of Lee's major and lasting legacies was the creation of Disney Great Leader Strategies which was used to train and develop the 7,000 leaders at Walt Disney World. Lee has held various executive positions in the hospitality and entertainment business with Hilton Hotels for 8 years and the Marriott Corporation for 17 years before joining Disney in 1990 to open the Disneyland Paris project.
Lee has served as Chairman of the Board of Heart of Florida United Way, the Board of Trustees for The Culinary Institute of America (CIA), the board of the Production and Operations Management Society and the board of Reptilia a Canadian attractions and entertainment company. In 2005 Governor Bush appointed Lee to the Governor's Commission on Volunteerism and Public Service for the state of Florida where he served as Chairman of the Board.
He is now dedicating his time to public speaking, authoring a book on leadership, management and service excellence titled, Creating Magic… 10 Common Sense Leadership Strategies from a Life at Disney, which is now available in 13 languages and his latest book, The Customer Rules… The 39 Essential Rules for Delivering Sensational Service. Lee also performs leadership and service excellence workshops and consulting for organizations around the world as well as for the Disney Institute. Lee has received the following awards:
Lee and his wife Priscilla live in Orlando, Florida.
Show Highlights
Segment 1: Overview
1:01 What do customer touch points, customer journey, customer experience, customer centricity mean?
2:07 "The full view of the customer is so easy yet, so complex… what it comes down to is empathy"
3:07 Put the customer in the middle
4:09 Welcome an expert in empathetic thinking: Lee Cockerell
5:43 Lee Cockerell: A boy whose story begins on a farm in Oklahoma
Segment 2: The "Top Three"
11:27 Lee's Top Three begins with his grandmother and a General Manager, Bud Davis, who helped him refocus his attitude
13:46 Diffusing defensiveness by building trust
15:35 Lee's Top Three continues with Eugene Scanlan from Waldorf Astoria who taught him a lot – "the service itself is what shines, not the individual providing the service"
19:59 Lee's Top Three expands with his wife of 53 years, who keeps him most in order
22:37 Expanding beyond food and beverage into full park management
23:42 "I didn't try to be the expert in everything; my philosophy is hire the experts and let them do their job."
25:25 Letting go of always being in control and a successful career to thank for it
28:24 "Most people leave leaders, they don't leave the company."
29:04 Lee's Top Three concludes with Judson Green who gave him his shot in Orlando
29:54 "He asked a lot of questions… he knew if you knew what you were talking about or not."
31:25 "I want to be remembered as a teacher, not a boss, because nobody likes a boss, a teacher teaches people."
Segment 3: Transformation & Disruption
32:33 Lessons from Lee: Time Management, Customer Skills and Creating a better culture
37:28 Disney's take on the customer experience
38:45 "Treat every customer as an individual"
Segment 4: Wrapping Up
41:34 One additional lesson from Lee: "Schedule the priorities in your life"
44:24 How to get in touch with Lee
Additional Information
Contact Lee Cockerell:
Contact Gregg Garrett:
Contact CGS Advisors:
Subscribe: