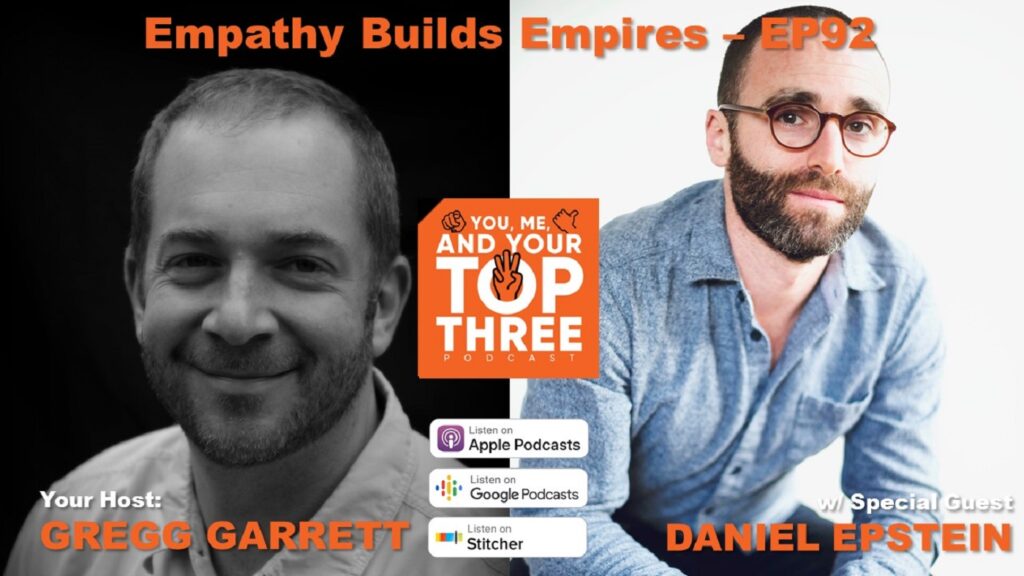 In this episode, Gregg speaks with Daniel Epstein, CEO of the Unreasonable Group. Daniel discusses his Top 3 with Gregg, which range from his Grandpa, to a college advisor Paul Jerdy, to George Campbell, to his fiancé. And you have to hear what Daniel has to say about stepping back and taking a deep breath. All this and more!
About Daniel Epstein
Recently named by Fortune Magazine as one of the World's 50 Greatest Leaders, Daniel's life has been shaped by a fundamental belief that entrepreneurship is the answer to nearly all the issues we face today. By the time he received his undergraduate degree in philosophy, he'd already started three companies. In addition to being on FORTUNE's "the World's 50 Greatest Leaders" list alongside the likes of Bill Gates & Tim Cook, Daniel was awarded Inc. Magazine's "30 under 30 entrepreneur" (when he was under the age of 30 =), and Forbes identified him as one of the "top 30 most impactful entrepreneurs." He also received the prestigious "Entrepreneur of the World" award along with Richard Branson & the President of Liberia at the Global Entrepreneurship Forum.

Daniel's unfettered belief in entrepreneurs led to him founding and being the CEO of Unreasonable ( www.unreasonablegroup.com ). Unreasonable is dedicated to supporting growth-equity entrepreneurs positioned to bend history in the right direction. Part investment firm, part media house, and most importantly a global community, Unreasonable partners with multinational institutions and revered brands to align them with impactful growth-stage entrepreneurs. Today Unreasonable actively supports over 200 entrepreneurs who have raised more than $4.7B in financing, generated over $3.7B in revenue, and are impacting the lives of more than 540M individuals across 180+ countries.

Daniel speaks frequently on topics ranging from how multinationals and governments can better work with disruptive technologies, to working with public companies on how to create a worldclass and entrepreneurial culture across their employees, to the future of capitalism and our ability to profitably solve the most pressing challenges of this century. Daniel has given keynotes across more than 30 countries, has spoken at the White House, the UN General Assembly, in front of audiences larger than ten thousand, as part of annual corporate events and in closed door sessions with Fortune 50 executives and their boards of directors. He personally advises CEO's of multinationals on how to become more entrepreneurial and works with multi-billion dollar family offices on creating a new type of financial legacy with their investments — producing above market rate returns while combatting societal & environmental challenges.

On a personal level, Daniel believes in militant transparency in his everyday life and in all of the projects he is part of. He also has an overt love for his hometown of Boulder Colorado and for his dog, Kaya.
Show Highlights
Segment 1: Overview
00:55 Understanding the environment to enrich your customers' lives
01:43 Daniel Epstein – Fortune Magazine's top 50 leaders
04:24 Gregg's clues to the podcast – what to listen for in order to maximize your experience
05:39 Daniel's background/story
07:53 How Philosophy has taught Daniel to think differently
Segment 2: The "Top Three"
09:56   Daniel's 'Top Three' begins with his Grandpa (Zaide) whose witty personality and love for everyone taught Daniel empathy
12:16 Learning from osmosis – Daniel's company has given him a good base to learn and adapt
17:15   Daniel's 'Top Three' continues with Paul Jerdy, who helped pull him out of a tough situation with his first business and taught him the lesson of documenting all the work you do
18:38   Tuition comes in many forms; learning how to pay your dues and learn the important lessons
20:19 Pivoting to what works: moving resources to ideas that scale
22:58   Connecting disciplines: how Daniel's love of philosophy connected to the contract law he had to learn            
24:21 Launching the Unreasonable institute with ambitious goals
25:56 Taking a semester at sea and learning from some of the brightest minds
27:09   Daniel wraps up his 'Top Three' with George Campbell, who taught Daniel key mindsets he uses today to help put his best foot forward
30:19 Learning how to lead as a group
33:47 Managing energy is more important than managing time
35:44 Daniel adds his Fiancé to his 'Top Three' list for her drive and work ethic which pushes him to do more
Segment 3: Transformation & Disruption
40:44 Expanding on his work with the Unreasonable Group and what other initiatives Daniel is working on
42:28 Creating the Unreasonable Collective: giving access to investments to a wider range of people
Segment 4: Wrapping Up
45:49 How to get involved with the Unreasonable Collective
47:59 Closing thoughts: we're not doing enough to breathe as a culture. We need to focus more on taking a step back at times
49:26 Keep up with Daniel at unreasonablegroup.com and via email daniel@reasonablegroup.com
Additional Information
Contact Daniel Epstein:
Contact Gregg Garrett:
Contact CGS Advisors:
Subscribe here: