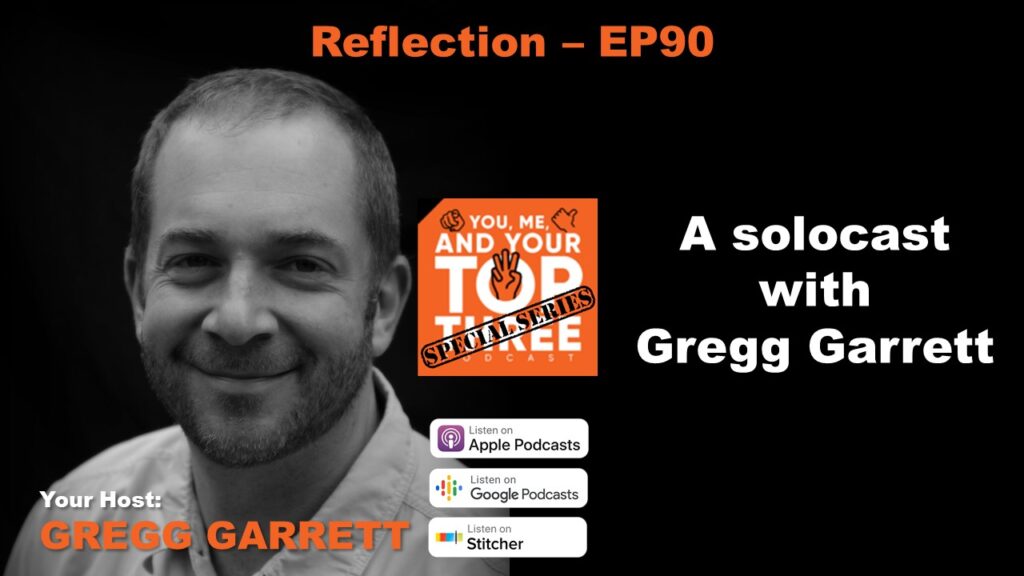 During this solocast, You, Me, and Your Top Three host and CGS Advisors CEO, Gregg Garrett, explores the difference between bravery and leadership and how they tie together. Gregg then reflects on 2020 and the importance of continuing to look forward and identifying what fears you will conquer next as a leader. Finally, Gregg shares his hack for success – focusing on making yourself uncomfortable.
About Gregg Garrett
Greggory R. Garrett is the CEO and Managing Director of CGS Advisors, a boutique strategy and innovation advisory firm that works with senior leaders at public companies and select private organizations. He is a dynamic and experienced international keynote speaker, an adjunct professor of business and engineering, the host of the "You, Me, and Your Top Three" podcast, and author of the best-selling business leadership book, Competing in the Connecting World. Having addressed audiences from 20 to upwards of 1500 people in public and private/corporate events, Gregg is at his best when he can focus on industry shaping & transformational topics.
Prior to launching CGS Advisors, Gregg was the Chief Strategy Officer for IT & Innovation at Volkswagen Group of America. Before his time with VW, Gregg led corporate strategy & marketing for a division of Deutsche Telekom and was part of Ernst & Young's Management Consulting practice. He is a visionary leader who prides himself in recognizing commonsense solutions for complex problems and supports "Corporate Bravery" by motivating teams to reach well beyond the typical boundaries to achieve greatness.
Show Highlights
0:47 Bravery versus Leadership
1:50 What is bravery?
4:52 2020 was an amazing year for brave leadership
6:45 Taking a look forward – what fear will you face to continue your journey of bravery?
9:05 A 'hack' for leaders: 'try to find ways on a regular basis to make yourself uncomfortable'
Additional Information
Contact Gregg Garrett:
Contact CGS Advisors: