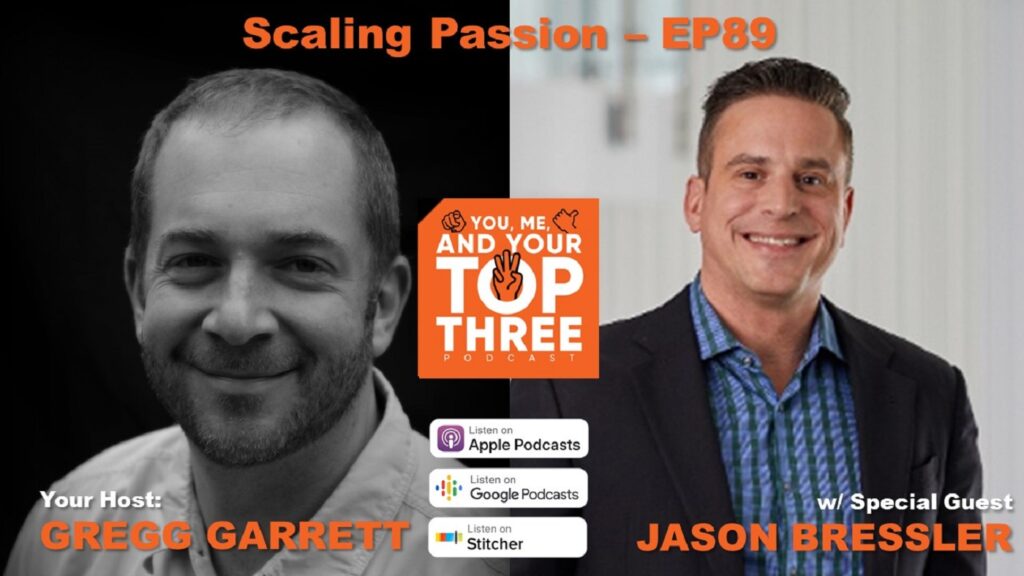 In this episode, Gregg speaks about passion, and then welcomes a guest who is filled with plenty of it. Jason Bressler is the CTO of United Wholesale Mortgage where he has scaled a team of passionate technology professionals that has raised his firm to the #1 position in its segment. Jason speaks about the current trends impacting the mortgage industry and how UWM has found so much success. He also shares his Top 3, which includes two of his colleagues – Mat Ishbia (CEO UWM) and Melinda Wilner (COO UWM), a former boss, and a friend. Finally, Jason shares the secret to pushing himself beyond his boundaries and comfort zone. All this and more!
About Jason Bressler
Jason Bressler is Chief Technology Officer at United Wholesale Mortgage. With more than 24 years of IT experience in the mortgage banking industry, Bressler excels in application development and enterprise implementation, specifically at mortgage companies that have started smaller and truly taken the leap into the stratosphere of the industry utilizing technology and practices that Jason brings to the table. He is constantly developing intuitive technology platforms that help independent mortgage brokers grow their businesses. Under Bressler's leadership, UWM has set the tone for the entire mortgage industry by reacting to clients quickly, efficiently, and with scale. Jason currently leads a team of more than 850 I.T members focused on delivering stellar client service through cutting-edge proprietary tools
Show Highlights
Segment 1: Overview
00:47 Growing a firm in the aftermath of the pandemic: what to look for
01:49 Introducing Jason Bressler, CTO United Wholesale Mortgage
02:48 Building a culture for success at UWM
04:53 Putting passion at the center in order to have a successful endeavor
06:27 Having the grit to win – Elon Musk
09:25 Jason's Background/story
10:21 How Jason got into the IT space
13:40 Using consumer centric practices to accelerate growth
15:46 Using UWM to help mortgage firms outsource their overhead for when times are bad
Segment 2: The "Top Three"
10:47 Jason's 'Top Three' begins with a friend who got him into the mortgage industry at a young age and pushed him to be successful
18:50 The power of projecting the right message
19:52 Getting a wake-up call that jumpstarted Jason's career
21:13 Learning how to see the lessons in every event
22:53 Jason's 'Top Three' continues with his former boss at another mortgage company whose aggressive leadership style pushed him to become a better leader
23:38 Using shared comradery to push through adverse conditions – or bosses
24:21 Knowing how to sell in the mortgage industry is key for all roles
26:22 Trusting the process: hiring people smarter than yourself in order to better your own skills
30:46 Manage up to the leaders above us in order to build the dream you envision
35:44 Jason wraps up his 'Top Three' with Mat Ishbia CEO of UWM and Melinda Wilner, UWM's COO whose collective passion pushes Jason to be at his best
37:38 How to hold people accountable when they love you and the work you do
40:34 Why culture is so important when hiring people
Segment 3: Transformation & Disruption
42:27 Hiring for skills vs. hiring for culture: which is more important in a market disruptor?
43:09 Building the customer's business with them creates loyalty
44:07 How going public will change UWM
48:32 Using technology to capture record refinance demand
50:57 UWM is hiring! Come check out the firm
Segment 4: Wrapping Up
53:09 Closing thoughts: be purposeful and intentional in all of your efforts
54:35 Keep up with Jason at jbressler@uwm.com and checkout UWM's website
Additional Information
Contact Jason Bressler
Contact Gregg Garrett:
Contact CGS Advisors: