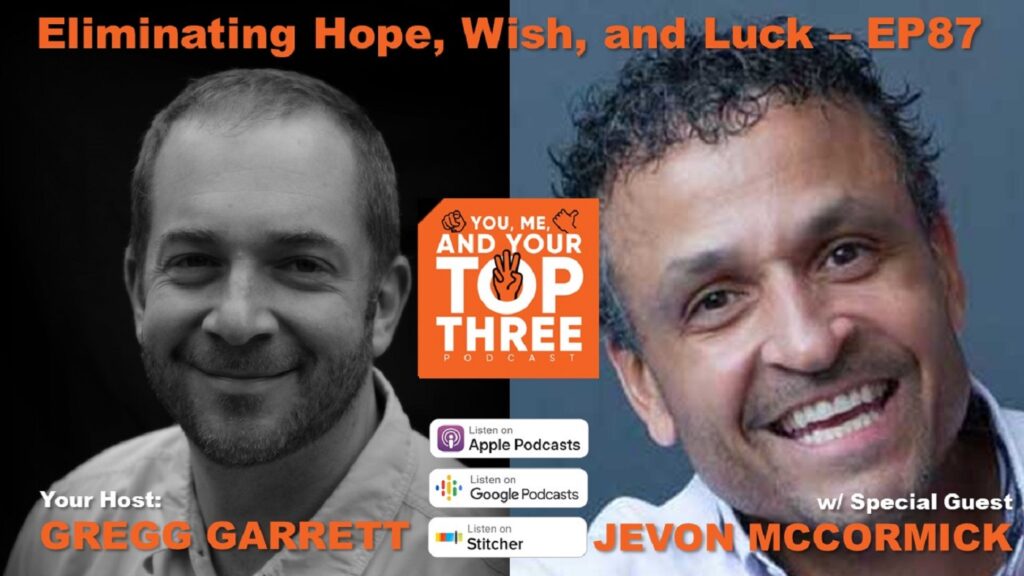 In this episode, Gregg speaks with JeVon McCormick, CEO of Scribe Media – an innovative book publisher. JeVon takes Gregg on the story-filled journey of his fractured childhood and shares what his tips are to be successful. Along the way, JeVon speakers about his Top 3, ranging from the industrialist Andrew Carnegie to Oil Tycoon turned philanthropist John D. Rockefeller. And you have to hear what JeVon learned from his father who was a pimp. All this and more!
About JeVon Mccormick
JeVon McCormick was born the son of a black pimp father and a white orphan mother. Today, he's the CEO of Scribe Media, a multi-million dollar publishing company that was recently ranked the #1 Top Company Culture in America by Entrepreneur Magazine.
He's made millions in the stock market (even though he didn't go to college), he was the President of a software company (even though he can't code) and he's currently the CEO of a publishing company (even though he can't spell).
JeVon is the President and CEO of Scribe Media, a publishing company that helps individuals from a variety of backgrounds write, publish, and market their books. Scribe Media has worked with more than 1700 authors, including members of The Nobel Peace Prize Committee, Nassim Taleb and David Goggins, whose blockbuster book Can't Hurt Me has sold over 2 million copies.
In addition to his role at Scribe, JT is an author and highly sought after keynote speaker, delivering the message that "Everyone Has A Story" to enthusiastic audiences across the country. His book, I Got There: How a Mixed-Race Kid Overcame Racism, Poverty, and Abuseto Achieve the American Dream, tells the harrowing story of his struggle to succeed despite the overwhelming odds stacked against him.
JeVon is passionate about conscious entrepreneurship and creating opportunities for at-risk youth. He has mentored young men and women in the juvenile justice system, as well as those in lower economic communities.
JeVon currently serves as a board member for Conscious Capitalism and the StartEdUp Foundation. His story and work have been featured on CNBC, and in Entrepreneur, Forbes, and Inc. magazines. He lives in Austin, Texas, with his wife, Megan, and their four children Ava, Jaxon, Elle and Jace.
Show Highlights
Segment 1: Overview
00:51 Trying to listen in an age of unprecedented change
01:48 To listen & learn: the main reason this podcast series exists and why you should be listening too
02:31 JeVon McCormick introduction
04:22 The power of listening to the 'why' or purpose behind one's actions
06:18 Overcoming the systemic racism that comes from initial perceptions of a name
10:20 JeVon's background and growing up with a fractured home life
13:34 Getting a GED and working his way up in the world of Payday loans
15:02 JeVon's introduction to compound interest and later success in the software industry
16:55 Writing his book to remind his kids where he came from
18:04 Becoming the CEO of Scribe Media
Segment 2: The "Top Three"
19:38 JeVon's 'Top Three' begins with John D. Rockefeller who showed JeVon that people who come from a fractured background can still grow up and achieve greatness.
21:19 Rockefeller's desire to make a name for himself really resonated with JeVon
23:40 JeVon's frsutration at how society has demonized capitalism while it gave someone like him everything he has
24:33 JeVon's 'Top Three' continues with Andrew Carnegie who showed JeVon the importance of giving back no matter how big or small
24:33 JeVon's 'Top Three' concludes with George Westinghouse who emphasized what JeVon learned from Carnegie: how important it is to be philanthropic
27:19 Learning how to treat employees right
32:51 Learning from other's mistakes: how not to raise someone
Segment 3: Transformation & Disruption
35:53 Scribe Media: disrupting the publication space
37:32 Self-publication: disrupting the publication industry
40:24 Using 21st Century distribution channels like Amazon to redefine the publication space
43:31 The power of showing vs. telling people what to do. Why actions go further than words
45:57 Keep an eye out for Scribe's latest publications
Segment 4: Wrapping Up
48:40 Lesson from JeVon: eliminate the words hope, wish and luck from your vocabulary
52:18 Follow JeVon on LinkedIn
Additional Information
Contact JeVon McCormick:
Contact Gregg Garrett:
Contact CGS Advisors: