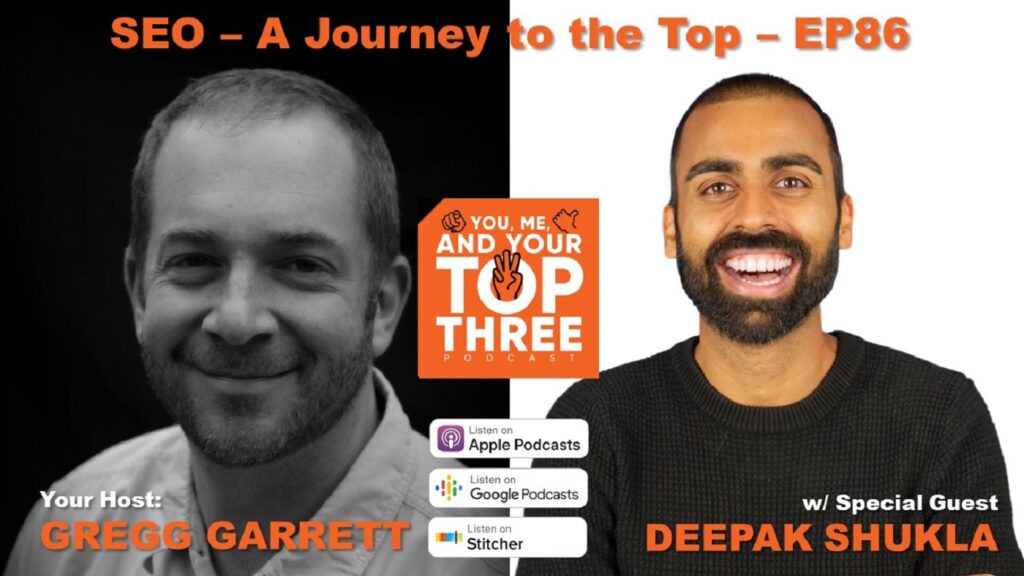 In this episode, Gregg shares his thoughts about SEO – from trying to get to the top of 'that' list, to getting more eyeballs from your customers, to positioning your content ahead of your competition. He then speaks to an expert in the SEO space, Deepak Shukla, the founder and CEO of Pearl Lemon, an agency that's growing out of the UK to help companies do this globally. Deepak speaks about his unique journey of getting to the space. Of course, he speaks about his top three – from his father, to his partner, to his group of friends. And you have to hear what he has to say about how the secret to success may actually be mind-numbing consistency. All this and more!
About Deepak Shukla
Deepak Shukla is the Founder and CEO of Pearl Lemon, a multi-award-winning SEO agency in London. He's featured in Forbes, TEDx, SEMrush, BBC, Chelsea FC, Appsumo, Bright Talks & more. When he's not running his agency, you'll find him running marathons (33 so far), completing Ironmen (2 so far), getting inked (40% body coverage) or playing with his cat Jenny.
Show Highlights
Segment 1: Overview & Introductions
1:05 Looking at SEOs from the perspective of an election
5:22 Introducing Deepak
7:00 Deepak's background
9:34 Getting started in the SEO space
9:23 Pushing through personal tragedy
Segment 2: The Top Three
10:29 Deepak's 'Top Three' starts with his Dad
13:40 Mind numbing consistency a key to success
16:44 Application of Pearl Lemon lessons to life
19:40 Deepak continues his 'Top Three' with his partner, Daniela Colognesi
21:19 Knowing your 'why'
25:39 Meeting Daniella
27:33 Deepak wraps up his 'Top Three" with Robin Luc Oppenheim
Segment 3: Learning about the business: what is SEO?
33:33 Going in depth: what is SEO?
37:17 Finding success in SEO
42:09 Convincing people of the craft: how do you get someone to invest in SEO?
43:02 Getting creative: how to get customers to pay for your work
47:44 Impact of AI in the SEO market
Section 4: Wrapping Up
52:11 Stay in touch with Deepak on LinkedIn and his company's website!
53:31: Parting lesson: give good feedback
Additional Information
Contact:
Deepak's LinkedIn
Pearl Lemon Website
Contact Gregg Garrett:
Contact CGS Advisors: