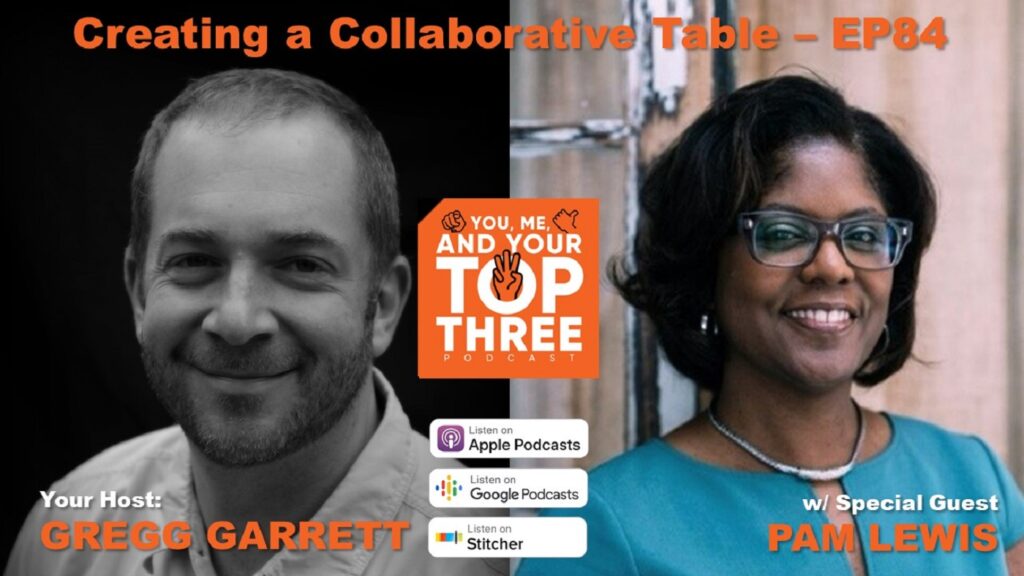 In this week's episode, Gregg speaks about the power of building a diverse table in order to have new conversations and drive a vision forward. He then speaks to Pam Lewis, the director of the New Economy Initiative in Detroit, Michigan. She speaks about her process and how her team brings diverse groups together to build a new economy. And of course, she speaks about her top three ranging from a personal coach that has become a friend, to a former boss who's partnered with her on bringing visions to reality, to many of the people that lean on NEI and get funded, but in return drive passion for Pam. And you have to hear what she has to say about how the power of moving things forward is simply to write things down. All this and more!
About Pam Lewis
Pam Lewis is the director of the New Economy Initiative (NEI), one of the country's largest regional economic development initiatives led by philanthropy. Funded by 13 national and regional foundations, NEI makes grants to support and convene organizations that serve metro Detroit entrepreneurs and small businesses, from neighborhood-based businesses to high tech and high growth enterprises. Prior to joining NEI, she worked at companies like Next Energy and was a Director at DTE Energy. Pam has a bachelor's degree in engineering from Michigan State University and an MBA from Spring Arbor University.
Show Highlights
Segment 1: Overview & Introductions
1:13 The importance of integration in a connected world
2:05 Building your virtual table
2:52 Introducing Pam Lewis
5:31 Pam's Background
9:12 Three parallel tracks: private, public and philanthropic sectors
Segment 2: The Top Three
12:52 Pam's 'Top Three' begins with a 20-year confidant
16:09 Leaders need to celebrate their teams
20:42 Pam's 'Top Three' continues by expanding to an old boss, Dave Egner.
24:49 "Life begins at the end of your comfort zone"
29:36 Pam Concludes her 'Top Three' with entrepreneurs she's helped like Clement Brown and Nailah Ellis-Brown
31:46 Watching local businesses grow
Segment 3: Your Virtual Table-Building for Diversity and Resiliency
36:57 Surround yourself with the right people to create a pattern of success
40:32 Creating incentives to secure businesses and employees
43:01 Helping underserved businesses
45:33 Developing business relationships in a hands-on environment
49:08 The power of non-traditional business relationships in the age of COVID-19
52:13 Building your virtual table vs. joining one
Section 4: Wrapping Up
55:42 Closing thoughts: the power of writing down thoughts
59:50 Stay in touch with Pam via LinkedIn and Twitter!
Additional Information
Contact:
Contact Gregg Garrett:
Contact CGS Advisors:
Subscribe: