Supporting innovation team members in establishing strategic relationships with operations leaders
_____________________________________________
Engaging with, and gaining buy-in from, leaders of an organization is one of the first and largest hurdles a member of an innovation team will face. Without it, the team and its members are unlikely to find long-term success. However, it isn't an easy task. It takes preparation, commitment, and a little bravery. Below we've highlighted five key actions to support developing not only relationships, but also strategic partnerships with operational leaders in your organization.
1. Build bridges – make the internal 'cold call.'
Innovation is typically sponsored by a senior leader – the CEO, CIO, Head of R&D, etc. – and is expected to extend beyond their reach into other parts of the organization. Innovation is often held away from operating groups (those responsible for today's business) and treated as something different, something special. Because of this separation, innovation teams need to build bridges to the operating groups. However, that is oftentimes easier said than done. What if you don't know the leaders in other parts of the organization? How should you go about approaching them and building relationships? Our answer is simple: be brave. Being an innovation leader requires a level of bravery not found in other roles. You must be willing to move outside the organizational norm, and likely outside of the comfort zone of the firm's leadership, to be effective. Reach to your colleagues directly – make an internal 'cold call' – and open the door for conversations focused on value. Your innovation team can bring value to these groups by providing one or more services: acting as the future-caster and taking on the burden of 'future' as they handle the burden of 'today,' enlightening them to current changes and disruptors, running experiments on their behalf, or even turning opportunities into a new business. The framing of the conversation can begin with the simple phrase: "We are here to bring you value."
2. Use personas to tailor your messaging.
When preparing to speak with your colleagues, we recommend creating personas. The use of personas is nothing new; the concept is utilized heavily in marketing and design – specifically as it relates to understanding the end-user / customer base. But often we forget we can create and apply personas to our internal stakeholders. What are our colleagues likely focused on? How do they think – are they process-oriented, creative, mathematical? Of course, personas can't tell us everything and we need to respect the individualism of the person we are speaking with. But having somewhat of an understanding of who they may be up front can help us tailor how we approach those early conversations. A creative in marketing is likely looking for different information and has different buy-in triggers than a process-oriented individual in operations.
3. Do additional research.
In addition to developing personas, we recommend taking off your 'innovation hat' and putting on your 'functional leader hat.' Work to understand the goals, challenges, and fears that your operating colleagues are likely facing. Do some market research to understand emerging trends in the functional area and in the industry. Refresh yourself on your organization's corporate plans and goals and identify how that function is expected to contribute. Think not in terms of what you want to focus on, but in terms of what will help your colleagues and their teams succeed in the long run.
4. Ensure you deliver a strong message.
With personas and research in hand, you will be well-prepared to speak with your colleagues. We recommend ensuring you speak to them in a 'language' they understand. Don't speak in complex technology terms or in terms of disruptive innovation catalysts, but in their operative/industry language. In addition to exhibiting an understanding of their situation, ensure you provide them with details on the process and function of innovation. Answer the questions – What is innovation in your organization? How does innovation work? How can your team support their goals and objectives? What do you need from them to drive success? By showcasing that innovation isn't a hypothetical but a well-structured function that drives value for them, you will offer one side of the handshake. They will then just need to offer their hand back – bringing you their needs and partnering to identify, test, and launch innovative ideas.
5. Nurture the relationship to develop a strategic partnership.
The first meeting is the start of a long and successful journey with your colleagues. Over time, you will want to develop not just a relationship but a strategic partnership. To continue to build a rapport and encourage buy-in, invite your business partners to be involved in the process. Give them a role as a steering committee member or advisor. In short, find a way for them to be engaged with your team on a monthly, or even weekly, basis; clarity, frequency, and depth of engagement are key.
Establishing strategic partnerships is one component of effective innovation management in established organizations. We look forward to sharing our perspectives on more components in the near future. If you are in the early stages of establishing an innovation function or are recognizing a need to shift your approach and would like support, reach out to our team at info@cgsadvisors.com or to me directly at elizabeth.semrau@cgsadvisors.com, and we would be happy to discuss the specifics of your situation.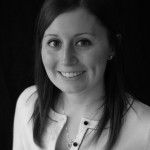 CGS Manager Elizabeth Semrau is with CGS Advisors' Innovation and Strategy Services practices. Elizabeth leads strategic implementation programs that assist clients in realizing their bravest visions. and works on enterprise innovation engagements with multiple clients, driving innovative governance programs and ideation challenges.