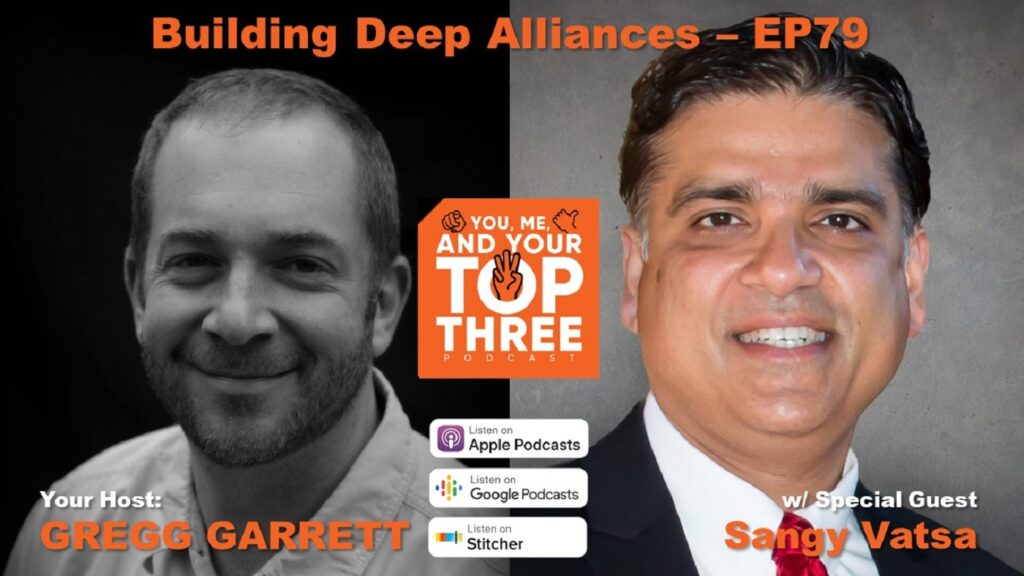 In this episode, Gregg speaks with Sangy Vatsa, a highly regarded transformation leader with significant experience in being a chief technology officer and chief information officer for fortune-level companies. Sangy, the EVP, Chief Technology & Digital Officer at FIS, discusses how he establishes a pattern of rapidly learning the specifics of business models and the disruptive forces taking place in industry, and then applies them to build deep relationships with the heads of business units to earn a seat at their table. And of course, he speaks about his top three, that range from business unit partners to direct report teams to future leaders who reverse mentor him to broad group of peers that he's had a hand in formalizing into an industry board. And you have to hear what he has to say about co-creating bold visions. All this and more!
About Sangy Vatsa
Mr. Sangy Vatsa is the EVP, Chief Technology and Digital Officer of FIS Global. As a seasoned Chief Information, Technology and Digital Officer with a track record of accelerating growth and maximizing value, Vatsa has delivered such value in progressive leadership roles at Fortune companies like American Express, Ford Motor Company and Comerica Bank. He is currently responsible for digital transformation at FIS Global.
Prior to joining FIS Global, Vatsa served as Executive Vice President and Chief Information Officer of Comerica Bank. He joined the Bank in 2016 and was responsible for all of digital technology, technology operations, cybersecurity, enterprise data office, business continuity and technology risk management at the Bank.
Prior to joining Comerica Bank, Vatsa served as the Chief Information Officer for global customer service, credit, collections and payments issuance at The American Express Company. Since joining American Express in 2006, he served in leadership roles for IT strategy, architecture and innovation, enterprise shared services, global business travel and corporate payments digital capabilities. Prior to American Express, he spent 13 years at Ford Motor Company (and Ford Financial Services) in various progressive leadership, architecture and technology delivery roles.
Vatsa earned his Master of Business Administration degree from Ross School of Business, University of Michigan. He also holds a Master of Computer and Information Systems degree and a Bachelor of Electronics and Telecommunications Engineering degree. Vatsa is actively engaged in the industry, both with technology companies and with non-profit companies.
Show Highlights
Segment 1: Overview
1:09 Midwestern grit
3:58 Introducing Sangy Vatsa
6:37 Sangy's Background
9:37 Tri-model Digital Leadership
12:09 Being an effective leader in all environments
Segment 2: The "Top Three"
13:52 Lots of leaders have impacted Sangy. It's hard to pick the top 3 so he lists 3 of many that have impacted him.
16:30 Sangy's "Top Three": Jim Bush – really think big and deliver big.
17:32 Sangy's "Top Three": Marcy Klevorn – just simply believed in you.
20:14 Sangy's "Top Three": Ash Gupta – making time to mentor not only Sangy but his children.
Segment 3: Product Co-Creation Model
22:47 Introducing the product Co-Creation model.
26:24 Using the methodology to bring decisiveness to your product development journey.
28:47 Ian Hogan- Working Sangy to help Comerica develop digitalized customer experience .
Segment 4: Who is an Advisor?
29:58 Millennial Roundtables.
31:37 Expanding the definition- who can be an advisor?
32:35 Reaching out- creating programs to educate young professionals.
33:32 Looking for other ways to connect with new groups of people .
36:08 Helping Detroit become a digital hub; expanding on the Silicon Lakes philosophy.
Section 5: Wrapping Up
40:08 What to focus on for your business in the Pandemic.
42:31 Continuing to push Digital a focus.
44:13 One thing you can do tomorrow to be a better leader.
46:16 Stay in touch with Sangy via LinkedIn!
Additional Information
Contact Sangy Vatsa:
Contact Gregg Garrett:
Contact CGS Advisors:
Subscribe: