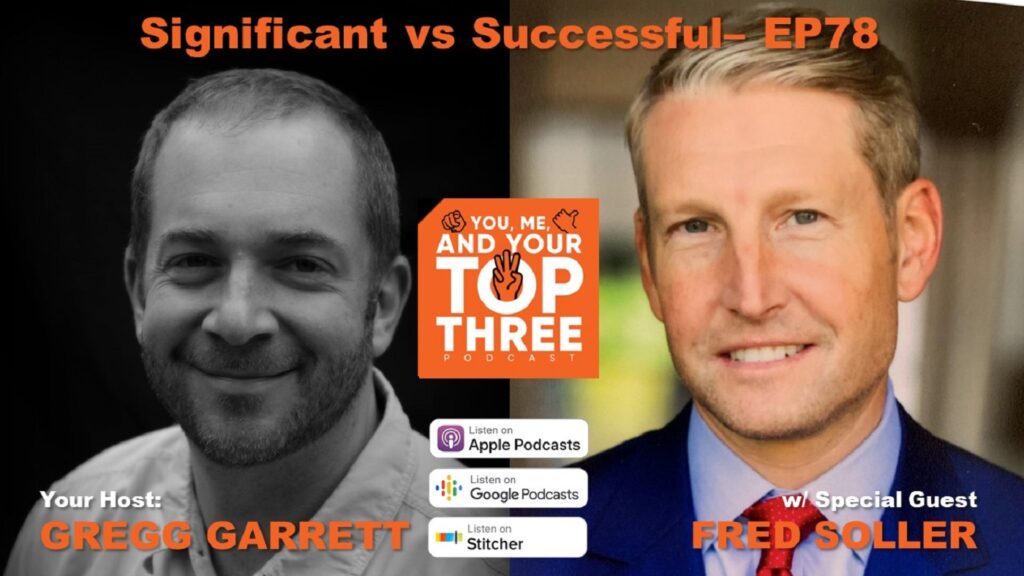 Gregg Garrett, explores the power of borrowing startup concepts and applying them to established enterprise innovation programs. He then speaks with Fred Soller, a leader who crossed over from a successful enterprise executive to scaling a startup, Data Oceans, through leadership. Fred shares how this switch has allowed him to make a more significant impact on the world. And of course, he speaks about his top three from the higher power above to the founders of the firm to community members who let him recharge his batteries and adjust his bearings. All this and more!
About Fred Soller
Fred Soller has over 25 years of Sales, and Sales Management experience in High Technology. He has been a catalyst for successful Marketing and Business Development initiatives, including building and reorganizing organizations for sustained growth.
He currently serves as the Chief Revenue Officer for DataOceans, a leader in the Customer Communications Management (CCM) industry, where he is responsible for overseeing all revenue generating functions. He has been instrumental in shaping the go-to-market planning and execution, and leading a rebrand marketing strategy.
Previous to joining DataOceans, Fred held several global Sales and Leadership positions within Enterprise Technology providers including Intradiem, Oracle, and most recently at SAP, where he served as the Head of the Customer Experience Line of Business in the Mid-Market, overseeing multiple years of triple digit growth year over year. Additionally, he was instrumental in delivering new highs in Leadership Trust, Employee Engagement, and Business Health Culture Index to the business, which led to the organization being recognized as a Fortune 100 Best Companies to Work For recipient.
Fred earned an Accounting degree from Clemson University, and currently lives in Roswell, Georgia with his wife Kimberly, and daughters, Ashlynd and Austin. He currently serves on the Board of Directors of The Kyle Pease Foundation, and is actively involved in the community as a youth sports coach and volunteer work with Camp Sunshine, High Tech Ministries and his church. An avid sports fan, he travels often to see the Clemson Tigers play football and has completed over 19 Half and Full Ironman Distance events
Show Highlights
Segment 1: Overview
1:47 The power of exchanging ideas & having a good team.
6:22      Communication is key between innovation units and other parts of the firm. (MIT Article)
7:59 Fred Soller introduction.
10:02 Turing down the University of Michigan; an opportunity to reinvent yourself.
14:12 Recognizing a tipping point in your business.
Segment 2: The "Top Three"
16:48 Fred's "Top Three" starts with his faith in God. He discusses his mission to live his "life walking with God."
17:33 Fred then lists his wife as the second "Top 3." Fred's wife pushes him to be the best person he can be; she helps him evolve to be the best version of himself.
19:10 Your wife as your gut check; Fred's wife is supportive but challenges him to make the best decisions.
20:00 Fred's rounds out his "Top Three" with his dad. While he wasn't super close to him growing up, his charisma and guidance gave Fred the direction to be the best person he can be.
23:06 Expanding beyond the Top Three: Ed Littleton.
Segment 3: Avoiding Judge-mentation
26:26 Controlling your narrative; avoiding social media for your own health. Not judging others on what their social media says about them.
27:17 The power of having "safe zones" away from the judgement of modern society.
29:33 Taking time to meet people face to face.
Segment 4: Life-long work
30:17 Building a company is like running a marathon.
34:39 What does Data Ocean do?
38:02 Getting involved philanthropically.
40:39 Dangers of holding on too tight.
45:42 Surrounding with good people for the long haul.
52:30 Looking for ways to continually improve yourself.
57:06 Being resilient in the face of a pandemic.
Section 5: Wrapping Up
58:52 Having a plan A, B, and C
1:00:34 Stay in touch via LinkedIn!
Additional Information
Contact Fred Soller:
Contact Gregg Garrett:
Contact CGS Advisors:
Subscribe: