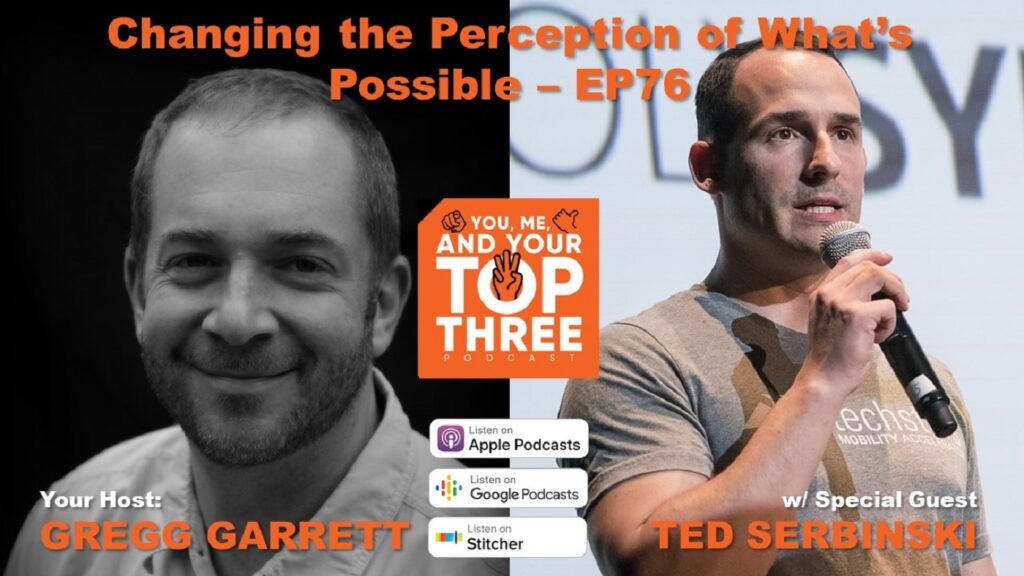 During this episode, You, Me and Your Top Three host, Gregg Garrett, speaks with Ted Serbinski, managing director at Techstars, about the power of pivoting and how it is needed for startups as well as enterprises trying to innovate. He discusses a wide array of topics from becoming a mobility industry luminary to investing in nearly 100 companies to being a xennial and the importance of being a sponge. Ted of course shares his Top Three who include member of the Foundry Group to fellow alumnus who help him stretch his thesis to all the founders in whom he has invested to make mentoring a two-way street. And you have to hear what he has to say about how mobility may be more about what is not moving, rather than what is, especially in a post-COVID world.
About Ted Serbinski
Ted Serbinski is a venture capitalist and managing director of TechStars with 70 global startup investments across mobility, automotive, logistics, manufacturing, fintech and AI/ML. He focuses on helping entrepreneurs succeed through mentorship and investment and seeks to establish lifelong relationships with the founders he backs.
Ted holds a degree in computer engineering from Cornell University and is a dad to four energetic kids.
Show Highlights
Segment 1: Overview
1:10 "Pivot! Pivot!": The criticality of change and importance of being brave to achieve it
4:18 Ted Serbinski: His journey began as a coder and has led him across the country to becoming an investor
5:30 Ted's Mission: "Changing people's perception of what's possible"
9:24 Being Brave: A cold email to Dan Gilbert brought him to Michigan and began his venture career
11:53 Success breeding success: "Spreadsheets don't create, they measure."
Segment 2: The "Top Three"
15:10 Be a sponge: Soak up everything you hear and see around you
16:46 Ted's "Top Three" starts with Jason Mendelson who challenged his perception of what's possible being a VC
18:33 A pattern develops: Sending the cold email, making the cold call
22:57 Ted's "Top Three" expands with Gretchen Knoell, a fellow Cornell alum, who has great experience and provides great wisdom
24:43 Investment Thesis Challenge: "It's all about make and move" … and what else?
27:12 Ted's "Top Three" concludes with the group of founders he has invested in due to the depth of knowledge they provide
30:03 Relationship Lens: "Investing in founders is a lifetime commitment"
Segment 3: Transformation & Disruption
37:34 Disruption: It's all about timing and people's ability to change
40:04 Are innovators seeing the silver lining in this post-COVID market?
41:50 "Building a startup is a lot like a game of chess"
44:48 Pivoting: Where are auto and mobility going?
46:58 "What is mobility?" Ted's blog on Detroit becoming the Mobility City
51:00 Futurists look at the consumption market and far outside the industry
52:48 Mobility Spectrum: "Not moving is moving too."
55:54 Drawing Parallels: Being a Xennial and Mobility
Segment 4: Wrapping Up
58:55 Ted's Journey: "Being open to [almost] anything"
1:01:02 Copious Note Taker: What's the process?
1:04:01 Meditate: "It is a way to defrag your brain"
1:06:36 How to stay in contact with Ted
Additional Information
Contact Ted Serbinski:
Contact Gregg Garrett:
Contact CGS Advisors:
Subscribe: