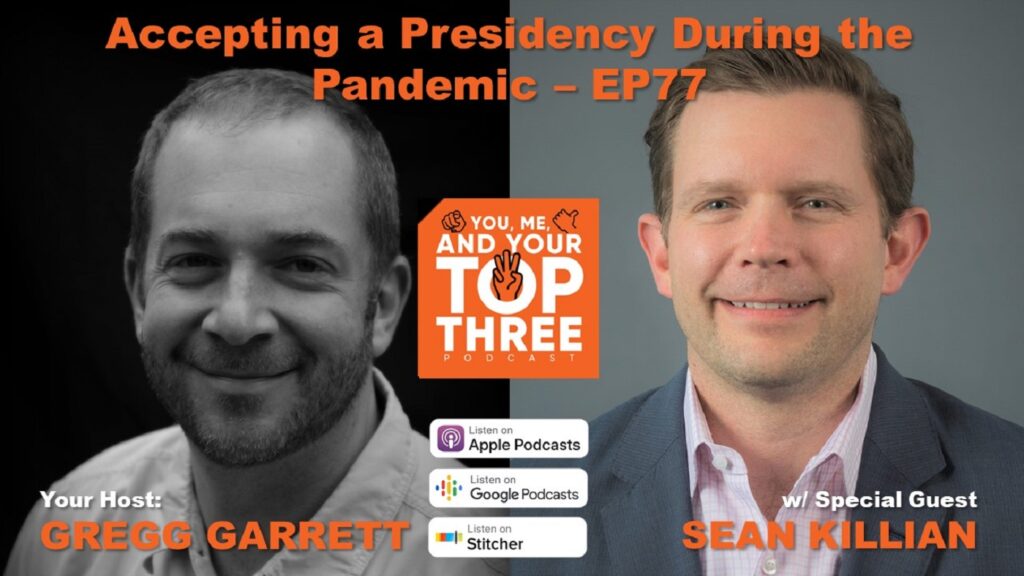 Gregg Garrett, discusses how transforming an organization is a lot like baking a cake. Gregg then speaks with Sean Killian, President North America, Atos Medical. Sean shares insights he has gained as a global citizen and observations he has made as he pivoted his career from industry to industry. Of course, he speaks about his top three who include mentors who taught him to bring structure to unstructured situations, inspirational leaders in the world of sports, and day-to-day confidants who help him scale. And you have to hear what he has to say about what it's like to become the president of a company in the midst of a pandemic.
About Sean Killian
Sean serves as President of North America for Atos Medical, a PAI-portfolio healthcare company that serves customers in the laryngectomy space. Prior to joining Atos earlier this year, he was on the executive team of Performance Health, a portfolio company of Chicago-based Madison Dearborn Partners, where he was VP of Global Strategy and GM of Specialty Products. Previously, Sean was Global Head of M&A Strategy at Mondelez International and, prior to that, a Principal at The Boston Consulting Group in its Chicago office.
Show Highlights
Segment 1: Overview
1:07 Why do over 70% of transformations fail?
3:01      Transformation is like baking a cake. Take the Transformation Survey.
6:52 Sean Killian: His journey began with journalism and consulting that led him around the world and back to his current role in the medica. industry.
Segment 2: The "Top Three"
14:06 Sean's "Top Three" beings with mentors who give perspective on the tools you need, connecting it to where you are today as an individual on a development curve, and playing a role model
16:39 Weighing mentor quality vs boss quality.
18:02 Hints for leaders: Be structured. Get into the 80/20 – what really matters. Have a plan and execute that plan.
20:47 Sean's "Top Three" expands with a speakers, personalities, and leaders in the world of sports, such as Jim Valvano & Brian Kelly from whom he can gain life advice.
23:05 There aren't lines between the workplace and personal life; it just is.
26:12 Modeling for your team that it is okay to make a mistake is really important.
28:28 Sean's "Top Three" concludes with day-to-day confidants who help him scale including Mauricio Atry.
Segment 3: Transformation & Disruption
33:57 Accepting the President role during the pandemic.
40:00 The realities of what 'after' the pandemic looks like.
45:15 Blurring the lines: what is the role of a business in providing a social output for people?
49:09 "What matters is how you are trying to evolve the organization."
53:06 Atos Medical: Passionate to make life easier for people who breathe through a stoma.
Segment 4: Wrapping Up
58:39 Use an extensive filing system for emails.
1:00:34 Stay in touch via LinkedIn!
Additional Information
Contact Sean Killian:
Contact Gregg Garrett:
Contact CGS Advisors:
Subscribe: