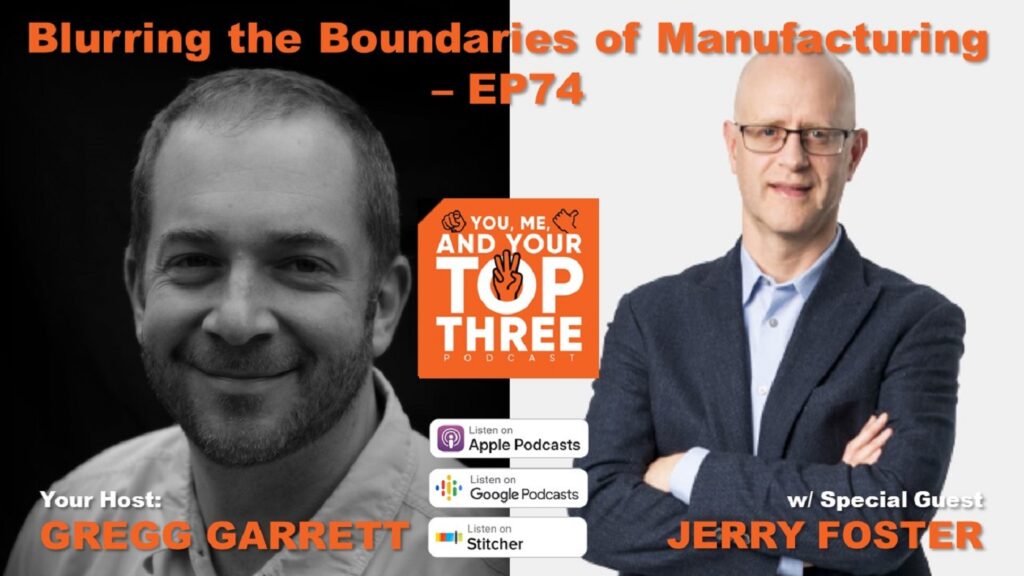 During this episode, You, Me and Your Top Three host, Gregg Garrett, speaks about how creating connected products may blur the boundaries of manufacturing and aftermarket service. He then speaks with Jerry Foster, CTO at Plex Systems. Jerry, an expert in Industry 4.0, shares how he bravely launched an information technology company from the gritty floor of a foundry. He then discusses how the manufacturing sector is dealing with COVID-19 and gives hints on how manufacturers are redefining their supply chains in real time. Jerry shares his Top Three ranging from his wife to his cofounder to the CFO of his current team. And you have to hear what he has to say about building confidence by surrounding yourself with people smarter than you.
About Jerry Foster
Jerry Foster is CTO and leads Plex System's technology strategy, along with research and design initiatives focused on next-generation cloud solutions for the manufacturing enterprise. A founding member of the Plex team, Jerry has been instrumental in the entire evolution of Plex, overseeing the technical transitions in each phase of our growth. Jerry earned his degree in computer science at Liberty University.
Show Highlights
Segment 1: Overview
1:09 Industry 4.0 – the movement toward the digitalization of manufacturing (the Fourth Industrial Revolution).
4:34 Industry 4.0 isn't just within four walls – it extends to supply chains, retail and beyond.
5:25 Ask yourself: "What is manufacturing in the future?"
7:03 Jerry Foster: An Industry 4.0 expert and a history in the manufacturing space.
10:55 Plex System: Connect with the future of smart manufacturing (ERP solutions)
Segment 2: The "Top Three"
14:44 Jerry's "Top Three" beings with his wife, Angie, who is empathetic, compassionate, sacrificial and brave.
17:42 Keeping the focus on empathy.
23: 44 Jerry's "Top Three" continues with Rob Beatty who was a true leader with intelligence, leadership, wisdom and fairness.
25:33 Best leadership advice: "Lead with your heart, lead with honor and don't fear the lawyers."
30:26 Rarely argue. Instead, ask: What do we need to do to get this fixed?
36:19 Jerry's "Top Three" continues with Don Clarke who teaches the balance between customer-centricity and representing the value you are providing.
40:42 Jerry's "Top Three" concludes with Drew Flint who is a best friend.
Segment 3: Transformation & Disruption
41:41 Real-time monitoring of the impact of COVID-19.
46:40 The early payoffs of Industry 4.0 and being in the cloud.
51:00 Disruption is occurring globally and across all industries.
52:29 Advice for transformations: "You have to solve real problems. There has to be a business driver involved."
54:08 Why people push back on transformation.
Segment 4: Wrapping Up
56:24 Advice for leaders: "Surround yourself with, and hire people who are, smarter than you."
59:47 Check out Plex and the recent '5th Annual State of Manufacturing Technology Report'.
Additional Information
Contact Jerry Foster:
Contact Gregg Garrett:
Contact CGS Advisors:
Subscribe: