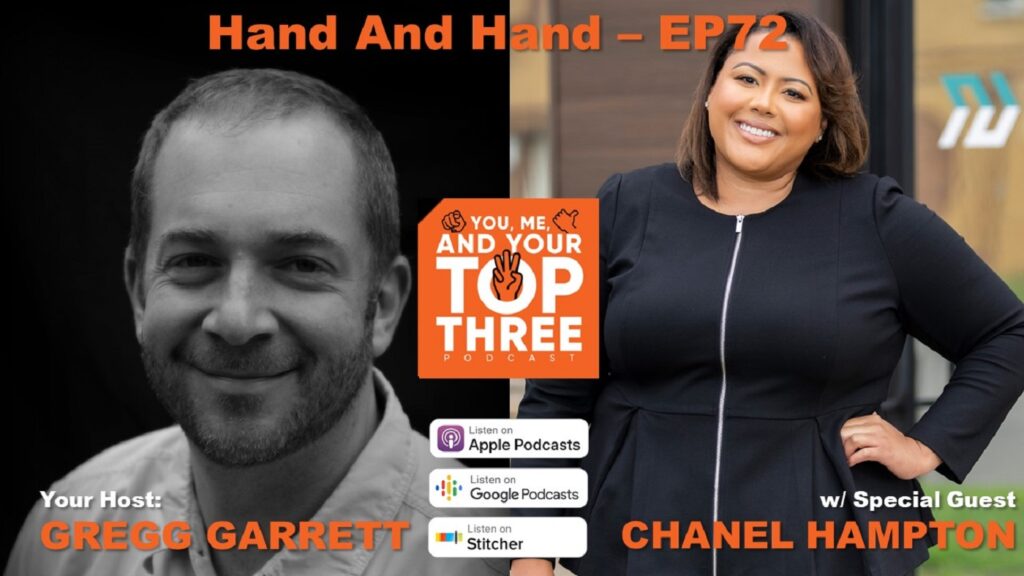 During this episode, You, Me and Your Top Three host, Gregg Garrett, speaks first about the unique nature of building connections during the COVID-19 quarantine. He then interviews middle-school teacher turned CEO Chanel Hampton, founder and president of Strategic Community Partners, who has a fantastic message about following your passion. She shares her Top Three ranging from the founder of Build-a-Bear to an ambassador of Belize to an executive coach who holds her accountable. And you have to hear what she has to say about dealing with that pit in your stomach.
About Chanel Hampton
Chanel Hampton serves as the Founder and President of Strategic Community Partners (SCP), a Detroit-based firm focused on working with local and national organizations rooted in education, equity, and justice. In 2015, Chanel launched SCP with a vision of partnering with mission-driven organizations to build capacity and positively serve Black and marginalized communities. SCP works with a robust array of partners, including Detroit Public Schools Community District, The Skillman Foundation, United Way for Southeastern Michigan, Washington, D.C.'s Office of the State Superintendent of Education, WEPOWER St. Louis, My Brother's Keeper Alliance, The Obama Foundation and numerous other community-based organizations and leaders. SCP also operates a community center and the first co-working space in Detroit's legacy-rich Fitzgerald neighborhood.
Prior to founding SCP, Chanel began her career as a middle school teacher, where her passion for larger systemic change in the education system grew. Particularly moved by the need for diverse teacher talent and organizations with the right motivations and mindsets working in communities, Chanel began her work with administration and later joined Teach for America's National Recruitment Team. Founding and leading national diversity initiatives, Chanel served as a national recruitment team leaders and also worked with the organization's 52 regions as a strategic advisor and partner – resulting in unprecedented community engagement, as well as diversity, equity, and inclusion efforts and progress with communities across the country. Chanel also led several additional organization-wide initiatives and partnerships, including the Congressional Black Caucus Foundation's Annual Legislative Conference.
During her career, Chanel has also served as a central office executive in public school systems, including Detroit Public Schools; and worked with the Michigan Department of Education to ensure equitable practices for all districts across the state.
Chanel holds a bachelor's degree in African-American Studies, Psychology, and Sociocultural Anthropology. She also has two master's degrees in Secondary Education and Education Administration. She is currently pursuing a doctoral degree in Organizational Leadership.
Chanel's lifelong passions for Detroit, justice, education, and equity drive her personally and professionally and motivate her to continue, as well as expand.
Show Highlights
Segment 1: Overview
1:03 The importance of your "Quarantine Crew": focus on your present and be OK with it
3:27 Chanel Hampton: A lifelong educator who began as a middle school teacher and is now a CEO
4:42 Strategic Community Partners (SCP): Cultivated from a quick-growing passion for teacher diversity and realizing a need for strategy and community to work hand-in-hand
10:38 Drawing Parallels: Taking a corporate/ operations lens to the work of SCP
Segment 2: The "Top Three"
13:08 Chanel's "Top Three" begins with Maxine Clark who became her first mentor in St. Louis and believed in Chanel when she didn't believe in herself
20:17 Simple but important lesson: Send the follow-up message
21:38 Chanel's "Top Three" grows with Ambassador Shabazz whose brilliance and ability to coach without noticing you're being coached has pushed her through tough love
28:42 "Coming home is hard": The key is making shifts and realizations in life to make it a positive transition
31:50 Chanel's "Top Three" continues with Priscilla Archangel whose coaching helped bridge gaps and make tough decisions to take SCP to the next level
37:30 Coach vs. Mentor: A big difference in being held accountable
38:24 Chanel's "Top Three" concludes with individuals in her "Quarantine Club" (Dr. Robert Simmons, Laura Khalil, Adam Layne, Anthony Smith, Charli Cooksey, Michelle Moss, Mel Mills, Mike Walters, Racheal Allen, Janet Dickerson, and Richard Grundy) whom she is grateful for during these unprecedented times
Segment 3: Transformation & Disruption
43:00 Opportunity from Challenges: Two specific examples outlined by Chanel
45:30 The future of Education: "Are we bringing the right community together?"
48:23 Hints/ Areas of Focus for Community Leaders: Making sure we don't forget
51:00 SCP Incubator: What is it and how do you learn more?
Segment 4: Wrapping Up
54:53 Upcoming SCP Event: Culture for Change
56:00 How to stay in contact with Chanel
56:30 How to be a better leader? "Deal with that one thing"
Additional Information
Contact Chanel Hampton:
Contact Gregg Garrett:
Contact CGS Advisors:
Subscribe: