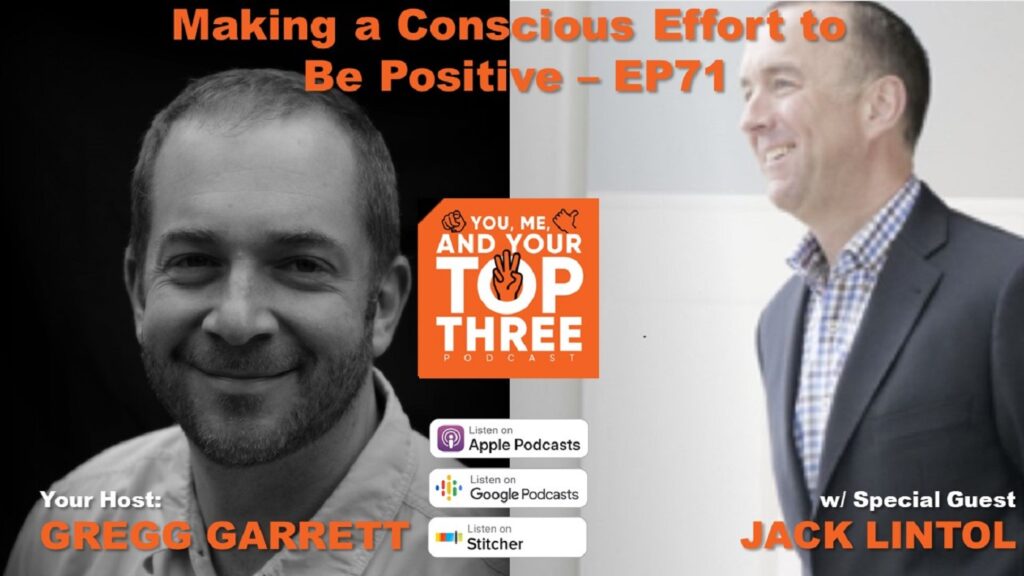 During this episode, You, Me and Your Top Three host, Gregg Garrett, speaks about finding your drive. He speaks with Jack Lintol, a multi-time CEO who is currently with Detroit Trading Company. Jack shares the importance of how leadership differs during disruption and the importance of surrounding yourself with people who can be part of your system. And, of course, he speaks about his 'Top 3' – from his wife, to fellow CEOs, to trusted colleagues who have run the plays with him in the past, and ultimately to his faith and the father figures who speak with him from afar. And you have to hear what he has to say about knowing when it is right to look in the mirror or when to look through the window.
About Jack Lintol
Jack Lintol possesses more than 25 years of senior leadership experience. His success in growing, optimizing and turning around companies is attributable to his ability to develop, articulate and execute a clear strategy, build an effective team and engage / motivate all constituents necessary to achieve the objectives. Jack's leadership is characterized by his compelling and inclusive interpersonal skills, inspiring values and a strong talent orientation.
Show Highlights
Segment 1: Overview
1:01 Motivation is key – starting with the why.
3:00 Transformations often fail because of motivational ambiguity.
5:12 Jack Lintol – a successful history and the importance of giving people everything you can.
12:37 Detroit Trading Company: We Bring Car Shoppers and Dealers Together.
Segment 2: The "Top Three"
16:00 Jack's "Top Three" begins with faith – God, Jesus Christ, and the Holy Spirit – that guides through the most complex and difficult decisions.
18:30 The growth and evolution of spirituality.
22:24 Believing in something greater than yourself is so critical.
25:01 Jack's "Top Three" continues with his wife who is his moral compass.
26:46 Jack's "Top Three" grows with a group of people who can provide him with subject matter views, including: Mark Green, John Hern, Dan Minkus.
30:32 The Foundational Operating Process.
36:47 Jack's "Top Three" concludes with a Tom Dutch who was a father figure and guide.
39:20 Leaders grow during adversity.
Segment 3: Transformation & Disruption
43:15 The silver lining to the pandemic – get through and get strong.
49:04 "Consumers have been trained…so they want a different experience."
53:03 How connected and technology are impacting the industry.
Segment 4: Wrapping Up
57:23 "When things are going wrong, look in the mirror. When things are going right, look through the window."
58:22 "It takes a conscious effort to go positive."
59:13 Stay in touch: jack@detroittrading.com
Additional Information
Contact Jack Lintol
Contact Gregg Garrett:
Contact CGS Advisors:
Subscribe: