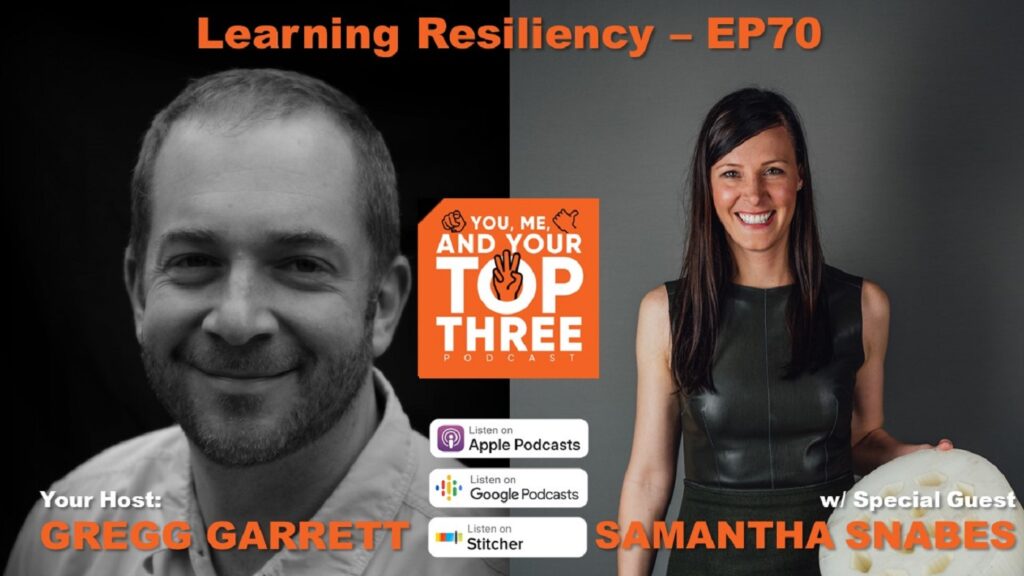 During this episode, You, Me and Your Top Three host, Gregg Garrett, speaks with Samantha Snabes, co-founder and catalyst at re:3D about resiliency through disruption. She shares firsthand experience of driving resiliency through major disruptions like COVID-19 as well as several natural disasters. She also discusses how she motivates her team to shape the future of manufacturing through 3D printing and using it to change the landscape across the world. Additionally, she notes her Top Three who include her amazing NASA based co-founder and two moon-shot advisors: one who is the chair of Singularity University and one who founded GoogleX. And you must hear what she has to say about helping the world make new stuff from trash.
About Samantha Snabes
Samantha Snabes is an officer in the Air National Guard and the CEO for re:3D where she facilitates connections between others printing at the human-scale and/or using recycled materials to access locally driven manufacturing in 53 countries. As a serial entrepreneur, she currently volunteers as the Global Chair of the IEEE Entrepreneurship Steering Committee. Previously, she served as the Social Entrepreneur in Residence for the NASA HQ and Deputy Strategist supporting the NASA Johnson Space Center's Space Life Sciences Directorate after selling a start-up for a DARPA-funded, co-patented tissue culture device. Samantha holds a BS in Biology, BA degrees in International Relations & Hispanic Studies, a MBA with concentrations in Supply Chain Management & International Relations, and certifications as a firefighter & EMT-B.
Show Highlights
Segment 1: Overview
1:04 Is it really about "resiliency" or rather building capabilities and finding bravery to move forward into the unknown?
2:07 Samantha Snabes' ability to standout, command attention, and disrupt her industry
Segment 2: The "Top Three"
4:48 Samantha understands disruptions in supply chains and is a leader in manufacturing and 3D printing
8:02 Samantha's "Top Three" starts with Matthew Fiedler whose influence and genius helped shape her view, and ability to positively impact the world
11:43 "What we love about 3D printing… it appears to be gender agnostic… and more about what they make"
14:30 "We had to think about our role…it was a real test as things were extremely tight, we were making tough calls… to still try to do R&D and trying to keep offices viable."
16:35 Hints for finding and selecting the right co-founder for you
21:40 Innovation from disruption: The silver lining from disasters
28:40 Samantha's "Top Three" also includes her re:3D advisors, Pascal Finette and Tom Chi
31:27 Realizing the need for advisors to hold the team accountable, serve as sounding board
Segment 3: Transformation & Disruption
37:22 Manufacturing: Is there starting to be a macro shift in the industry?
41:07 Working through another disruption: COVID-19s impact on the 3D printing industry
44:17 A glimmer of hope and what the future will look like
Segment 4: Wrapping Up
46:06 A partnership with Impact Hub and Impact Hub Houston to donate PPE to frontline and essential community members
49:05 Never be afraid to ask too many questions, even the dumb ones, to be a better leader
Additional Information
Contact Samantha:
Contact Gregg Garrett:
Contact CGS Advisors:
Subscribe: