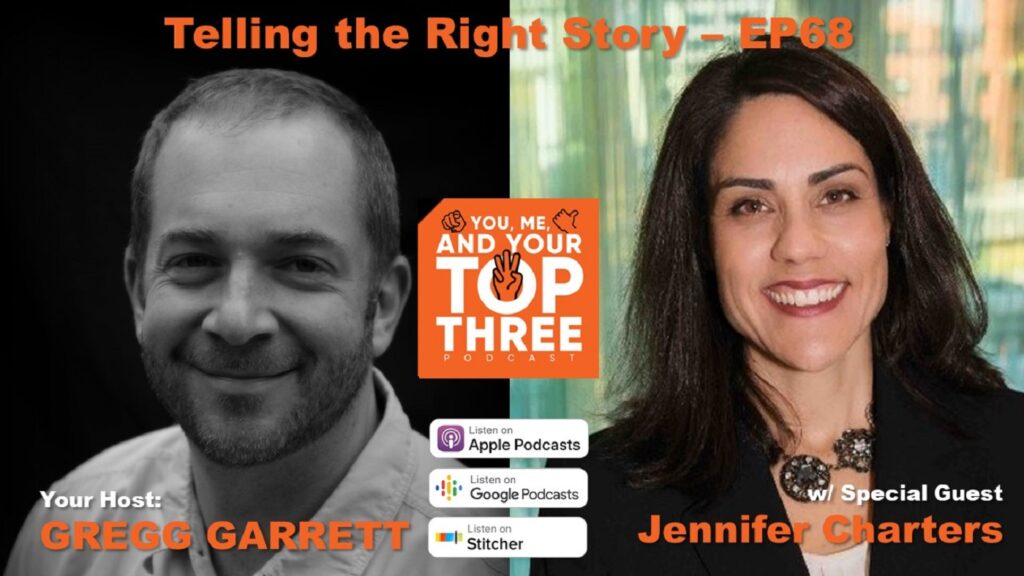 During this episode, You Me and Your Top Three host, Gregg Garrett, speaks with Jennifer Charters, executive vice president and CIO at Flagstar Bank. She discusses how leaders can use the power of storytelling to drive clarity of purpose and consistency of transformation. Jennifer also shares how she has honed this superpower as a chief-of-staff to a global executive before embracing this same method to take on her own corporate officer role. She shares her Top Three including her spouse who creates a safe-zone to question the right way of doing things to bosses who help mold her perspective to current colleagues who give her the space to truly move her organization from good to great and to her fellow Women in Technology who, with her, continue to shape the landscape for women in the IT profession. Lastly, you must hear what she has to say about building intentional habits.
About Jennifer Charters
Jennifer Charters joined Flagstar Bank in June 2018 as executive vice president and chief information officer. In her new position, she is responsible for providing overall executive leadership and strategic direction for the IT organization, including the successful delivery of technology initiatives and management of IT operations.
Previously, she was chief information officer, Corporate Technology, at Ally Financial. She is an experienced professional with 24 years of experience in IT financial services and telecommunications.
She serves as vice president of the Michigan Council of Women in Technology.
Show Highlights
Segment 1: Overview
1:18 Influential leadership vs. control leadership
8:18 Jennifer Charters' career and the positive impact of successful storytelling
Segment 2: The "Top Three"
9:20 Charters reflects on the impact being able to play and explore from an early age played on her career
15:54 "What do I want to do for the next 12 years?"
16:49 "Not wanting to close too many doors too quickly"
19:38 Charters' "Top Three" starters with her husband Jim Charters who serves as an understanding, sounding board for problem solving
22:43 Charters' "Top Three" builds with the former leaders she has worked for including Cheryl Railey who highlighted the importance of relationships and managing up
27:40 Charters' "Top Three" continues with Michael Baresich who emphasized the impact successful storytelling can have on strategy and purpose
34:40 Charters' "Top Three" expands with current leaders she works with including Alessandro DiNello who challenged her to see technology as an enabler to the business model
39:37 Charters' "Top Three" also includes Lee Smith who gives her freedom and has established trust for her to do what she needs to successfully execute the technology
45:02 Charters' "Top Three" conclude with Jane Sydlowski and John Bonapace who brought her into the Michigan Council of Women in Technology
Segment 3: Impact of Technology and Lessons Learned from the Financial Services Industry
49:28 "What advice do you give to leaders to get closer to the mindset of industry service with technology serving as an enabler?"
51:02 "If you don't feel like you're continuing to learn… grow and like the organization is not continuing to invest in you, you might want to think about if you're in the right place."
52:10 Today's increase in technology acceleration
Segment 4: Wrapping Up
53:34 Building the right habits to be a better, braver leader
55:56 How to stay in contact with Jennifer
Additional Information
Contact Jennifer Charters:
Contact Gregg Garrett:
Contact CGS Advisors:
Subscribe: