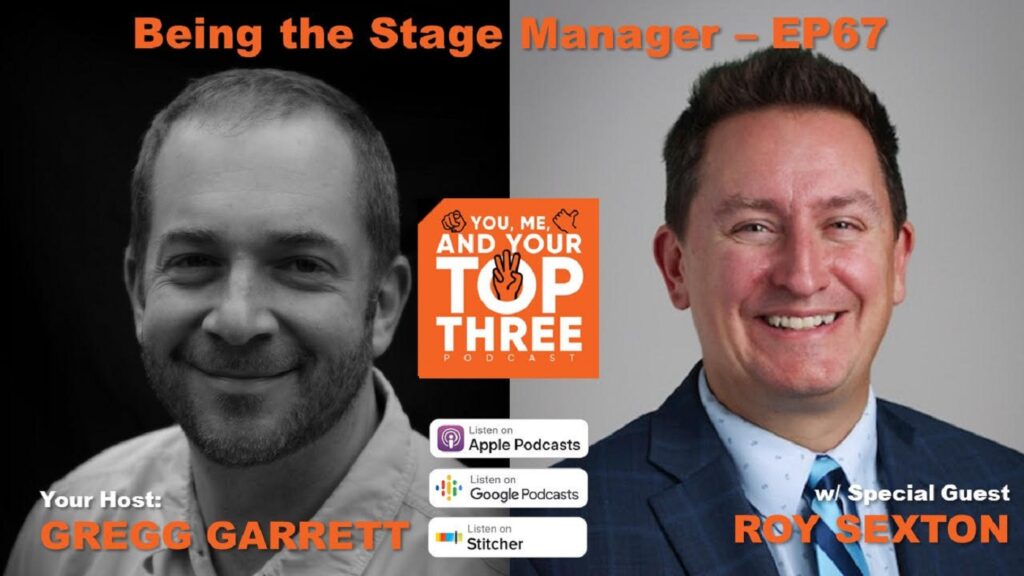 During this episode, You Me and Your Top Three host, Gregg Garrett, speaks with Roy Sexton, director of marketing at Clark Hill. He discusses the changing landscape of the legal industry and provides hints on how to deploy effective digital marketing efforts as well as how to breakdown barriers through social media. Additionally, he shares his Top Three including an author he learned to call "mom" who taught him all about empathy, his 'fairy God sisters' who took him under their wings and broke down a scary new industry, and his Braveheart-like Irish boss who balances understanding what makes him tick with pushing him to learn how to manage and lead. And you must hear what he has to say about looking for the naturally worn paths before pouring the concrete for sidewalks in your organization.
About Roy SExton
Roy Sexton leads Clark Hill's marketing, branding, and communications efforts, collaborating with the firm's exceptional team of marketing and business development professionals.
Roy has nearly 20 years of experience in marketing, communications, business development, and strategic planning, having worked at Deloitte Consulting, Oakwood Healthcare (now Beaumont), Trott Law (formerly Trott & Trott), St. Joseph Mercy Health System, and Kerr Russell, PLC. He has been heavily involved regionally and nationally in the Legal Marketing Association as a board member, content expert, and presenter. He is treasurer-elect currently for the Legal Marketing Association's Midwest Regional Board of Directors. Roy was named a Michigan Lawyers Weekly "Unsung Legal Hero" in 2018.
He earned his Bachelor's degree from Wabash College, and holds two masters degrees: an MA in theatre from The Ohio State University and an MBA from the University of Michigan. He is a graduate of Leadership Detroit and Leadership A2Y, was a governor-appointed member of the Michigan Council of Labor and Economic Growth, and was appointed to the Michigan Mortgage Lenders Association Board of Governors in 2012.
He served as an at-large member of LMA's Midwest Regional Board, served on the advisory committee for Strategic Magazine, and was a member of the Social Media SIG steering group. He has been involved on the following nonprofit boards and committees: First Step, Michigan Quality Control, National MS Society, ASPCA, Wabash College Southeast Michigan Alumni Association, Penny Seats Theatre Company and the Spotlight Players. He currently sits on the boards of Ronald McDonald House Charities of Ann Arbor, Royal Starr Film Festival, Mosaic Youth Theatre of Detroit, and encoremichigan.com. He is a published author with two books Reel Roy Reviews, Volumes 1 and 2.
Show Highlights
Segment 1: Overview
1:22 "Be a true leader by seeking the common bonds that bring people together first, then celebrate the differences to make that even better."
2:16 Roy Sexton has a real unique view on the world of marketing
Segment 2: The "Top Three"
3:02 Sexton celebrates the path and experiences that lead to his current role at Clark Hill
6:28 "I didn't set out to be a marketer"
7:54 Sexton's "Top Three" begins with his mother (Susie Duncan Sexton) who taught him to lead with empathy, thoughtfulness, honesty and candor
10:41 Sexton's "Top Three" continues with Nancy Myrland and a whole group of 'fairy God sisters' who positively impacted his legal marketing journey
14:30 Meeting people first through social media can help breakdown barriers to establish rapport and ease face-to-face interactions
17:05 Sexton's "Top Three" concludes with Susan Ahern sees who he is and finds ways to celebrate who he is
Segment 3: Impact of Disruption & Technology on the Legal Industry
21:50 Drawing similarities from various industries to prepare for the future
23:32 Legal needs to remember it's not in the brick and mortar business, but rather the law firm business
26:24 Two types of strategic change to come for the legal industry
30:04 The current law firm model does not incentivize collaboration, cross pollination or industry solution
31:05 The transformation strategy that will work for the legal industry
33:07 The role of dominant logic inertia to impact change and willingness to change
37:30 "Enrich your life with other people and you'll be surprised by what you learn"
37:44 "Maybe the variance is actually where your business is going"
Segment 4: Wrapping Up
38:53 A simple hack on social media for being a better leader
40:42 How to stay in contact with Roy
Additional Information
Contact Roy Sexton:
Contact Gregg Garrett:
Contact CGS Advisors:
Subscribe: