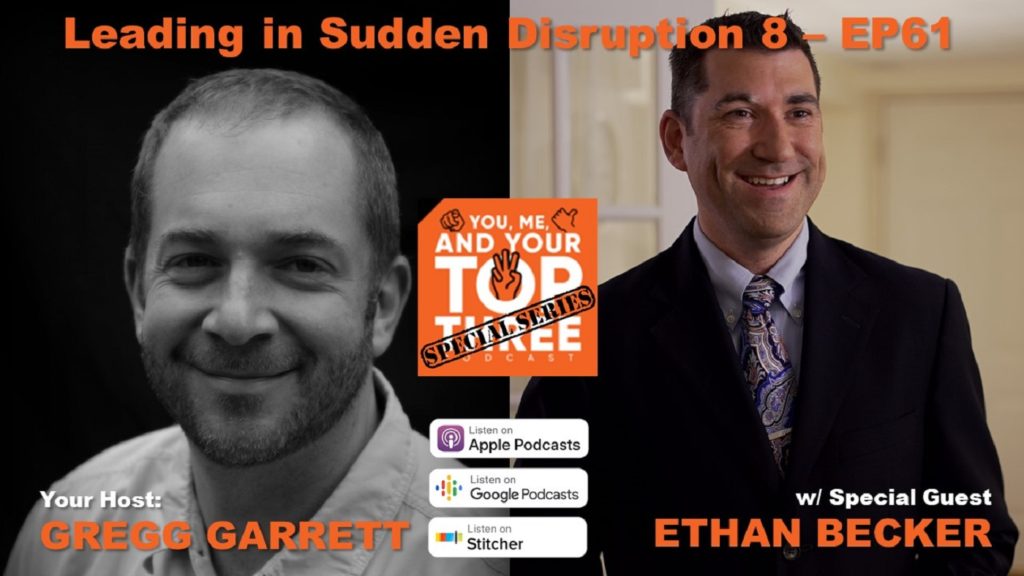 During this mini episode, You, Me, and Your Top Three host and CGS Advisors CEO, Gregg Garrett, speaks with Dr. Ethan Becker, president of Boston-based communications firm The Speech Improvement Company. He speaks about communication in times of crisis and disruption; specifically, the long-term effects of this pandemic on general communication and best practices for communicating online and through various digital platforms. Dr. Becker also addresses the importance of listening to effectively communicate.
About Dr. Ethan Becker
Dr. Ethan F. Becker is a second-generation Executive Speech Coach and Trainer with the 56 year old global business, The Speech Improvement, Inc.
He is co-author of the international best-selling book Mastering Communication at Work: How to lead, manage, and influence, which is published worldwide by McGraw-Hill. The book is also an Amazon #1 best seller in 13 categories. Ethan has developed and delivered powerful customized motivational speeches on various topics related to communication worldwide. In addition to group work, Ethan serves as trusted advisor and executive communication coach to many.
In addition to helping business partners in nearly all of the United States, Dr. Becker has unique international experience. He has lived in Kuala Lumpur Malaysia where he immersed himself in the Asian culture conducting research, training, and coaching with the ICLIF leadership and governance center. In addition, he has coached and presented in countries such as China, Japan, Australia, Singapore, Korea, Germany, England, Thailand, and many more. This provides him with valuable international and cultural perspectives, which he brings to his clients. Ethan has taught at and helped such organizations such as Harvard University, John's Hopkins University, Boston Scientific, Petronas, Apple, Tenaga Nasional, Bank Negara, The New York Giants, Bain Capital, Canon USA, Biogen IDEC, Telekom Malaysia, Maybank, Kenanga, AmBank, RAZAK School of Government, FBI, Biogen Idec, Shire, Magenta, Atlas Ventures, Translate Bio, Cadent Therapeutics, Surface Oncology, Constellation Pharmaceuticals, Northeast Human Resources Association, Kronos, SuriaKLCC, and IBM, as well as countless individual executives, managers, politicians, celebrities and other clients from around the world.
Dr. Becker holds 2 doctorates. His latest is a PhD focused on industry and organizational psychology from the Harold Able School of social behavior and sciences at Capella University. A second doctorate in human letters from Fitchburg State University, an MBA from the school of business and technology at Capella University, with a dual focus on International Business Communication and Leadership, and a BS in mass communication. 
Show Highlights
1:00 The importance of communication to build relationships in a social distanced, self-isolated way.
2:04 Dr. Ethan Becker – president of The Speech Improvement Company.
5:00 Short-and long-term effects of social distancing and isolation on communication.
9:08 A focus on tools for communicating virtually; how effective are they?
12:30 "How important is listening to make speaking relevant?"
15:40 Quick communication tips for active listening and speaking through digital platforms.
Additional Information
Contact Dr. Ethan Becker:
Contact Gregg Garrett:
Contact CGS Advisors:
Subscribe: