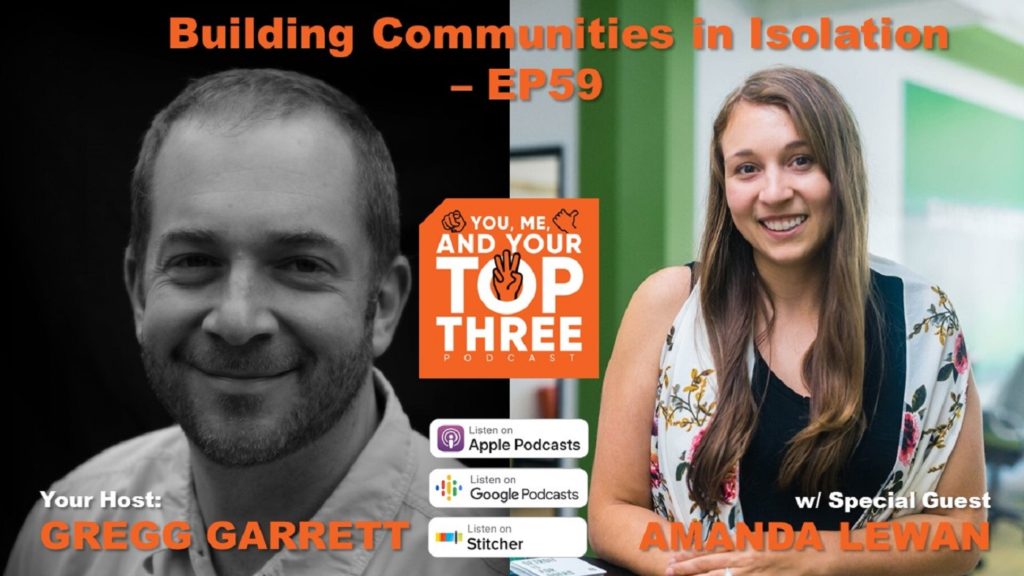 During this episode, You, Me, and Your Top Three host and CGS Advisors CEO, Gregg Garrett, speaks about how the world and the working world may be changed forever and how working from home, or anywhere, is the new model. Gregg then speak with Amanda Lewan, CEO and Co-Founder of Bamboo Detroit who is an expert in the working from home space. Amanda discusses the impact COVID and the COVID-driven disruption is having on this shared work model. Of course, she speaks about her 'Top Three' from her founder husband, to her co-founder partner, to her customers, to her mentors and formal advisors. And you have to hear about how this disruption is giving her an opportunity to pull ahead the digitization of her business.
About Amanda Lewan
Amanda Lewan is a writer, entrepreneur, and community builder. Her life mission is to unite others and move our world forward.
Amanda worked at a variety of startups in marketing & operations, before launching Bamboo. One of the first co-working spaces in Detroit, Bamboo specializes in building collaborative work spaces and community. Her leadership has been honored locally and nationally.
Amanda's writing is inspired our changing times. After winning a national essay competition by The Nation in college, she went on to study fiction writing in graduate school. She writes essays and fiction in a lyric style. Her work been published and honored by The Rumpus, Glimmer Train, Rust Belt Magazine, Belt Publishing, The Journal of Americana, Lumina Magazine, and nominated for Pushcart Prizes & Best of Net. She's currently at work on upmarket literary fiction books.
She lives in Detroit with her husband Marc and their three dogs. When she's not writing or planning community events, she's often cooking, hosting friends, reading, and exploring. Amanda holds a BA in Professional Writing from Michigan State and an MA in English from Wayne State. She sits on the board for Venture Catalysts, and Co-leads the Detroit Writers Collective writers group.
Show Highlights
Segment 1: Overview
0:56 The importance of rowing relationships – especially during quarantine (in the trenches).
3:26 Amanda Lewan – CEO and Co-Founder of Bamboo Detroit (building community and co-working spaces).
Segment 2: The "Top Three"
4:50 Amanda's 'Top Three': Marc Hudson – founder and leader perspective.
5:40 Amanda's 'Top Three': Mike Ferlito – bring alternate perspectives.
6:48 Keeping balance while also having focus.
9:19 Amanda's 'Top Three': Customers and community – customer feedback to keep the focus.
13:04 Learning from the dissatisfied.
15:05 Amanda's 'Top Three': The Market – if you can't make a sale yet, the market will push you in the right direction.
16:33 Amanda's 'Top Three': Formal Mentors and Advisors (Gretchen Knoell) – experts in parts of the field (ex. real estate).
19:35 "A good mentor pushes you to ask the right questions or think about something in a different way."
25:08 Bamboo Detroit – co-working and turn-key offices designed for startups and small businesses growth.
Segment 3: Disruption & Transformation
28:11 The COVID disruption – expediting the work from home trends.
33:12 What one or two big culture shifts be post-COVID that affect your company or industry? (Coping with COVID)
36:30 Culture comes from the founder first.
Segment 4: Leadership & Wrapping Up
38:39 Hint for leaders: Learn a better habit while working from home.
41:34 Stay in touch with Amanda!
Additional Information
Contact Amanda Lewan:
Contact Gregg Garrett:
Contact CGS Advisors:
Subscribe: