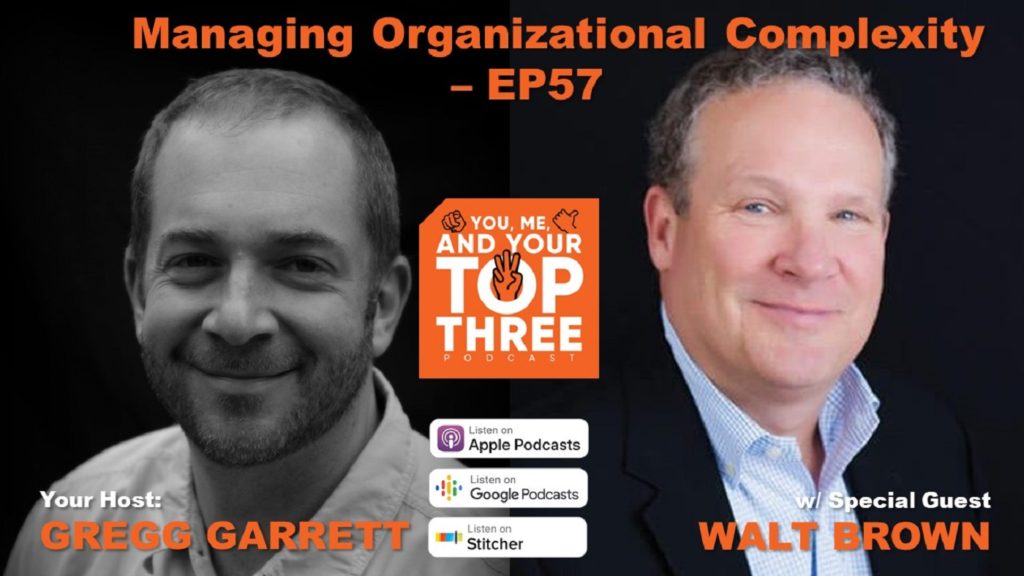 During this episode, You, Me, and Your Top Three host and CGS Advisors CEO, Gregg Garrett, reflects on how we should all consider the journey we are on and how we may find some useful patterns in it. He then welcome Walt Brown, a Certified EOS® Implementer and Founder of Walt Brown Co. Walt speaks about how organizations are getting much more complex and how major change is needed now more than ever. And, of course, he speaks about his 'Top 3' ranging from business partners, to his father, to a coach, to visionaries. And you have to hear what he has to say about the power of asking questions and then just listening.
About Walt Brown
"Seasoned multi-company entrepreneur" is one label that has been used to describe Walt over the years. Many folks refer to Walt as an entrepreneur, but he insists this is much too generous: "I don't consider myself an entrepreneur. I consider myself someone who is good at seeing existing patterns and pulling them together in logical ways that people are willing to pay for, then I build teams to serve the pattern." Walt is seven for seven when it comes to launching and growing new companies. During the last decade, he has helped transform the culture of more than one hundred fifty organizations across the country as an Implementer of an OOS known as the Entrepreneurial Operating System®. It is his greatest pleasure to work with his clients as they think, plan, execute, observe, adjust, and reflect as they master the skills necessary to permanently enjoy the fruits of a Patient Organization.
So you can get a sense of his experience, combined, Walt's 50 largest business clients have 8,711 employees, with average sales per employee of $245,786, their average size is $45.5 Million in revenue per year and combined they are doing over $2.2 Billion in sales. Since working together, their employee engagement has consistently risen, employee tenure has increased, and they have doubled their bottom lines and doubled their net free cash flow. Plus they are enjoying life with more freedom. He is typically working with 30 clients across 150 days in a year.
Show Highlights
Segment 1: Overview
0:47 Have we paused to document the world around us?
3:54 Activity: Make two lists and then consider them: What is different in your business? Who are you as a leader?
7:22 Walt Brown – Certified EOS® Implementer – Large and Small Companies
Segment 2: The "Top Three"
10:27 "You know you're leading when you see others aligning part of their future to your future."
11:38 Walt's 'Top Three': Ron Schuler; Walt's father – early career and life guidance.
13:30 Walt's 'Top Three': Alan Cobb – wisdom and leadership; the integrator.
16:30 Walt's 'Top Three': Greg Walker – the coach; strategic thinking.
19:03 Current org. charts don't capture the complexity of today's organizations.
22:18 What drives the complexity? Culture.
24:28 The uniqueness of millennials – asking the right questions.
Segment 3: Disruption & Transformation
28:51 "All evil is buried in an organization structure."
31:06 What capabilities are needed in organizations?
Segment 4: Leadership & Wrapping Up
35:04 Advice for leaders: "Stop thinking out loud."
37:22 Advice for leaders: Stop talking and start listening.
38:27 Check out Death to the Org Chart. Stay in touch: walt@7q7p.com
Additional Information
Contact Walt Brown:
Contact Gregg Garrett:
Contact CGS Advisors:
Subscribe: