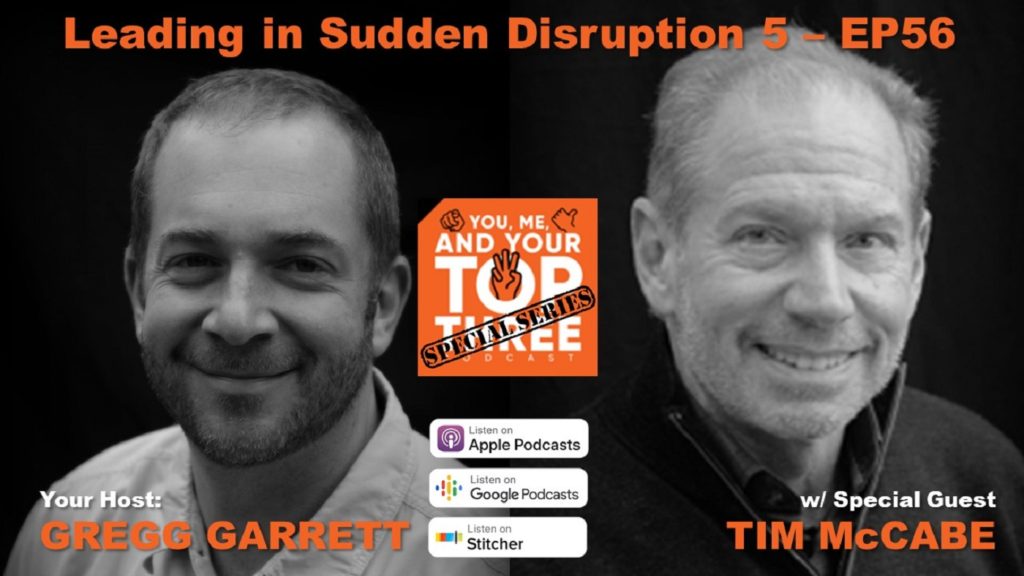 During this mini episode, You, Me, and Your Top Three host and CGS Advisors CEO, Gregg Garrett, speaks with CGS Fellow, Tim McCabe.  Tim has led through several major market disruptions and helped to manage the largest industrial bankruptcy on the planet. He speaks about lessons he learned from that crisis, discusses the impacts of the current crisis tied to COVID-19 and makes suggestions to today's leaders. And you have to hear what he has to say about using the disruption as a test drive for your future.  
About Tim McCabe
Tim began his career at General Motors (GM) and GMAC where he assisted with the spin-off of EDS and the creation of GM's new information technology group. During this time, Tim was part of a small team responsible for a 10-year technology outsourcing deal to support GM's North American business, which at the time was the largest IT outsourcing deal in the world. Ten years later, McCabe led the termination of the GM/EDS agreement as well as the creation and subsequent contracting of approximately $5B of services to help GM begin its digital transformation.
Following his time at GM, Tim transitioned to Delphi, which had been created as a $30B parts supplier spin out from GM. At the launch of his time with Delphi, Tim and a team of leaders planned and executed the largest industrial reorganization on record. In his role as CIO, McCabe designed and delivered a total global transformation of all underlying technologies across more than 300 sites in 27 countries, separating out for either sale or winddown of almost $20B of revenue and the eventual IPO of the new Delphi.
In his most recent role, Tim was a Managing Director in the KPMG Advisory Practice where he acted as a thought leader for the Chief Information Officer advisory group. During his almost five years with KPMG, McCabe had the opportunity to advise and counsel many C-Suite leaders as they looked for ways to improve their business outcomes by better leveraging technology, designing and executing digital transformations, restructuring their IT operating model, and reducing their legacy technology debt. Assisting organizations to transform, achieve greater shareholder value, and defend against competitive disruptions were the cornerstone of McCabe's practice.
McCabe keeps close to his passion for guiding technology entrepreneurs by advising early stage startups. McCabe holds a BA in Philosophy from Oakland University, an MSM from Walsh College, and an Information Management degree from GM University.
Show Highlights
0:47 No one has been here before – facing the global pandemic together.
1:50 Tim McCabe – CGS Fellow (General Motors. Delphi. KPMG.)
4:11 Lessons from disruptions: 1) You must make sure there is clarity of purpose, 2) have a tight focus on just a few things, and 3) you must have purpose for yourself.
6:40 "If you're not uncomfortable over the time of the disruption, then you aren't doing the right things."
8:19 The future is here now – you can't go back to your pre-COVID world. (Tim's blog posts)
11:40 Tips for leaders: Be observant for how people are behaving and reacting and thinking through what that will amount to in the coming months.
13:10 Tips for leaders: What we are experience now (rules and regulations) likely won't change much.
14:39 Contact Tim at CGS Advisors (Tim.McCabe@cgsadvisors.com) for a virtual coffee or on LinkedIn.
Additional Information
Contact Tim McCabe:
Tim's LinkedIn
Tim's email: Tim.Mccabe@cgsadvisors.com
Contact Gregg Garrett:
Contact CGS Advisors:
Subscribe: