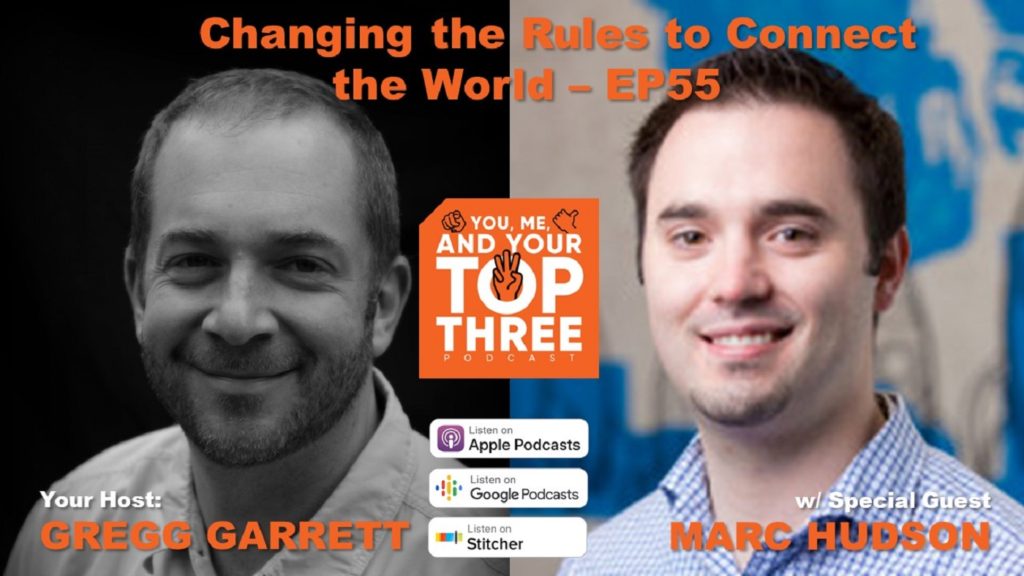 During this episode, You, Me, and Your Top Three host and CGS Advisors CEO, Gregg Garrett, speaks about how the disruption being caused by COVID is giving us a chance to look a bit into the future. He then speaks with Marc Hudson, the Co-founder and CEO of RocketFiber. Marc speaks about the journey of building a company that literally connects an iconic, American city and what it is like to vision and grow a company and the critical moment of deciding to sell it. And of course, Marc speaks about his 'Top Three' – from his co-founders who went down the journey with him, to successful tech leaders who walked in his shoes before he did, to like-minded business leaders who he meets with regularly, to his wife who pushes him and demonstrates bravery often. And you have to hear what he has to say about what it is like to move from an intrapreneur to an entrepreneur.
About Marc Hudson
Marc Hudson is Co-founder and Chief Executive Officer of Rocket Fiber, a Rock Family Company, providing hyper-fast Internet and connectivity services for residential and business clients throughout Southeast Michigan and beyond. During his time at Rocket Fiber, Marc has served on the FCC's Broadband Deployment Advisory Committee and the State of Michigan's Consortium of Advanced Networks working group where he has advised government on critical broadband infrastructure policy initiatives.
Prior to Rocket Fiber, Marc was a User Interface Engineer with Quicken Loans where he designed and built software that managed complex data sets used by the Capital Markets team. During his time at Quicken Loans, along with partners Edi Demaj and Randy Foster, he co-founded Rocket Fiber within the Quicken Loans innovation program known as Bullet Time.
Before joining the Quicken Loans and the Rock Ventures Family of Companies in August 2012, Marc was the Co-founder of several tech startups including LandscapingScene.com, Hudson Digital, and CareChat. He is also a member of the startup community and co-working space Bamboo Detroit.
Marc earned a Bachelor of Science degree in Media and Communication Technology and a Certificate in Landscape Design and Construction, both from Michigan State University. He currently lives in Detroit's Boston Edison neighborhood.
Show Highlights
Segment 1: Overview
1:11 Ensuring we get some good out of this crisis (CGS Report).
5:39 Seeing the silver lining and planning toward it.
7:00 Marc Hudson – Rocket Fiber
Segment 2: The "Top Three"
10:22 Marc's 'Top Three': Edi Demaj and Randy Foster – a great partnership.
11:19 Marc's 'Top Three': Dug Song – always giving, teaching, and invested in entrepreneurs.
16:03 Intentionally learning from working from home.
17:36 "You do have to take a chance. You have to be brave. And realize everyone is a human being."
20:54 Marc's 'Top Three': Amanda Lewan (Marc's wife) – a CEO sounding board. (Bamboo Detroit. Mike Ferlito.)
26:22 Marc's 'Top Three': 'The Table' (Pat Casey. John Coleman. Steven Berger. Ken Cauley. Ivan Katz. Rob Amico.) – a resource for the hardest problems.
Segment 3: Disruption & Transformation
34:45 Connectivity is everything in today's economy.
40:34 The process of growing and exiting a business.
Segment 4: Leadership & Wrapping Up
48:28 Hint to leaders: "As a leader, it is all about how quickly you can learn and how fast you can help your team learn."
49:59 Stay in touch with Marc (marc@bamboodetroit.com) and Rocket Fiber.
Additional Information
Contact Marc Hudson:
Contact Gregg Garrett:
Contact CGS Advisors:
Subscribe: