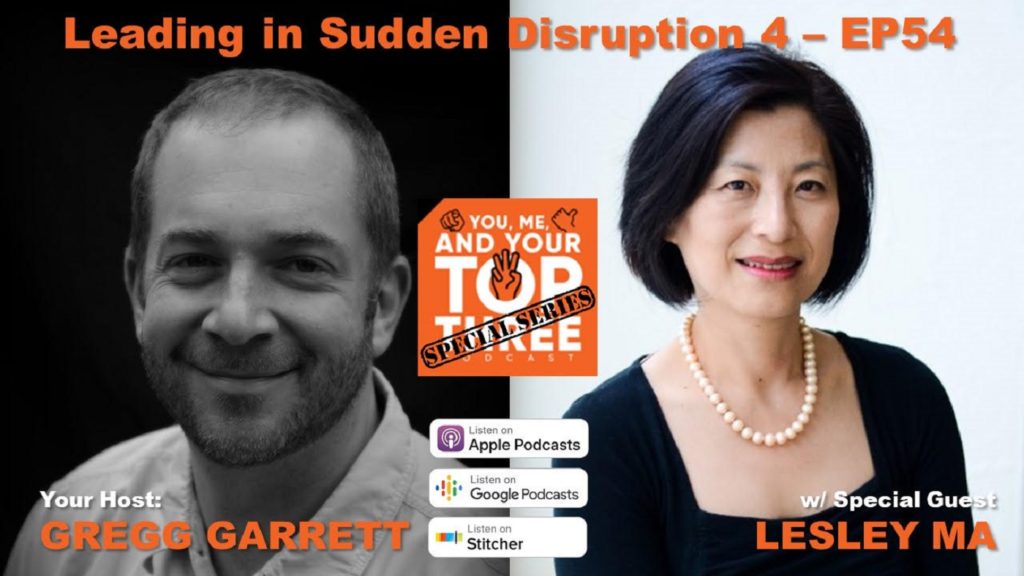 During this mini episode, You, Me, and Your Top Three host and CGS Advisors CEO, Gregg Garrett, speaks with Lesley Ma, CIO and Continuous Improvement Officer of NSF, who is actively leading during this time of disruption at a global, public health and safety organization. She speaks about the role of the CIO during these times and what leaders should be thinking about when it comes to technology; where digital innovation is taking a front-seat to surviving and thriving in the future. Lesley gives hints that other leaders may be able to borrow that can make a difference in these challenge times. And you have to hear what she has to say about turning on your fog lamps.
About Lesley Ma
L. Lesley Ma is the VP, Chief Information and Continuous Improvement Officer; Global Managing Director – TraQtion at NSF International. In her role, Ma leads NSF's information technology and continuous improvement efforts globally, including the systems and processes that power NSF's public health services in more than 175 countries.
Prior to joining NSF, Ma served as Global Chief Information Officer (CIO) for Cadillac. During her career, Ma has held leadership positions at Ford Motor Co. and General Motors – driving significant IT innovation and transformational change while leading global business initiatives and large-scale system implementations. In addition to her global roles, she gained international experience while working overseas in Shanghai, where she was CIO for GM in South East Asia.
Ma is known for fostering inclusiveness, employee engagement, continuous learning and coaching for excellence and inspiration. She holds degrees in engineering and business administration from the University of Toronto and completed the Advanced Leadership Program at Stanford Business School.
Show Highlights
1:00 No one has been here before – facing the global pandemic together.
1:55 Lesley Ma –NSF International
2:29 Living through disruptions – the GM Bankruptcy and scaling companies up and down.
3:59 In a cyclical industry, you never stop transforming.
4:55 Themes: How do you focus people on the purpose? How do you deal with the people side of things? How do you build the muscle and increase the company's resiliency?
5:45 "Turn on your fog lamps."
Additional Information
Contact Lesley Ma:
Contact Gregg Garrett:
Contact CGS Advisors:
Subscribe: