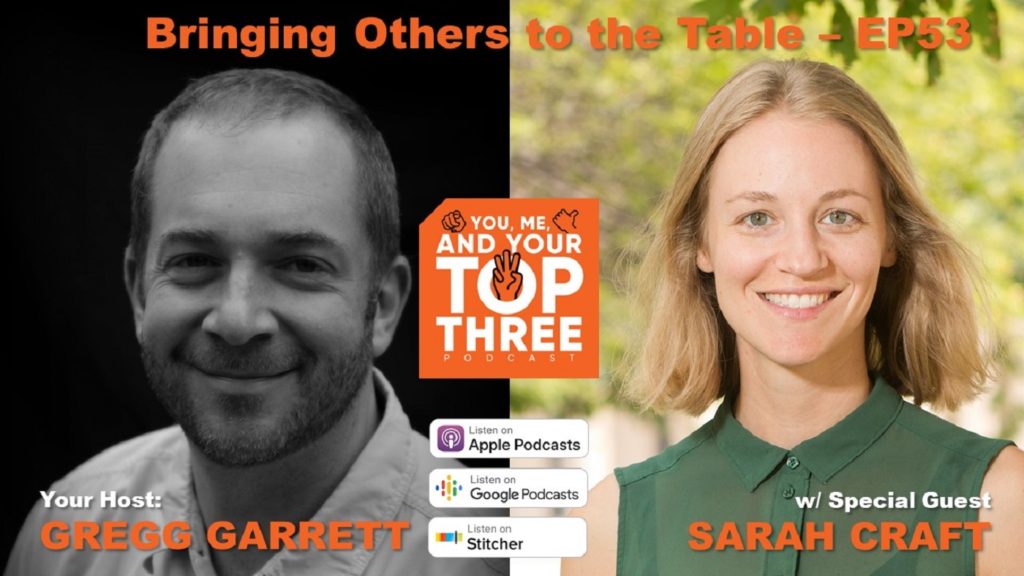 During this episode, You, Me, and Your Top Three host and CGS Advisors CEO, Gregg Garrett, discusses beginning to see the good that can come out of a crisis; the silver lining if you will. He then speaks with Sarah Craft, Director of Detroit Venture for America. Sarah discusses the power of a network and how VFA uniquely positions young, top talent around the United States to help spur economic-type growth. Of course, Sarah shares her 'Top Three' – from members of the community that help her stay connected to her past and the bigger picture, to a team who keeps her connected to today's ecosystem, to close friends who are experts in the commercial venture space and who challenge her to stretch for tomorrow. And you have to hear what Sarah has to say about connecting 'grassroot' efforts with 'grasstop' efforts.
About Sarah Craft
Sarah Craft was born and raised in Southeast Michigan and has lived in Detroit for the last 10 years. Sarah started her career as a community organizer working with Detroit students and families on issues related to education and youth violence prevention. She has also worked at Detroit SOUP, the Michigan Municipal League and the Detroit Regional Chamber where she specialized in equitable economic development, community building, and talent development, retention and attraction. Sarah now serves as the Director of Detroit for Venture for America, a nonprofit dedicated to building the next generation of entrepreneurs and equitably growing local economies.
Sarah serves on the Board of Directors of nonprofit Center for Community Based Enterprise and the Millennial Board of First Independence Bank, the only black-owned bank headquartered in Michigan. She has a master's degree in public administration from Wayne State University and a bachelor's degree from Eastern Michigan University.
Show Highlights
Segment 1: Overview
1:00 Pause and believe in the future.
3:06 There are silver linings in all of this.
4:58 What are you going to do after this crisis is over?
6:37 Sarah Craft – Venture for America.
7:50 The importance of community.
10:30 The impact of the pandemic on the graduates of 2020.
12:54 Venture For America – Building the next generation of entrepreneurs.
Segment 2: The "Top Three"
17:00 Sarah's 'Top Three': Jessica Lienhardt – Looking at things from different perspective and pointing them out.
22:01 Looking beyond the 1st connection and into their network (Heather Van Poucker).
23:30 Sarah's 'Top Three': Darren Riley – the system we have is broken; build your own system (Bryan Lewis).
30:47 Sarah's 'Top Three': Molly Sweeney, Jamila Martin, Susan Hooks-Brown – staying centered and focused; living in the uncomfortable.
33:58 Grasstop vs. Grassroots community organizing.
37:05 Sarah's 'Top Three': Dug Song, Patti Glaza, Edi Demaj, Chanell Scott Contrerars, Hassan Bazzi, Lisa McLaughlin, Kelly Sexton, Asha Garro, , Dan Ngoyi, Medvis Jackson, Melanie D'Evelyn, Kelly Golden, Maggie Craft, Cara McLogan, Laura Grannemann, Lisa Katz, and Steven Mazur.
– having perspective and a sounding board.
Segment 3: Disruption & Transformation
42:00 The biggest divides and opportunities: equity.
45:57 The future of education – focus on teaching the skill of learning.
Segment 4: Leadership & Wrapping Up
49:00 How to develop an empathetic leader.
51:51 Hint to leaders: "Bring others to the table."
53:32 Reach out to VFA for high caliber individuals and contact Sarah on LinkedIn.
Additional Information
Contact Sarah Crafr:
Contact Gregg Garrett:
Contact CGS Advisors:
Subscribe: